These easy-to-make squares are perfect as a dessert or snack. When served soon after baking, the texture resembles freshly baked pumpkin pie, but after cooling (especially overnight), they firm up considerably and can be eaten with your fingers. Recipe and photos contributed by Cathy Fisher at Straight Up Food.
Makes: 12 to 16 squares
12 medjool dates, pitted and diced (about 1-¼ cups or 8 ounces)
1 cup plain or vanilla nondairy milk (almond, etc.)
1 teaspoon vanilla extract
1-¼ cups rolled oats, ground into flour
2 teaspoons pumpkin pie spice
1 can (15 ounces) pureed pumpkin (not pumpkin pie "mix"),
preferably organic
½ cup pecan halves, chopped (optional)
Place the pitted, chopped dates into a blender with the non-dairy milk and vanilla, and set aside for at least 30 minutes so that the dates may soften.
Combine the flour and spices in a mixing bowl.
After soaking, blend the dates, non-dairy milk and vanilla until smooth (1 to 2 minutes). Pour this mixture, along with the pumpkin, into the bowl of flour and spices. Mix until smooth with an electric beater, tossing in the nuts last. (The batter will be thick.)
Scrape into an 8 by 8-inch baking pan lined with parchment paper (or use a silicone baking pan). Bake for 30 minutes at 375 degrees. Let cool 10 to 15 minutes before slicing the squares and serving. The longer they cool, the firmer they will become. Optional: add Nutty Frosting below just before serving.
Nutty Frosting
This simple nut-based frosting adds a little extra richness and sweetness to special-occasion cakes and bars. Spread on with a butter knife or use a cake decorating kit for a more decorative touch.
Makes: About 1 ½ cups
¾ cup raw, unsalted cashews (about 4 ounces)
7 Medjool dates, pitted and chopped (about 5 ounces)
1 cup water
½ teaspoon vanilla extract
Place all ingredients into a blender jar and let sit for at least 30 minutes, so the nuts and dates can soften.
After soaking, blend all ingredients until smooth. Use immediately or chill for a couple hours or overnight to thicken.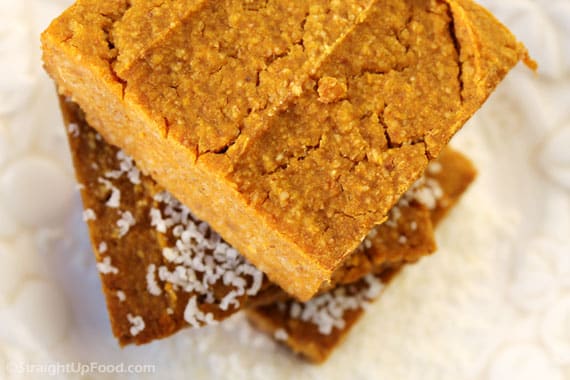 NOTES
Using fresh pumpkin: I use canned pumpkin because it's convenient and easy, and I know the texture will be consistent. If using fresh pumpkin interests you, search "fresh pumpkin vs. canned pumpkin in baking" online.
Pumpkin pie spice substitution: If you do not have pumpkin pie spice, you may substitute: 1 teaspoon ground cinnamon, ¼ teaspoon ground ginger, ½ teaspoon ground nutmeg, and a pinch of ground clove.
Oat flour: You can easily grind rolled oats into flour by using any blender; high-speed blenders produce the finest flour, but any blender will do. (A food processor is least effective.) If you are using pre-ground flour, the measurement is the same.
Pans: I use an 8×8-inch Pyrex pan here, but you can also use a lined pie or cake pan, and then cut the pieces to look like pumpkin pie slices.