Here's a fast and tasty dinner featuring vegan burgers, a spicy cool soup, and cute little potatoes, all ready in 20 minutes — a half hour tops if you move really, really slowly. With so many tasty and healthful prepared veggie burgers to choose from, we're of the mind that there's no point in making them from scratch. Use your favorite, or explore other varieties in this list of Here's a great rundown on some of the best vegan store-bought veggie burgers.
Brilliant 4-Ingredient Gazpacho uses the brilliant shortcut (if we do say so ourselves) of fresh salsa — not the kind that comes in jars, but the type you'll find in the refrigerated section of your supermarket's produce department. It already has tiny bits and pieces of most everything you'd find in gazpacho, already cut into tiny bits and pieces.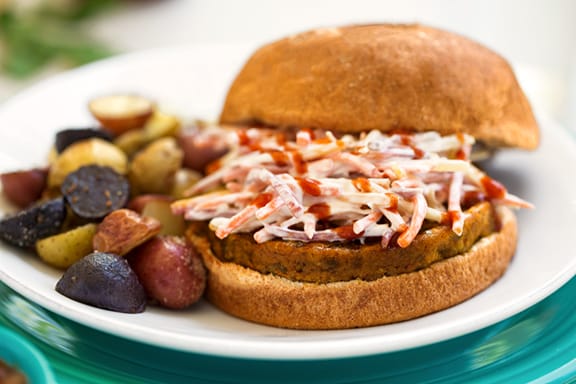 Tiny new potatoes add the final flourish to the meal. Because they're so small, they cook quickly.   We snagged a bag with multicolored potatoes, but really any color will do as long as they're tiny! Fingerling potatoes work well, too.
If you'd like to simplify the meal, omit either the soup or the potatoes.
Serves: 4
Time to table: 20 to 25 minutes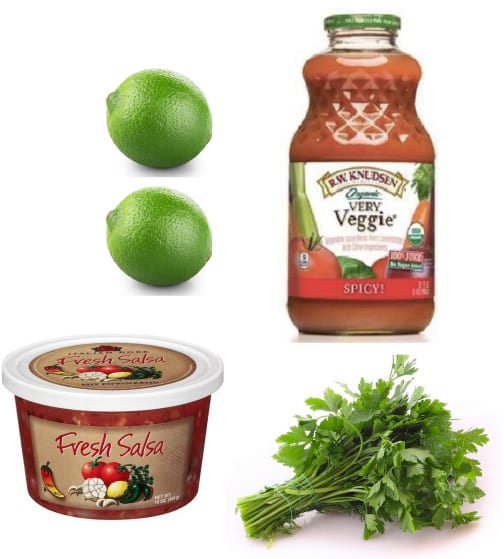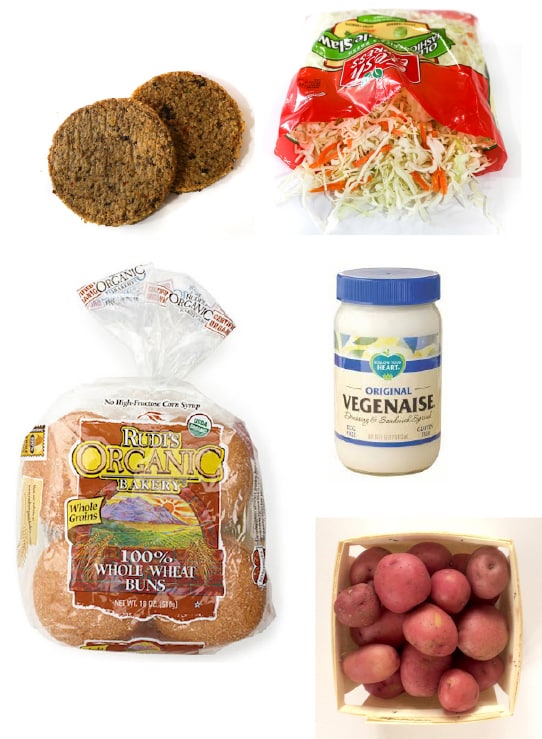 What you need
16-ounce container fresh (not jarred) salsa

Quart or liter bottle spicy tomato juice

2 limes

1 bunch fresh parsley or cilantro

1 pound tiny new potatoes

Vegan burgers (4-pack)

8- or 16-ounce bag coleslaw or grated carrots

Vegan mayonnaise or other dressing of your choice

Whole grain buns or rolls

16 ounces or so tiny new potatoes
You probably already have on hand
Condiments (mustard, sriracha, etc.)

Olive oil
What to do
1  Make Brilliant 4-Ingredient Gazpacho and set aside, or pop into the refrigerator to chill.
2  Cut the little potatoes in half. Steam them in a skillet with enough water to keep moist until they're almost done but still firm, covered. This should take no longer than 10 minutes. Uncover, drizzle in some oil and cook on medium-high until they brown here and there, then remove from the heat.
3  Cook the burgers as directed.
4  Mix some of the slaw or carrots with mayo or dressing of your choice. Use as much as you'd like; this will be a topping for the burgers.
5  Have everyone arrange their burger on a bun with some of the slaw to top them. Add a drizzle of sriracha  or mustard. Serve at once with the gazpacho and potatoes.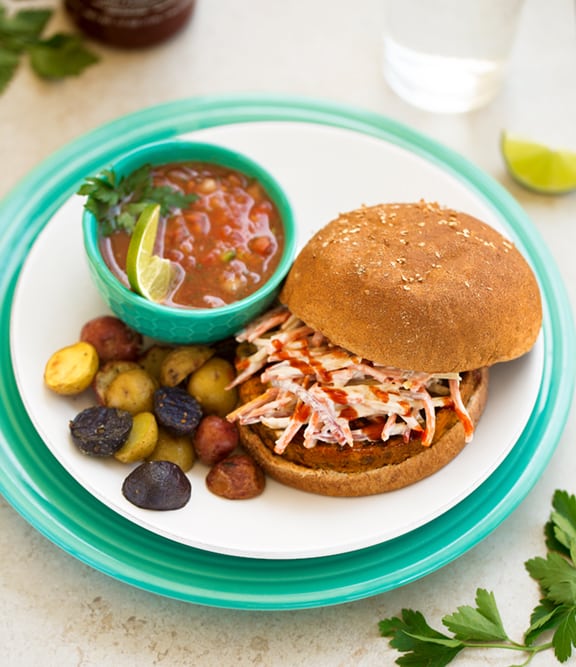 Photos by Hannah Kaminsky