These crispy quinoa fritters pack a lot of flavor, thanks to lots of scallion and cilantro. If you have quinoa cooked ahead of time, this comes together in a snap. These are nice served with Asian-style soups like Bok Choy, Tofu, and Baby Corn Soup. If you're serving these with any other Asian-Style meal, I highly recommend taking the 5 minutes or less to make "Duck" Sauce, as pictured. Otherwise, these are nice served as a side dish for meals in which veggies take center stage, such as hearty stews, or bean dishes.
Makes about 12 fritters; 2 to 3 fritters per serving
1 cup uncooked quinoa (or if making ahead, 2 to 2 ½ cups cooked)

½ cup whole wheat pastry flour, spelt flour, or gluten-free flour mix

¼ teaspoon baking soda (omit if using GF flour mix)

⅔ cup rice milk or other unsweetened nondairy milk

4 to 5 scallions, green parts only, thinly sliced or chopped fine

¼ cup minced fresh cilantro, or more, to taste

1 to 2 cloves garlic, minced

1 to 2 tablespoons reduced-sodium soy sauce or tamari, to taste

Freshly ground pepper to taste

Oil for the pan

"Duck" Sauce

,

optional
Combine the quinoa with 2 cups water in a saucepan and bring to a slow boil. Reduce the heat, cover, and simmer until the water is absorbed, about 15 minutes.
Meanwhile, combine the flour, baking soda, and rice milk in a medium-size mixing bowl. Stir in the scallions, cilantro and garlic.
Once the quinoa is done, add to the mixing bowl and stir well with the other ingredients. Season with soy sauce and pepper.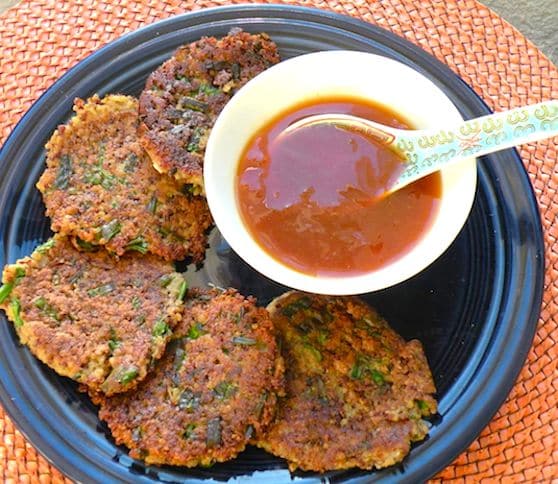 Heat just enough oil to coat a wide nonstick skillet (use as little oil as possible — just enough to prevent sticking!). Once the skillet is nice and hot, ladle the quinoa mixture in ¼ cupfuls, just enough to fill the skillet without crowding, then flatten gently with the back of the measuring cup.
Cook the fritters over medium heat until golden and crisp, then flip gently and cook the other side as well. Remove and arrange on a plate lined with paper towel. Repeat with the next batch of fritters. Serve at once as a side dish or appetizer with the optional "Duck" Sauce.
Nutrition Information:
Per serving (without optional "Duck" Sauce): 246.1 calories; 3.3g fat; 388mg sodium; 59.6mg potassium; 46g carbs; 6.3g fiber; 3.4g sugar; 8.6g protein