Everyone's raving about cauliflower "rice", so why not give other veggies the rice treatment? Rainbow vegetable "rice" is a great way to cut carbs and use up vegetables that are languishing in the refrigerator.
There's really very little involved to turn your vegetables into rice — just some judicious pulsing on and off in the food processor. Cauliflower can be part of the mix, of course, but here are a few other vegetables that work well:
Carrots

Red and white cabbage

Zucchini

Turnip

Broccoli stem

Bell pepper
A couple of tips — don't overload the food processor or the veggies won't break down easily. Fill the container up to halfway. If you have a good amount of vegetables to rice, do so in batches.
All you need to do is pulse the machine until the vegetables resemble rice. And worst comes to worse, if you go a bit too far, you'll get pieces that are more like couscous, which is also not terrible.
Use the vegetable "rice" raw as a base for salads, or lightly cooked in place of grain. Here are tasty examples of each: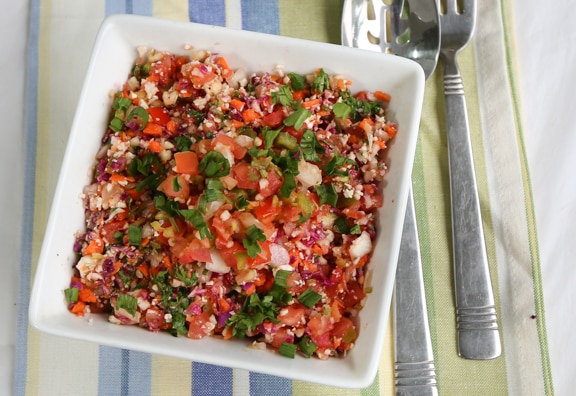 To make this simple tabbouli, we added some parsley to the mix in the food processor, then stirred in some fresh salsa, chopped scallions, lemon juice, olive oil, salt and pepper. You don't need a recipe to do this — depending on how much vegetable rice you wind up with, just add the other ingredients to your taste.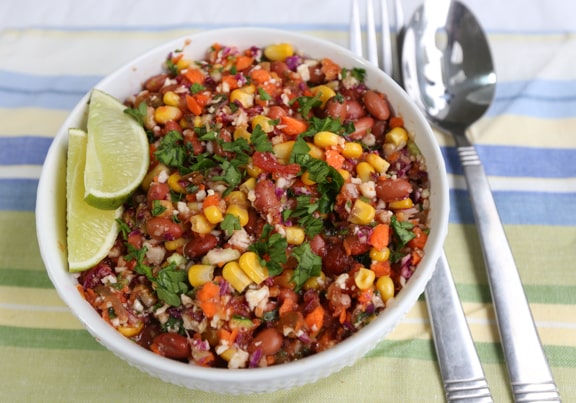 In this warm dish, we gave the vegetable rice a Southwestern spin. First, the veggie rice is cooked with a little olive oil and minced garlic; then toss in some beans, corn, and fresh or jarred salsa. Add other seasonings and herbs, if you'd like.
Photos: Evan Atlas
Find more ways to Hack This! in our Vegan Food Hacks archives.