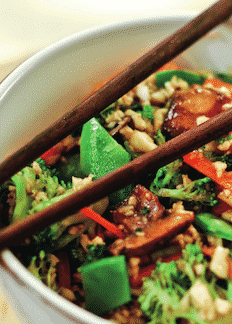 This raw dish makes the perfect lunch or dinner. It's easy to make, delicious and great for you! Adapted  from  Rawmazing: Over 130 Simple Raw Recipes for Radiant Health* by Susan Powers (Skyhorse Publishing, 2012).
Serves: 2 to 4
Marinade:
2 tablespoons extra-virgin olive oil
2 tablespoons Nama Shoyu or tamari
1 tablespoon agave nectar
-
1 ½ cups sliced mushrooms
1 ½ cups broccoli, finely chopped
1 large parsnip or turnip
2 carrots
1 cup pea pods
Black sesame seeds (optional)
Combine the marinade ingredients in a medium-size bowl and whisk together. Place mushrooms and broccoli in marinade. Stir to coat. Set aside.
Peel parsnip or turnip and cut  into chunks. Place in food processor and process until coarsely chopped to resemble grains of rice.
Cut the carrots into matchstick-sized pieces. Chop the pea pods into ½-inch pieces and mix into the "rice" with the carrots. Arrange in a shallow bowl.
Serve the broccoli and mushroom over the "rice." Garnish with black sesame seeds and serve.
*This post contains affiliate links. If the product is purchased by linking through this review, VegKitchen receives a modest commission, which helps maintain our site and helps it to continue growing!