Finally, an easy wholesome raw brownies recipe that tastes like real brownies! Nuts, dates, coconut, cocoa powder, maple syrup, and salt combine to create a shockingly divine traditional-style brownie. Although the ingredients sound virtuous (and they are), your taste buds will only register one flavor: chocolate. It's the most popular recipe on Laura-Jane's blog, probably because it's so quick, decadent, and nutritious.
Famous Raw Brownies keep extremely well in the fridge, and they are perfect for making ahead and bringing to a potluck or work function. The brownies stand on their own, but they're even better with the Velvet Chocolate Icing (of course!), which is my go-to chocolate icing for any refrigerated dessert recipe, including cakes and bars. It's easy to make, easy to spread, and extremely versatile. Iced desserts should be kept in the refrigerator. The flavors also pair beautifully with fresh blackberries or raspberries.
Excerpted from Cook Lively!: 100 Quick and Easy Plant-Based Recipes for High Energy, Glowing Skin, and Vibrant Living—Using 10 Ingredients or Less. Recipes and photos by Laura-Jane Koers. Copyright © 2017. Available from Da Capo Lifelong Books, an imprint of Perseus Books, LLC, a subsidiary of Hachette Book Group, Inc.
2 cups pecans (or walnuts)

2 cups pitted dates, tightly packed

2⁄3 cup cocoa powder

1⁄2 cup unsweetened shredded coconut

1⁄4 cup pure maple syrup

1⁄2 teaspoon sea salt
Velvet Chocolate Icing (optional)
1 cup pitted dates, tightly packed

1⁄4  cup cocoa powder

1⁄4  cup coconut oil, melted
1  Line a 9-inch square rimmed baking sheet or cake pan with parchment paper. Set aside.
2 To make the brownies, process the pecans in a food processor until they're small and crumbly (15 seconds). Add the dates and process again until the mixture sticks together and the dates are well processed.

3  Add the remaining brownie ingredients: cocoa powder, coconut, maple syrup, and salt. Process again until the mixture turns a lovely dark chocolate brown (25 seconds). The texture should be small, fluffy crumbles that can be pinched together with your fingers. (If the brownie mixture is difficult to press down into the pan and won't stick together, you haven't processed it long enough. However, be careful to stop processing before it gets buttery.)

4  Press the mixture down evenly and firmly into the pan.

5  To make the optional icing, place all the icing ingredients in your blender.
Add 3⁄4 cup water. Blend until smooth. (See Fresh Tip.) Spread the icing
on top of the brownie mixture.

6  Cover and refrigerate for a couple of hours. Cut into brownies and enjoy.
(The brownies can be eaten without being refrigerated first, but when chilled they're easier to cut and they retain their shape better.) Store in the refrigerator for up to 1 week.

Tip: Velvet Chocolate Icing makes use of the power of a high-speed blender. If your blender is the standard kind, let the icing ingredients (including the 3⁄4 cup water) sit in it for as long as possible before actually blending. Once blending, it can take a few minutes to get a velvety consistency. If the blender blades appear to spin but aren't actually sucking the icing down into the blades, turn the blender off and use a spoon or spatula to make an air pocket down inside the blender to expose the blades to air. Remove the spoon, replace the lid, and slowly start blending again. You'll know that the icing is thoroughly blended when there are no date bits and all you can taste is velvety chocolate goodness.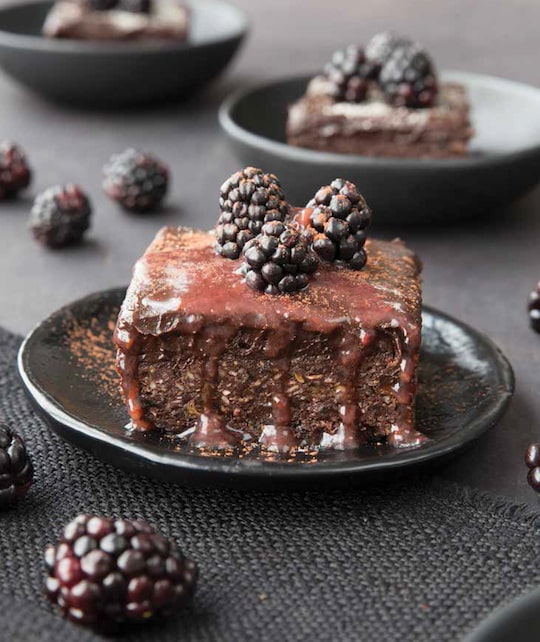 —
*This post contains affiliate links. If the product is purchased by linking through this review, VegKitchen receives a modest commission, which helps maintain our site and helps it to continue growing!