A Southwestern Supper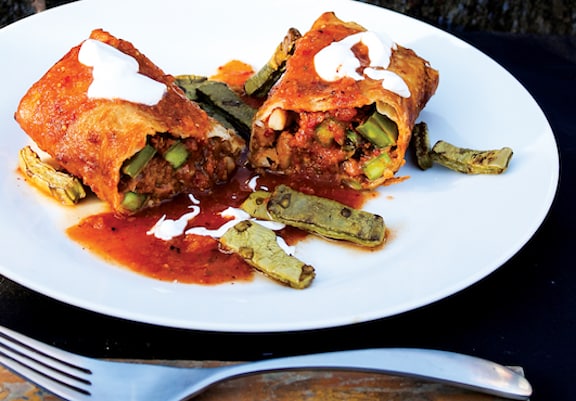 Chimichangas, called chivichangas in Mexico, are basically deep-fried burritos. These Northern Mexico Chimichangas are little decadent, but wonderful as an occasional treat. They epitomize the mingling of the American-Mexican border culture by their use of flour tortillas mixed with a filling suffused with adobo. You can find these in Tucson as easily as on the Sonoran side of Nogales. (from Vegan Mexico: Soul-Satisfying Regional Recipes from Tamales to Tostadas, copyright © 2016 by Jason Wyrick. Reprinted by permission Vegan Heritage Press. more→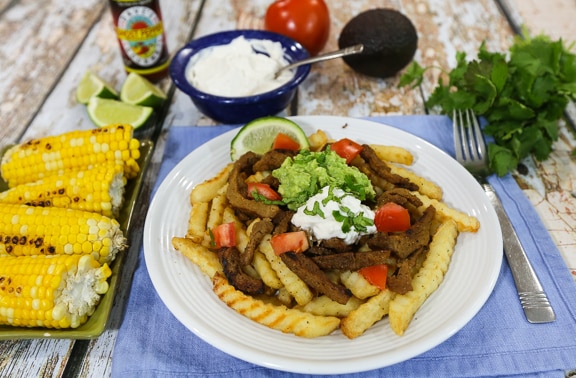 Carne asada fries exemplify how an offbeat local food trend takes off and goes national. An odd combination of french fries, avocado, sour cream, and in its original form, strip steak, this dish originated in San Diego in the 1990s and soon became a standard in casual Mexican restaurants in the American Southwest. Now it's on the menu in such eateries nationwide. I first had vegan carne asada fries at Mexican Radio in Hudson, NY, and understood why this hearty dish took off. How great that it can be made with seitan instead of meat! You can also use another meat substitute like jackfruit. more→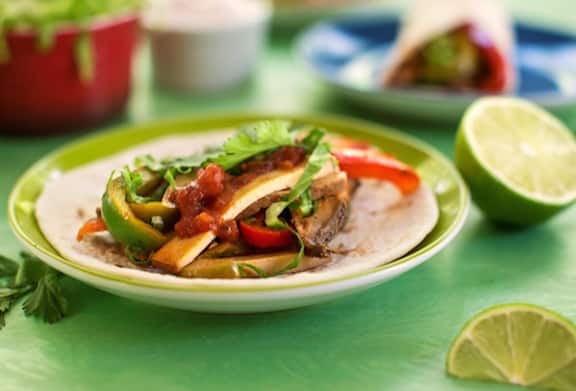 Fajita dinners are so much fun that those you've made dinner for will hardly notice that for the most part, they're actually making their own meal, right at the table. This festive meal makes very little work for the cook, and everyone can tailor their fajitas to their own tastes. For a bigger meal, serve with a simple side of brown rice or quinoa. Adapted from Plant Power: Transform Your Kitchen, Plate, and Life with More Than 150 Fresh and Flavorful Vegan Recipes by Nava Atlas, ©2014, published by HarperOne, reprinted by permission. Photos by Hannah Kaminsky. more→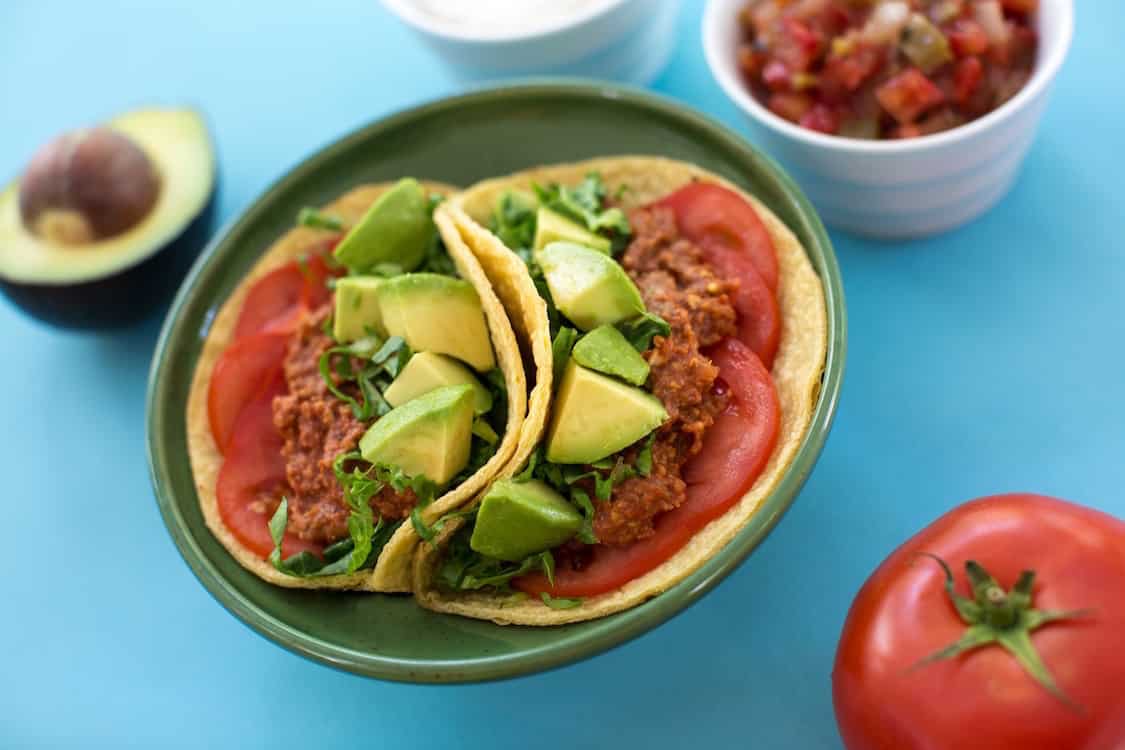 Two high-protein foods (with lots more going for them nutritionally) — tempeh and walnuts — team up in a tasty taco filling that goes a long way. Use leftovers to boost protein and add texture to bean dishes and stews. Or you can freeze half of this filling for a future taco dinner. For a great meal, serve with Southwestern-Flavored Kale Salad. Adapted from Plant Power: Transform Your Kitchen, Plate, and Life with More Than 150 Fresh and Flavorful Vegan Recipes by Nava Atlas (HarperOne, reprinted by permission). Photos by Hannah Kaminsky.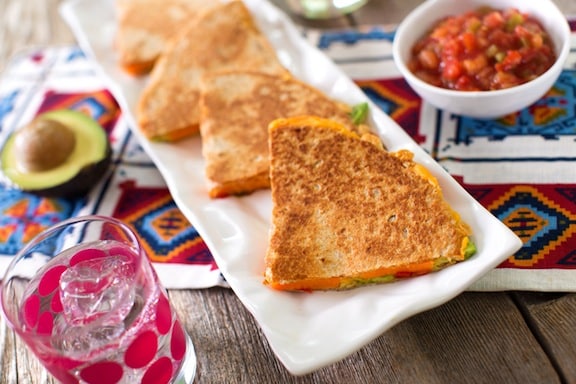 Quesadillas make great appetizers to serve with drinks, or as part of meals with soups and salads. They can also be served with heartier dishes such as veggie chili. A quesadilla is a sort of Mexican grilled cheese sandwich in a flour tortilla. Melted cheese is the common denominator of quesadillas, as it helps everything hold together. It's easy to veganize quesadillas simply by using vegan cheese (my favorite is Daiya shreds, as they melt so very nicely — any variety, though the spicy pepper jack is particularly good for this purpose). To improvise and make your own combinations, see the basics in Easy Quesadillas or Soft Tacos — this isn't the kind of dish for which you need to follow an exact recipe. more→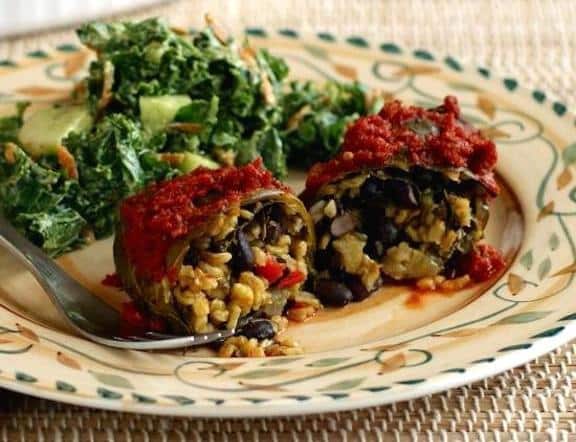 Large collard green leaves make amazing wrappers for grain and bean dishes. These enclose a hefty helping of rice and black beans. You can vary this by using other grains, such as quinoa or couscous. Recipe from Wild About Greens by Nava Atlas; photos by Ricki Heller.
more→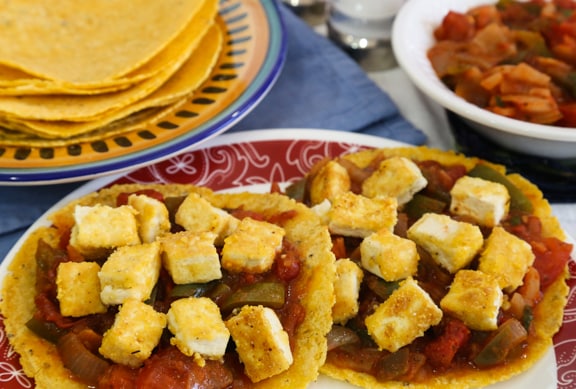 A veganized version of huevos (eggs) rancheros, this dish of tofu prepared with Southwestern flavors and nestled on corn tortillas, makes a nice brunch or light dinner dish. Serve with a simple potato or bean dish (shown here with Beer-Stewed Pinto Beans) and a platter of sliced avocado and oranges for a complete meal.  more→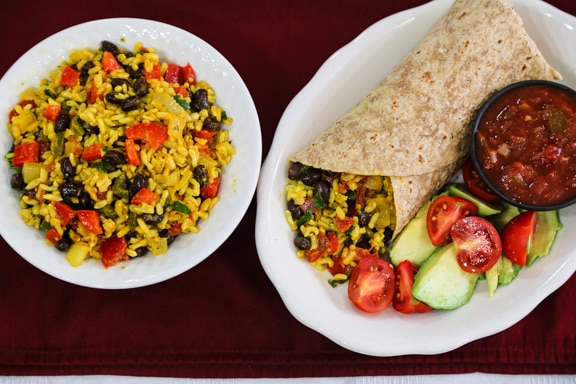 Often, rice is served alongside burritos, but the combination of rice and beans wrapped inside the tortilla is quite satisfying. These yellow rice and black bean burritos make a filling meal that needs only a salad to complete, though stoneground tortilla chips and salsa are always welcome! Photos by Evan Atlas. more→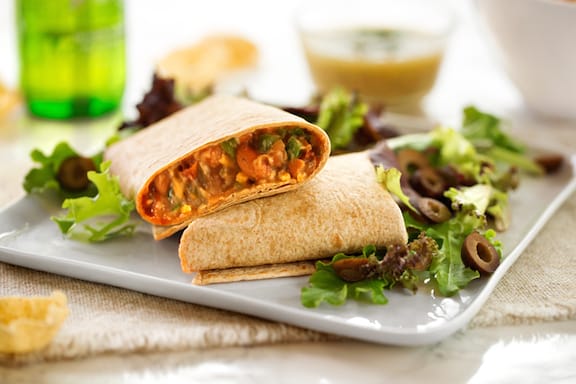 These easy vegan bean burritos are delicious and filling. This recipe, featuring pinto beans, chile peppers, and vegan cheese, makes 8 burritos. A serving can be two burritos per person; or one burrito for a lighter meal with other accompaniments. Serve with salad and stoneground tortilla chips for a quick, tasty meal. If you love these burritos, you'll enjoy more easy recipes for tortilla specialties in A Southwestern Supper. Photos by Hannah Kaminsky. more→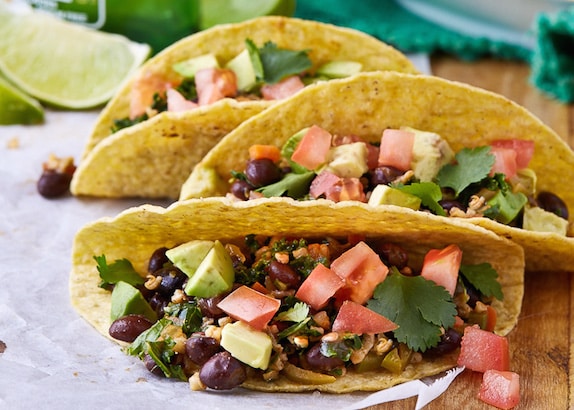 Steel-cut oats mimic the mouthfeel of vegan crumbles while being completely free of processed ingredients. They also add heartiness to the veggie and bean mixture. This is the perfect way to sneak in some veggies for the picky eaters in your house. This is gluten-free, soy-free, oil-free. From OATrageous Oatmeals by Kathy Hester; photos by Kate Lewis. Reprinted with permission of Page Street Publishing, ©2014.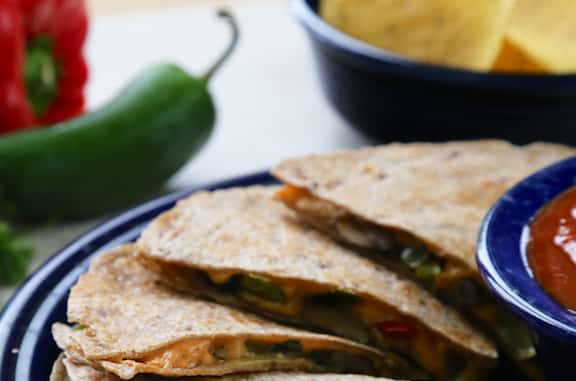 These simple, light vegan mushroom and bell pepper quesadillas are good served with a hearty grain pilaf or a bean dish. They also make a nice accompaniment to a well-seasoned chili. Photos by Evan Atlas.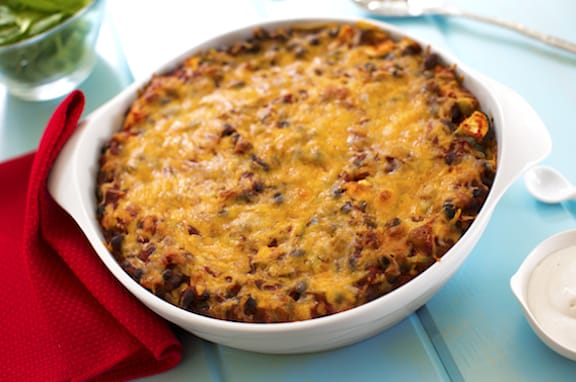 Chilaquiles is a classic Southwestern casserole that layers soft corn tortillas with beans and cheese (vegan in this case). Adding zucchini and chiles adds to the lively flavors. This makes for a nice change-of-pace holiday main dish, but this is also easy enough to make for weeknight meals. Photos by Hannah Kaminsky. Adapted from The Vegetarian Family Cookbook.