Easy Vegetable Stir Fries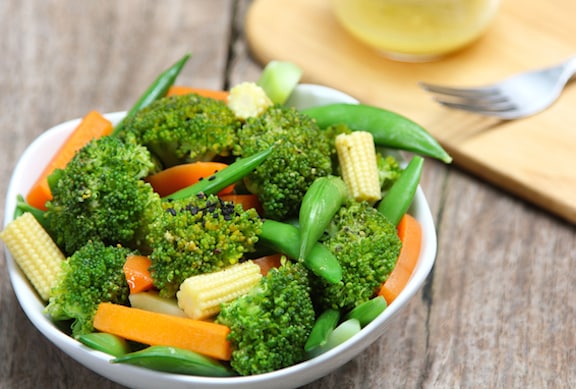 Here's an easy and colorful side dish to accompany Asian noodle or tofu main dishes. This broccoli and baby corn stir-fry especially good with really fresh broccoli from the garden or farm stand. more→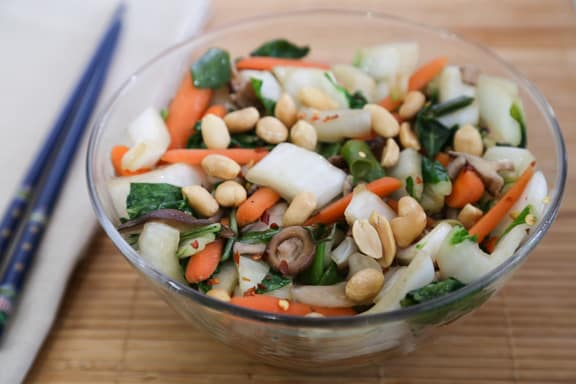 Here's a quick stir-fry using nutritious, crunchy bok choy. Shiitake mushrooms make a perfect partner for it. Serve this on its own or over rice; it's good hot or at room temperature. Use either large white bok choy or baby bok choy. Photos by Evan Atlas. more→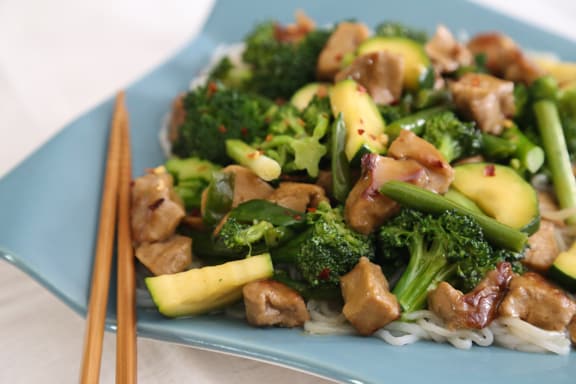 This very green stir-fry, inspired by the dish of the same name served in western Chinese restaurants, is especially good to make when slender green beans are in season. "Triple Jade" refers to the three green veggies used — green beans, broccoli, and zucchini. Serve over hot cooked rice or noodles, or on its own. Photos by Evan Atlas.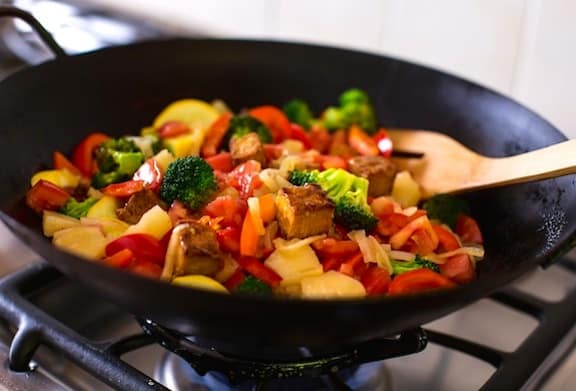 This sweet-and-sour stir-fry, featuring high-protein seitan or tempeh along with colorful vegetables and pineapple, has several steps but can be made easily and at a leisurely pace. Best of all, it results in a delicious and nourishing meal. This is especially good served over bean-thread noodles or Asian brown rice vermicelli, but soba or udon work well, too. Long-grain brown rice and brown basmati rice are good choices as well. Recipe from Plant Power: Transform Your Kitchen, Plate, and Life with More Than 150 Fresh and Flavorful Vegan Recipes by Nava Atlas. ©2014, published by HarperOne, reprinted by permission. Photos by Hannah Kaminsky.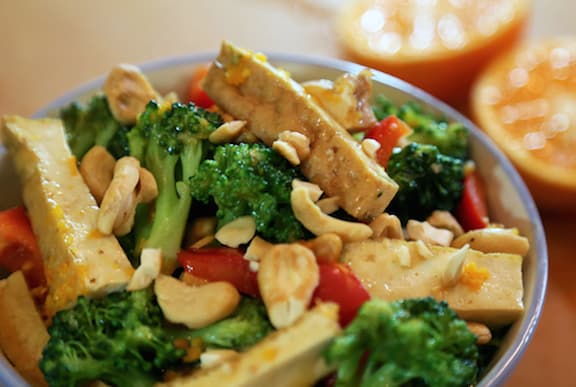 This simple stir-fry of baked tofu and broccoli is enlivened with an easy, orange-flavored sauce. For a tempting Asian-style meal, pair this with Vegetable Lo Mein, and serve with a platter of raw vegetables on the side. Photos by Evan Atlas.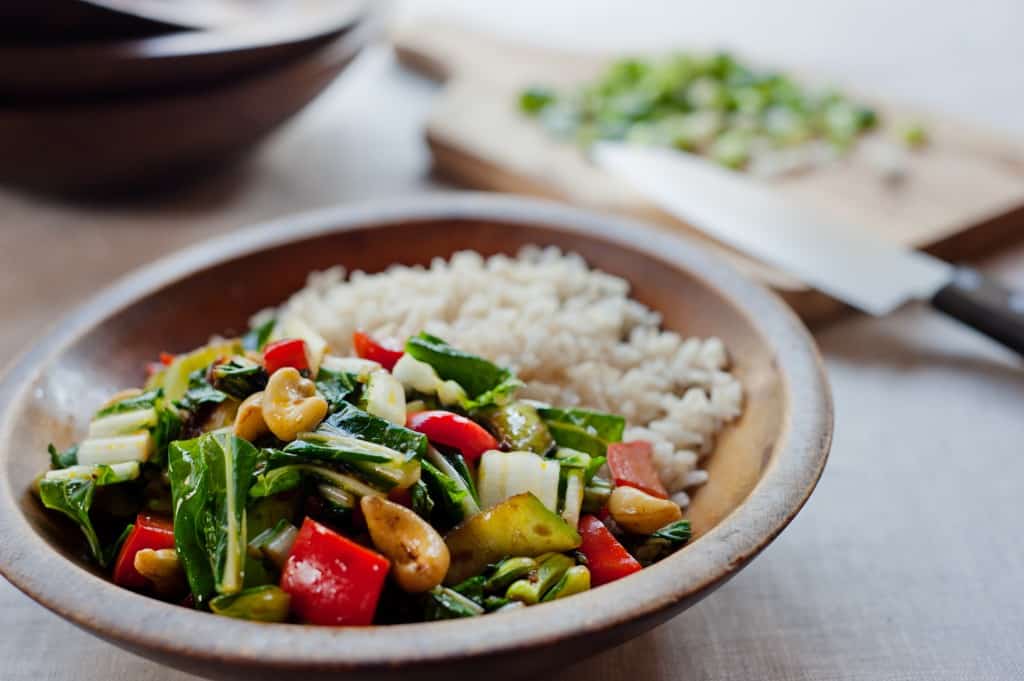 Quick, and colorful, this stir-fried bok choy dish gets an extra rich flavor from lots of cashews and ginger. You can also use extra-virgin coconut oil, extra virgin olive oil, or sesame oil for this delicious vegan and gluten-free side dish. Recipe contributed by Leslie Cerier. Photo by Tracey Eller. more→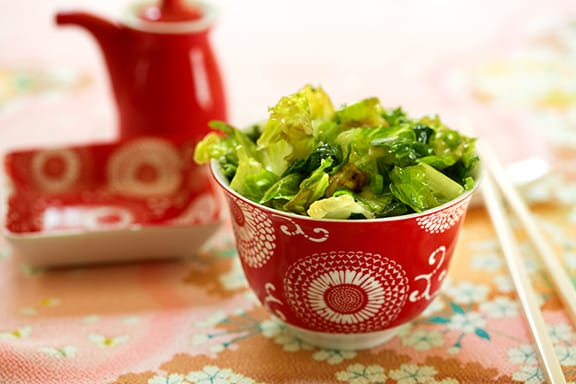 Have you ever made the mistake of buying a big head of lettuce when you already had another whole head in the fridge? Or had a surplus from your CSA farm share? This easy stir-fry is a good way to use lettuce, whether excess or not. It's best to use crisp lettuce like romaine for this. The leaves become slightly tender and the midribs stay nice and crisp when prepared this way. Photos by Hannah Kaminsky. more→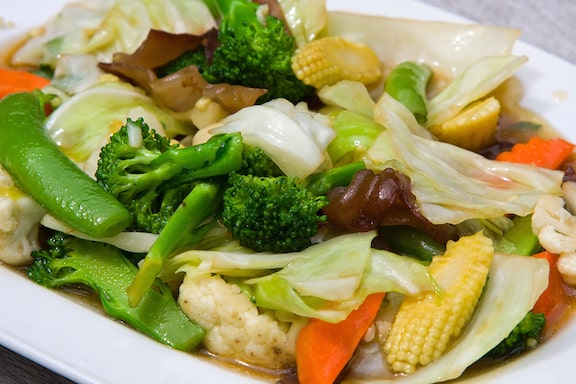 If you're a longtime vegetarian or vegan, you've likely ordered a version of this Chinese restaurant standard. It's easy to make at home, and always a treat for anyone who loves Asian-style meals.  Serve over hot cooked brown rice or Asian noodles, along with a simple slaw-type salad or a mixed greens salad with orange sections and toasted almond slices. For protein, choose your favorite simple tofu, tempeh, or seitan preparation to serve alongside or atop this dish.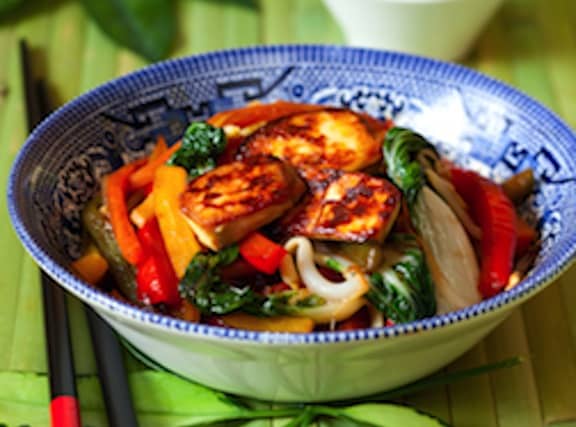 This easy stir-fry highlights fresh, quick-cooking spring greens, combined with tofu. See the note below for suggestions on which leafy greens to use; you can vary it each time. My favorite is baby bok choy! more→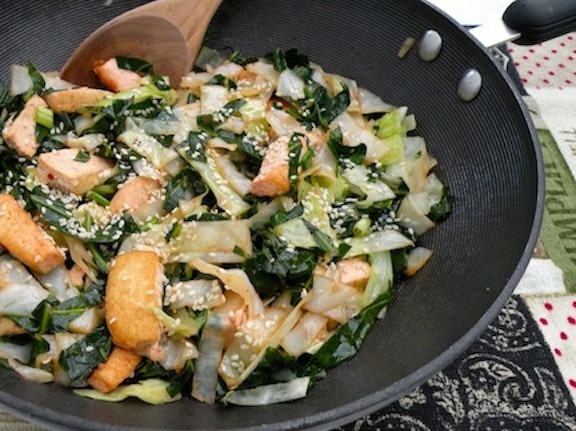 Napa cabbage combines nicely with darker leafy greens, adding a lighter texture and flavor as well as visual interest. This dish comes very close to being downright addictive. It's an amped-up variation of Stir-Fried Chard with Napa Cabbage from Wild About Greens,* with tofu added, and the flexibility of using whichever kinds of greens are most abundant in your garden or at the farm market. Serve with (or over) a simple noodle or grain dish and a bright, colorful salad. more→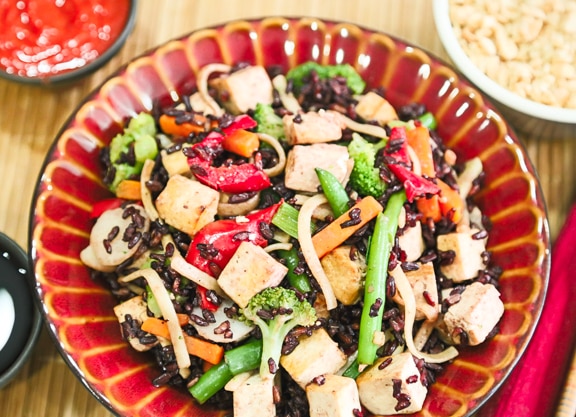 Brown rice is fine for a quick dinner, but the lovely color of black rice will make this dish extra special. Tempeh or baked tofu and peanuts add plenty of protein, and using a frozen Asian vegetable blend makes this super-quick as a weeknight meal. Recipe from The Oldways 4-Week Vegetarian & Vegan Diet Menu Plan, © 2014. Photos by Evan Atlas.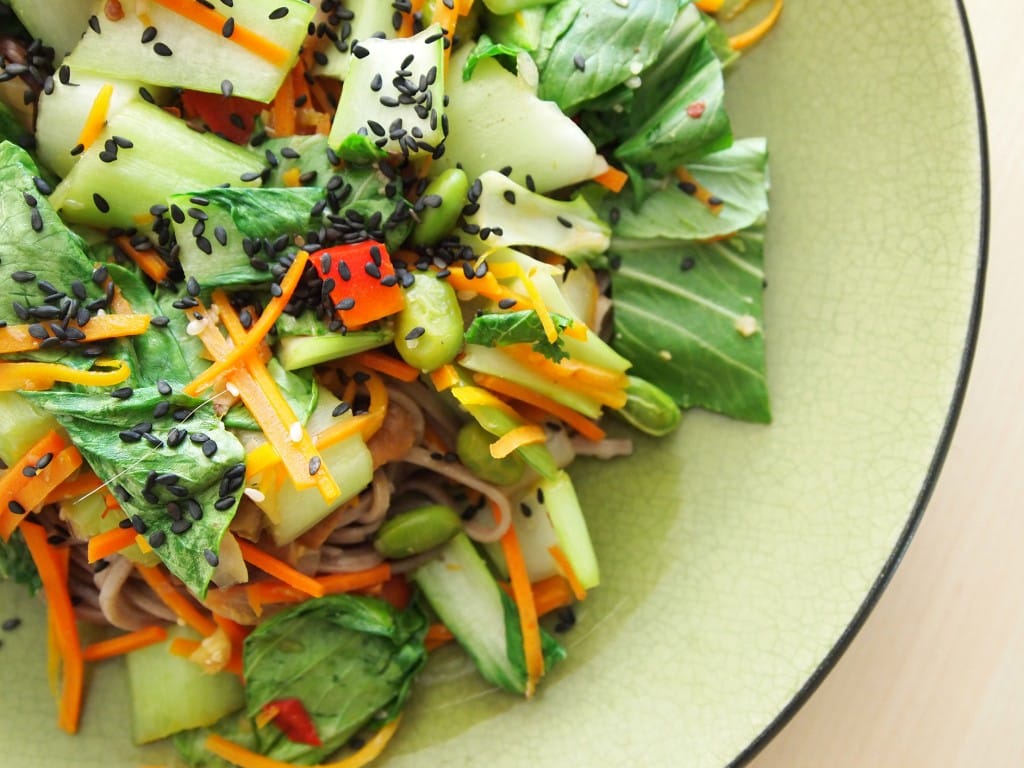 I tell my health coaching clients to get at least four colors onto their plates at every meal, with green being the main color. Without getting too science-y about it, the nutrients in fruit and vegetables lie in their color, and therefore eating lots of colors ensures that we're getting lots of nutrients. Pretty simple, huh?
Unfortunately, most of the plates across America of full of varying shades of beige and brown. It's not as difficult as it sounds to get lots of color into your meal. Some days I find my meals have more than 4 colors (such as the stir-fry recipe below which actually has 7!). Choose red onions (which are actually purple) instead of white, throw some purple cabbage onto your salad, add some shredded carrot to your stir-fry. more→