We Love Quinoa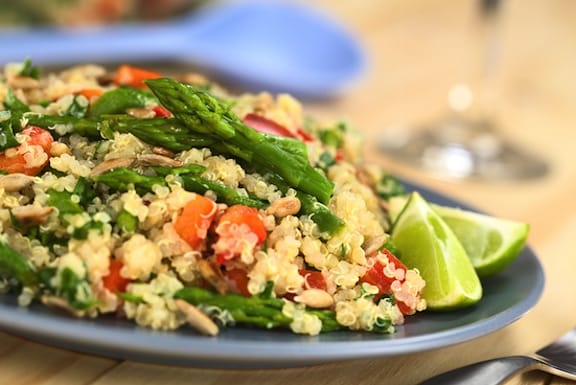 This quinoa salad keeps things very simple, highlighting this nutty grain in tandem with lots of delicious fresh asparagus. It's a lot like tabbouli, but with a springtime touch. more→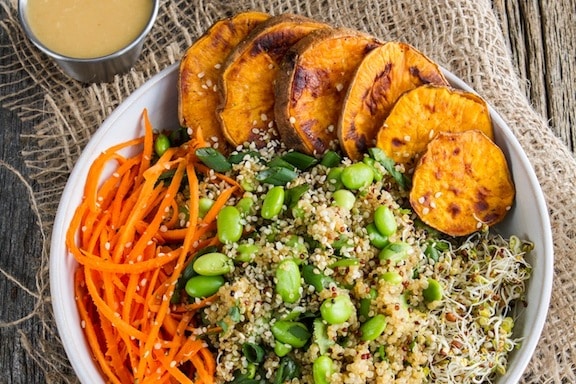 This is a fun power bowl recipe that will keep your energy high for hours. Miso is a fermented food that aids in digestion and adds a wonderful umami flavor to foods. If you are new to miso, Orange-Maple Miso Dressing is a great way to incorporate it into your diet. Gluten-free, nut-free, refined sugar–free, soy-free option! Recipe and photo from The Oh She Glows Cookbook* by Angela Liddon. more→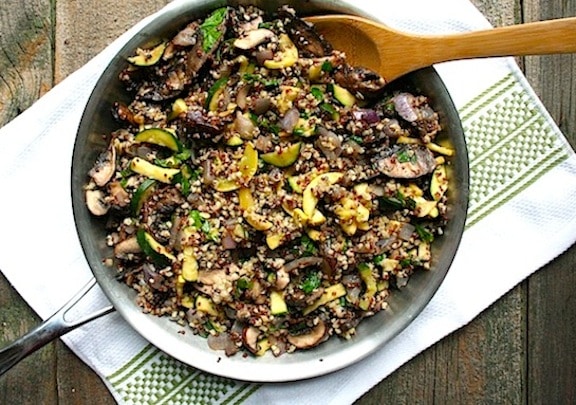 Earthy and hearty, this combination of quinoa, tender squashed and mushrooms can be served any time of year. Serve with Avocado and Pinto Bean Salad or a big colorful salad to which you add your favorite beans. and some stone-ground tortilla chips. Photos by Rachael Braun.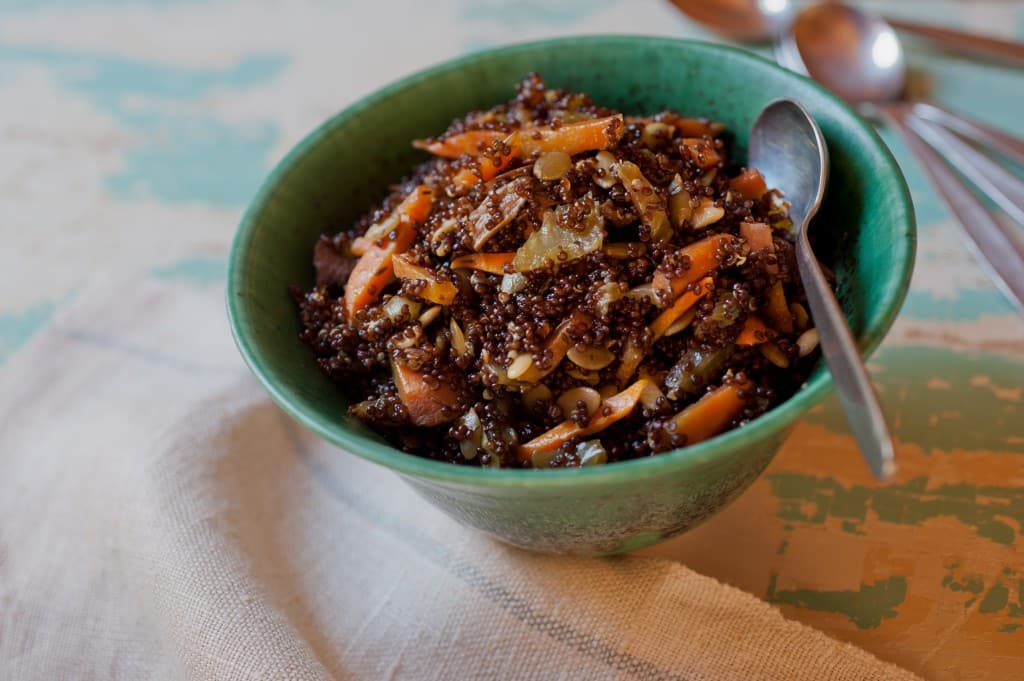 For this flavorful quinoa dish, you can choose from the red, tan or black varieties. I chose the red for a nice color contrast for all the earthy colors of the vegetables. The toasted pumpkin seeds also add a nice crunch, and extra protein to this delicious vegan main dish. Recipe contributed by Leslie Cerier. Photos by Tracey Eller.
more→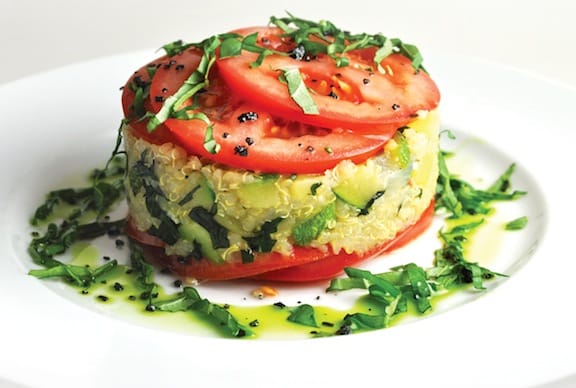 Quinoa is a wonderful gift to vegans and vegetarians. It provides bountiful protein, calcium, iron, magnesium, and fiber in respectable quantities, with very little fat. This simple quinoa dish makes a nice presentation served at room temperature, especially for warm weather meals. Recipe adapted from Extraordinary Vegan* © 2013 by Alan Roettinger, reprinted with permission of Book Publishing Company. Photo by Andrew Schmidt.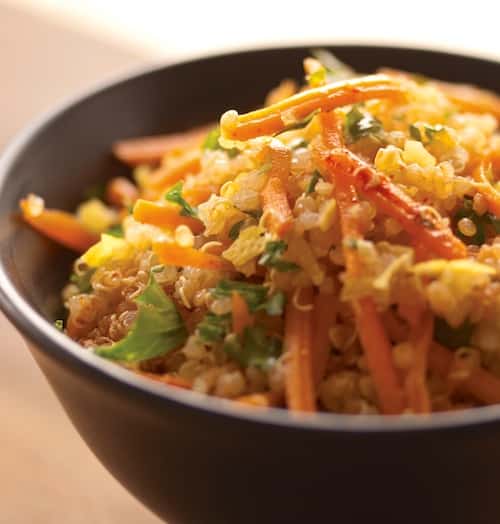 This simple side dish comes together very quickly if you have cooked quinoa on hand in the refrigerator. For even faster prep, use bagged shredded carrots and break the speed limit. Recipe  from Quinoa: High Protein, Gluten-Free* by Beth Geisler with recipes by Jo Stepaniak, @2014 Books Alive, Summertown, TN, reprinted by permission. Photo by Andrew Schmidt.
more→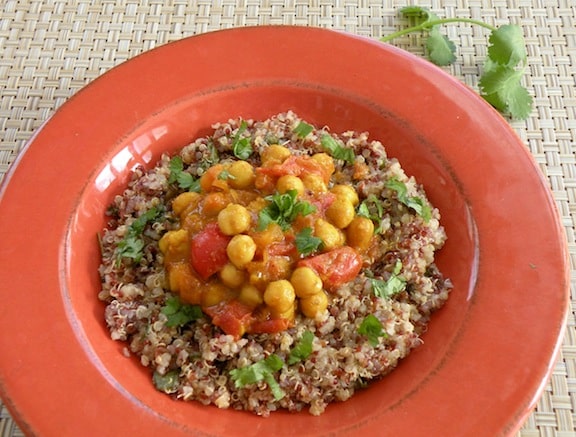 Curry-flavored chickpeas perched atop a bed of chutney-flavored grains (you can use either quinoa, bulgur, or couscous), making for an appealing grain-and-legume combination. Serve with a simply prepared vegetable — hardy greens, broccoli, or cauliflower — and a simple salad. Look for chutney in the international foods aisle of supermarkets or natural foods stores. Adapted from Vegan Express.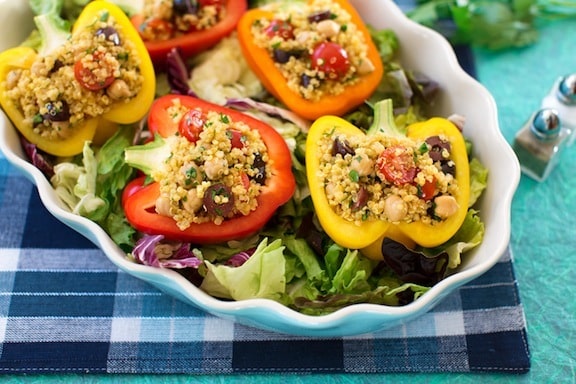 These appealing bell pepper "boats" are filling enough to serve as a main dish for any festive meal. Perfectly portable, too, they make a wonderful picnic entree or a change of pace from sandwiches for a hearty lunch. Recipe contributed by Laura Theodore, from Jazzy Vegetarian Classics: Vegan Twists on American Family Favorites* © 2013 BenBella Books, reprinted by permission. Photos by Hannah Kaminsky. more→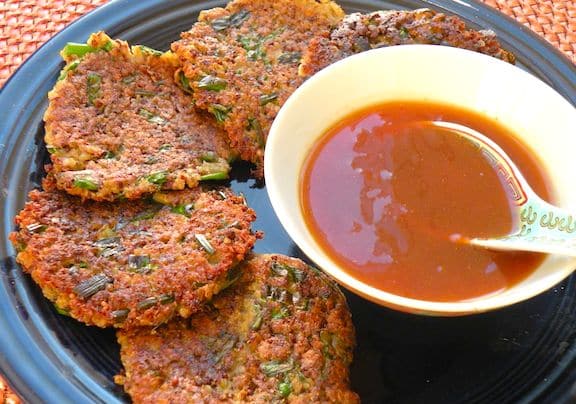 These crispy quinoa fritters pack a lot of flavor, thanks to lots of scallion and cilantro. If you have quinoa cooked ahead of time, this comes together in a snap. These are nice served with Asian-style soups like Bok Choy, Tofu, and Baby Corn Soup. If you're serving these with any other Asian-Style meal, I highly recommend taking the 5 minutes or less to make "Duck" Sauce, as pictured. Otherwise, these are nice served as a side dish for meals in which veggies take center stage, such as hearty stews, or bean dishes. more→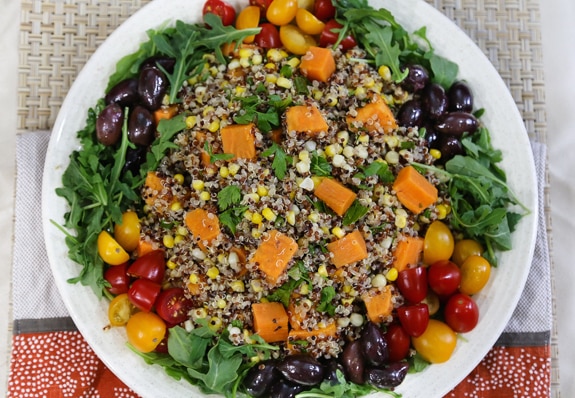 This colorful main dish salad featuring sweet potato, quinoa, and corn is simple to prepare, yet has a festive "company's coming" look. It makes a bountiful accompaniment to vegan quesadillas. If you can cook the sweet potatoes and quinoa ahead of time, this will come together in a flash when you want to serve it. Photos by Evan Atlas.   more→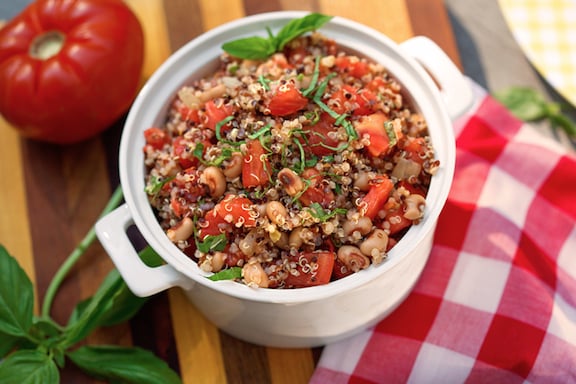 Black-eyed peas and quinoa make a hearty pair, embellished with lots of flavorful tomatoes. Try serving this with Chili Cheese Grits or fresh corn, and a simple coleslaw or salad. If you can, do try the liquid smoke or mesquite seasoning, either of which add a subtle smoky flavor. Photos by Hannah Kaminsky. more→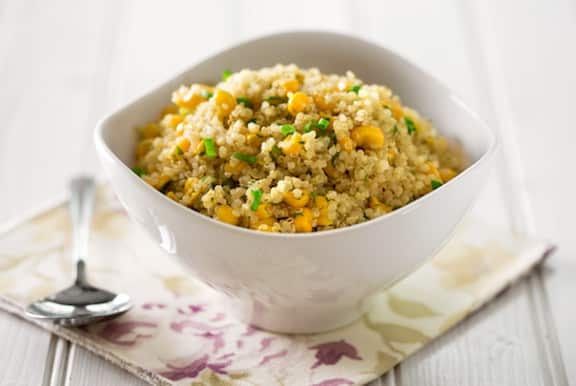 Quinoa and corn, embellished with lots of scallion, makes a simple and tasty side dish for everyday meals. What's not to love about quinoa? It's a powerhouse of nutrients, it cooks in 15 minutes, and its pleasantly offbeat flavor is most appealing. I try to use it often, and this quick preparation is the one I turn to often. It goes with just about anything and is also a nice stuffing for small pre-baked squashes like golden acorn. Photos by Hannah Kaminsky.