Vegan Recipes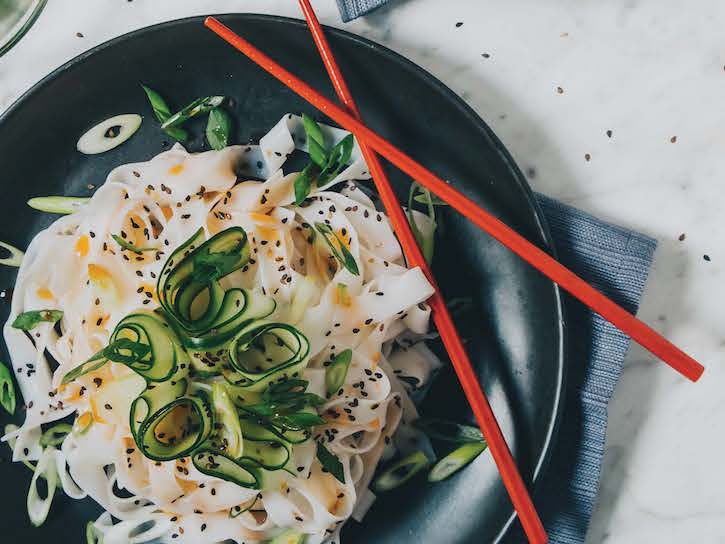 I tend to add megaflavor to everything I cook, but in this dish I embrace the minimalist trend and really like the simplicity of green onions with spice, sesame, salt, and refreshing crunchy cucumber. It was inspired by something I ate a couple of years ago at Xi'an Famous Foods in Brooklyn.
A friend claimed this menu item, known as A-1, was her favorite thing ever, which I mistook for hyperbole. But I was curious. Well, after ordering it and taking one bite, I was in love and certainly wasn't prepared for a long-distance relationship with this noodle dish so I made my own version of Cold Cucumber–Chile Noodles.
Reprinted with permission from Hot for Food Vegan Comfort Classics, text and photography copyright 2018 by Lauren Toyota. Published by Ten Speed Press, an imprint of Penguin Random House LLC. more→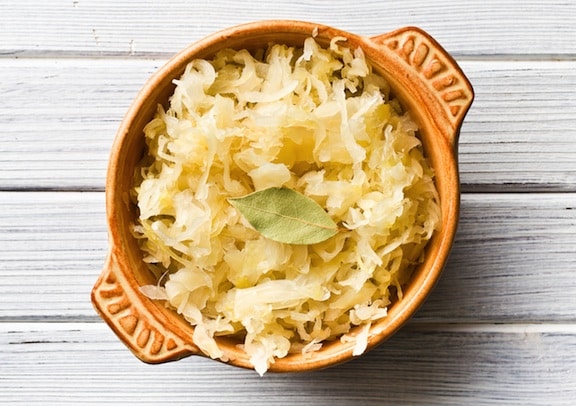 In Western culture, fermented foods often don't play enough of a role in everyday fare. Fermented foods contribute to gut health, supplying more probiotic action that what you might find in a capsule. They can also strengthen your immune system, according to this article by expert Rebecca Wood.
"Fermentation increases the flavor, medicinal value and nutrition of foods," she writes. Of course, you can buy a jar of sauerkraut. And if you do, make sure it's the kind that is naturally fermented, not just salted. But DIY sauerkraut can be surprisingly easy to make, and allow you to experiment with flavors you won't find in the store-bought kind. Here are 9 flavorful homemade sauerkraut recipes to tickle your palate and at the same time improve your gut health. more→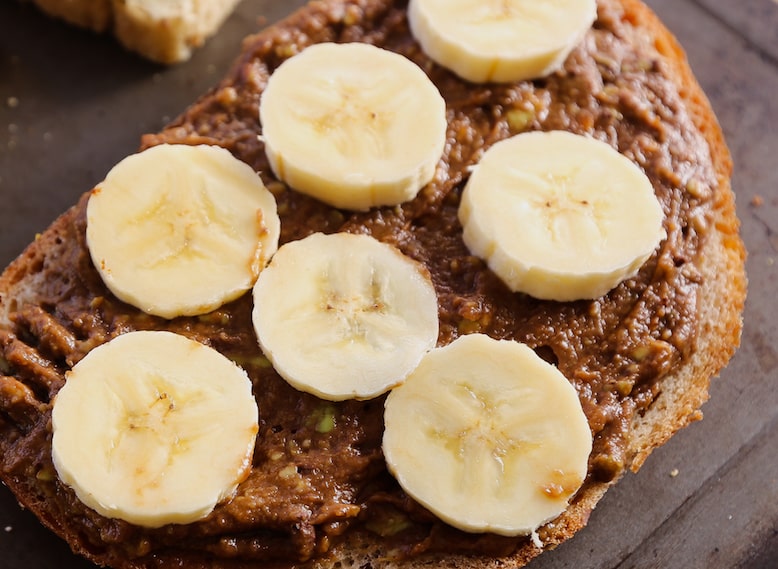 In January of 2018 there were near-riots in France as a grocery chain knocked down the price of Nutella, the popular chocolate-hazelnut that's gathering a following here in the U.S. But is it really worthy of that kind of devotion? After all, the first two ingredients are sugar and palm oil — not ideal fuels to start the day. This sweet cocoa avocado toast has got it all — protein, good fats, whole-grain carbs, and the potassium boost of banana.
While avocado may have seen its day as a trend, it still has plenty of devotees (yours truly included), and has become a fixture on countless breakfast and lunch menus everywhere. After the recent "Nutella riots" as they were dubbed by the press, I merged the concepts of avocado toast and Nutella into one super-simple spread. Using only a handful of real food ingredients, this "Not-ella" spread is oil- and dairy free and sublime. It's an easy, filling breakfast and a good after-school treat. more→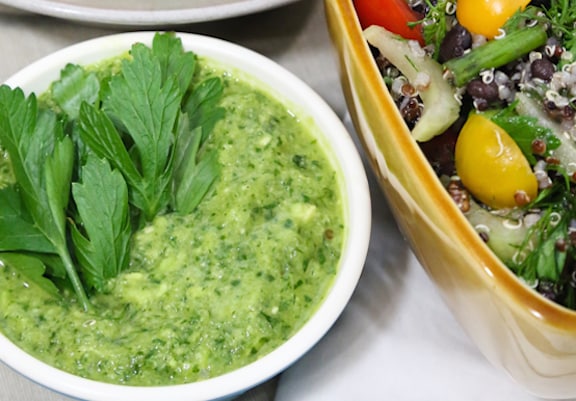 Salad dressing can get a little tricky when you're vegan. Most are made out of oils and vinegars. But if you want a hearty, creamy dressing, many have mayonnaise in them. Luckily, it's easy to get a creamy, vegan salad dressing by using ingredients like vegan mayonnaise, hummus or even nuts like cashews. Below are some of the top creamy vegan salad dressing recipes. more→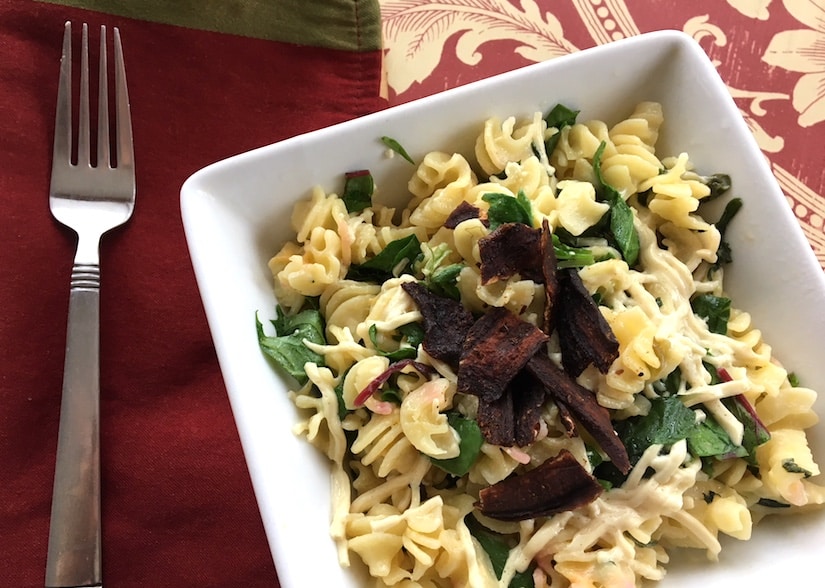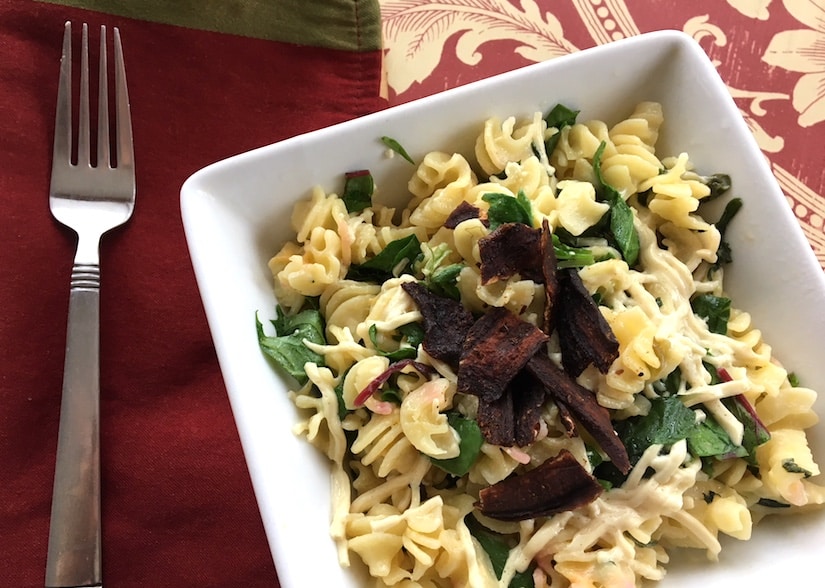 My name is Gloria Clay, and I won Vegan Outreach Mac Down Competition in Columbia SC. I was the only person who isn't chef or an owner of a food truck or restaurant. I've never gone to culinary school, so I was surprised and thrilled to win the competition with my original Vegan Mac and Cheese Casserole with a healthy dose of collard greens, and topped with tempeh bacon.
I entered the competition to bring awareness to cruelty free eating and to let people know that they can still enjoy their favorite comfort foods without the use of animal products. more→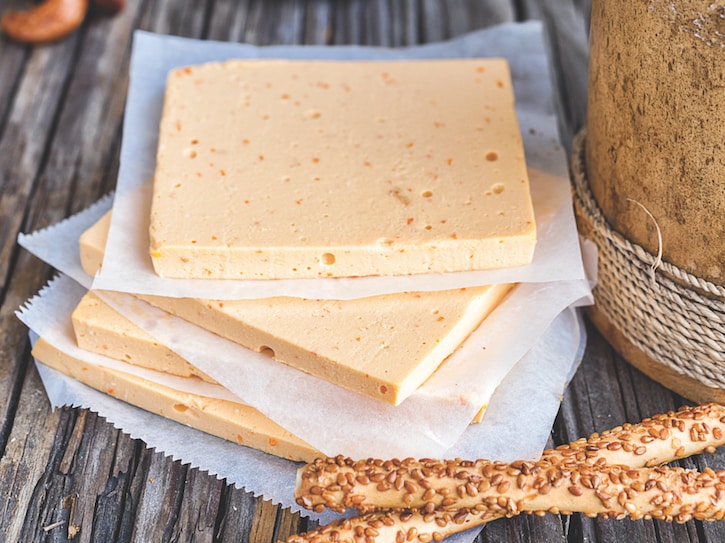 The same classic American cheese taste you grew up with: mild, firm, and satisfying. These creamy golden-hued vegan American cheese slices are perfect sliced on sandwiches and crackers. Recipe and photo from Vegan Cheese: Simple, Delicious Plant-Based Recipes by Jules Aron, ©2017 by Countryman Press, reprinted by permission. more→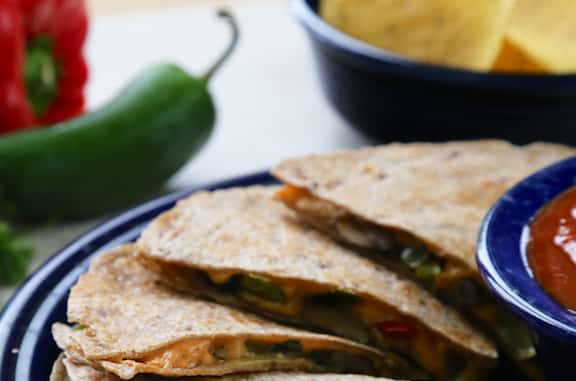 Here are 12 easy and fun vegan snacks for your Super Bowl gathering, starting with Mushroom and Bell Pepper Vegan Quesadillas. These make a great snack served simply with salsa and can also accompany well-seasoned chili.  more→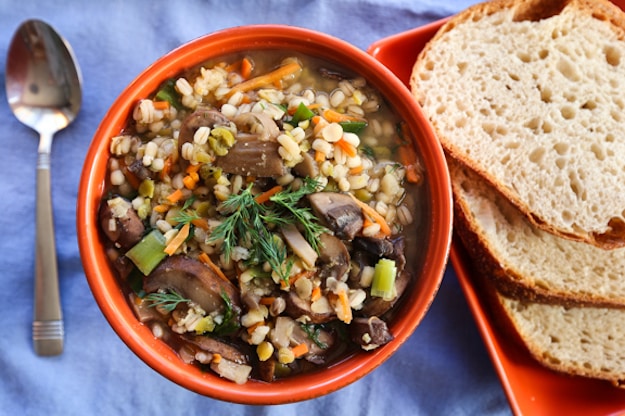 When cold and flu season is in full swing, or if it's simply a bone-chilling winter day, sometimes you need a big pot of comforting soup and you need it now! One of the most soothing bowlfuls ever is mushroom barley soup, and this shortcut vegan version takes at least an hour off the process. Case in point, our Classic Mushroom Barley Soup, which is about an hour and a half or more, from prep to finish. There's not a lot of work time, so when you have more leisure to cook soup, give it a try!
This fast version shaves off the time by using quick-cooking barley and precut fresh veggies. It's just as good as the original, and gets more flavorful as it stands. Look for quick-cooking barley (sometimes called 10-minute barley) in the grains or dried beans section of well-stocked supermarkets and natural foods stores. Trader Joe's has their own brand, too. Or you can search for quick-cooking barley and order online. more→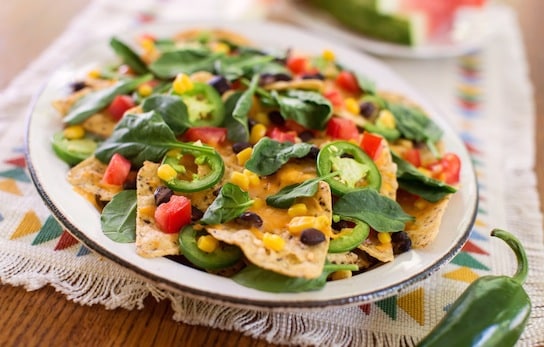 Here are some super-tasty nachos that can be made with pantry and refrigerator staples in a matter of minutes. Nachos are fun fare no matter what, whether as a snack for a small party, or even as an emergency dinner. Recipe from Plant Power: Transform Your Kitchen, Plate, and Life with More Than 150 Fresh and Flavorful Vegan Recipes by Nava Atlas. © 2014, published by HarperOne, reprinted by permission. Photos by Hannah Kaminsky.

more→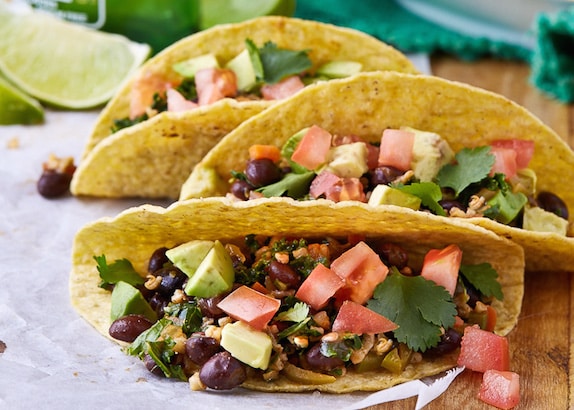 Everybody loves tacos. However, in order to eat tacos as a vegan, we sometimes have to get a little creative. A plant-based diet means we have to load up on veggies and find some alternatives to certain taco staples. Of course, that just means our tacos are more colorful and unique! Some recipes for our favorite vegetarian tacos are over on OhMyVeggies, and they cover everything from tofu tacos to lentil tacos. Most of these vegetarian tacos are great options for vegans, but unfortunately, some of them do include things like eggs. As a result, there are only a few viable options for the most important meal of the day: breakfast! Who wouldn't want to eat tacos for breakfast? Some people think that to be healthy they should eat less and just skip their first meal, but in actuality, you need to eat a good breakfast. In order to jump start your morning, we're here to give you some vegan and vegetarian tacos recipes for the best vegan tacos for breakfast! more→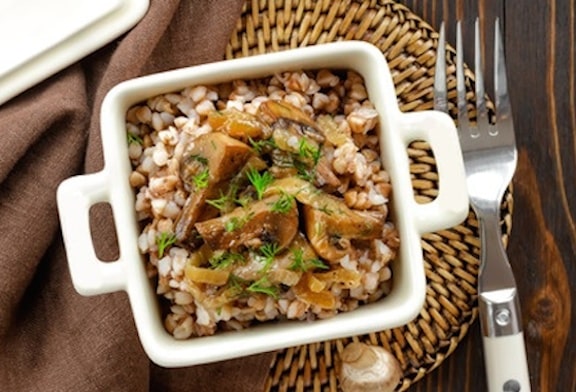 Kasha, or toasty brown buckwheat groats, is a grain that's popular in Eastern European cuisines. It's one of a kind of food that you feel strongly about one way or another, as their flavor and aroma are strong and distinct. If you're a kasha fan, you'll enjoy this simple dish. Kasha is highly compatible with onions and mushrooms, which are in abundance here.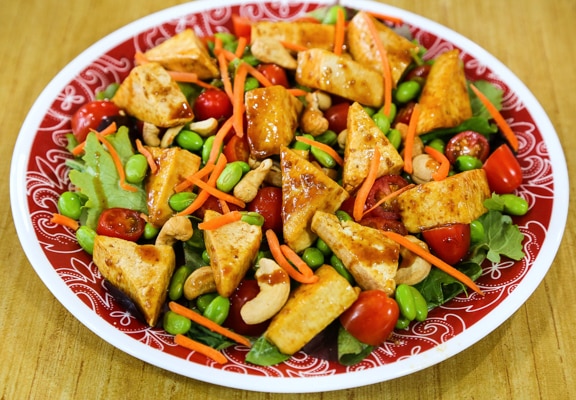 When the weather is cool, I find I need to find ways to entice myself to eat salads. One way that seems to do the trick is to add a warm or hot element to cool greens. This sizzling salad features tofu that's been cooked in tasty teriyaki sauce. Edamame (fresh green soybeans) and cashews add even more protein and a lot of flavor. For me, this is a winter favorite! Photos by Evan Atlas. more→