Tofu, Tempeh, and Seitan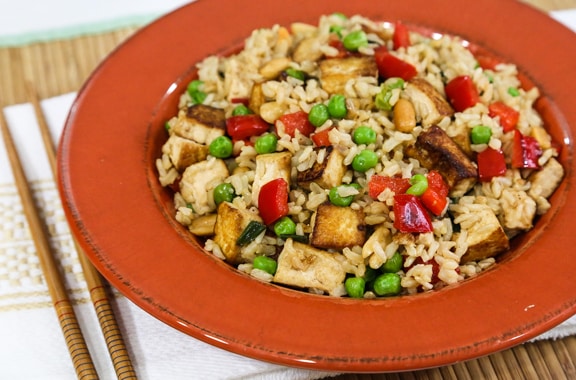 Combining brown rice, tofu, and peanuts in a simple main dish stir-fry, this is sure to become a mainstay in your repertoire if you enjoy these ingredients. Having the rice cooked ahead of time makes this a breeze. Photos by Evan Atlas. more→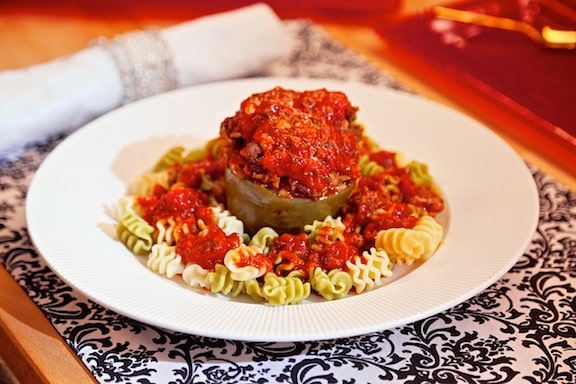 I first made these delicious peppers for a New Year's Eve party and they were a huge hit! Featuring a meaty-tasting seitan and hearty brown rice stuffing, these beautiful bell peppers satiate omnivores and vegans alike. Ready for the oven in under 20 minutes, these six-ingredient wonders are equally ideal for a holiday party or weeknight supper. Recipe from Vegan-Ease: An Easy Guide to Enjoying a Plant-Based Diet. Published by Jazzy Vegetarian LLC, © 2015, reprinted by permission. Photos by David Kaplan.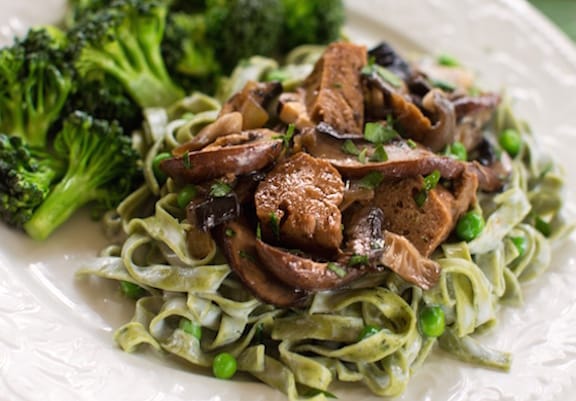 Here's a hearty pasta dish featuring a healthier, nondairy version of cream-filled Alfredo sauce. This dish also has some serious plant-based "beefiness" courtesy of seitan. Serve with plenty of green vegetables (like broccoli, greens, or green beans) and a simple salad for an any-night-of-the-week meal, or even as a company dish. Recipe adapted from Plant Power: Transform Your Kitchen, Plate, and Life with More Than 150 Fresh and Flavorful Vegan Recipes by Nava Atlas (©2014, published by HarperOne, reprinted by permission). Photos by Hannah Kaminsky.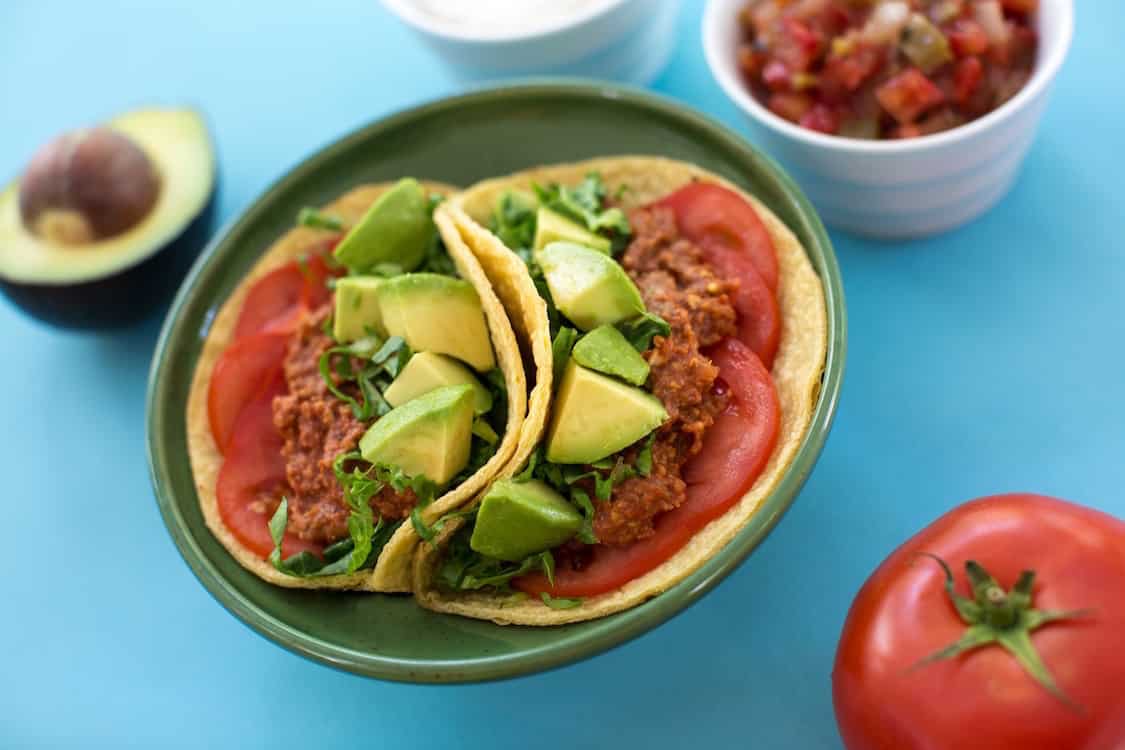 Two high-protein foods (with lots more going for them nutritionally) — tempeh and walnuts — team up in a tasty taco filling that goes a long way. Use leftovers to boost protein and add texture to bean dishes and stews. Or you can freeze half of this filling for a future taco dinner. For a great meal, serve with Southwestern-Flavored Kale Salad. Adapted from Plant Power: Transform Your Kitchen, Plate, and Life with More Than 150 Fresh and Flavorful Vegan Recipes by Nava Atlas (HarperOne, reprinted by permission). Photos by Hannah Kaminsky.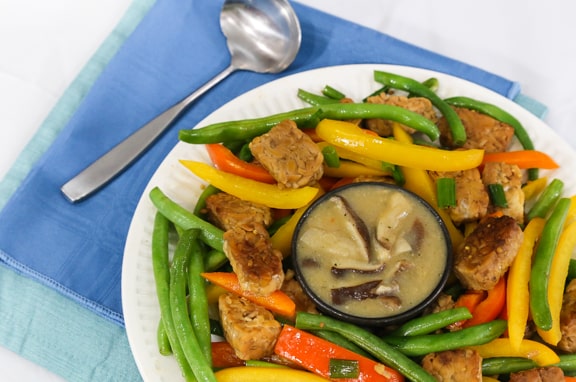 Green beans, tempeh, and bell peppers make for a tasty trio, especially when enveloped in a flavorful shiitake-miso gravy. To save time, or when fresh are out of season, use frozen organic baby green beans, available in most any natural foods store and many supermarkets. If available, do use fresh slender green beans, by all means, when they make their rare appearance at your local market. Photos by Evan Atlas.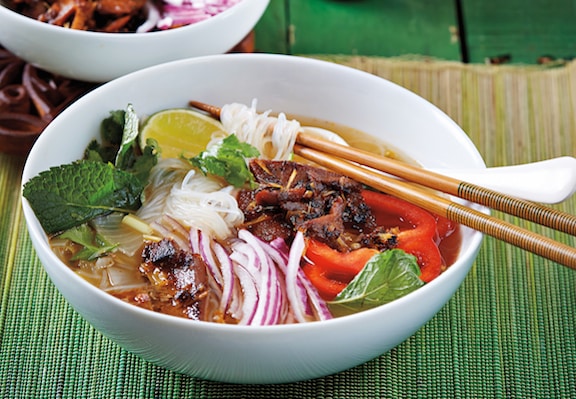 This dish is bursting with crave-worthy Vietnamese flavors: lemongrass, lime, mint, ginger. I like to use homemade broth and infuse it with aromatics, but you can use bouillon, if you like. Just try not to make the base too strong; you want all the flavors to shine through. Mock duck is really just seitan, but if you're familiar with those little cans of "mock duck" at the Asian grocery, feel free to use those! Recipe and photo from Vegan With a Vengeance: 10th Anniversary Edition* by Isa Chandra Moskowitz, ©2015. Published by Perseus Books, reprinted with permission. more→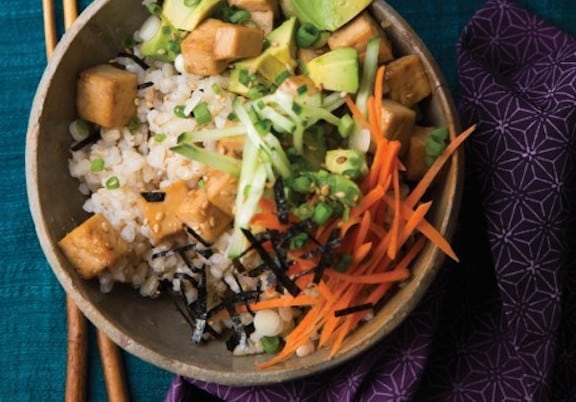 Crisp teriyaki-flavored tofu bites are perched atop nori-flecked sushi rice for an invigorating meal in a bowl. It's a lively combination of cooked and raw ingredients. Recipe originally published in January 2015 Vegetarian Times. Photo courtesy of Vegetarian Times. more→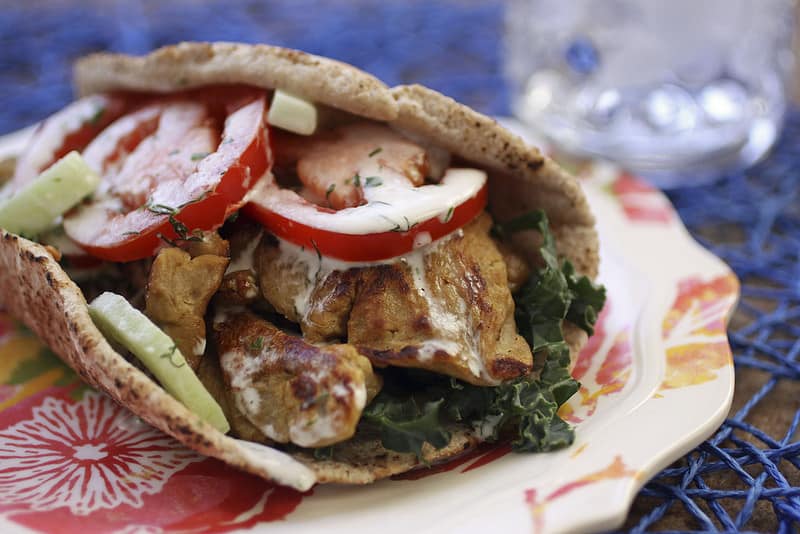 Dense and chewy seitan — cooked wheat gluten — is almost pure protein. Clearly, though, seitan is not for anyone with gluten sensitivity. Store-bought seitan usually comes in 8-ounce packages or 16-ounce tubs, or you can make Homemade Seitan with the recipe on this site. It's a hearty plant-based protein with an almost meaty texture. Here are 6 of our favorite ways to use this versatile food. Seitan Gyros is a kinder, gentler version of the Greek meat-on-a-pita classic. Seitan makes a superb stand-in, and the shortcut creamy cucumber dressing gives the entire enterprise a refreshing zip. more→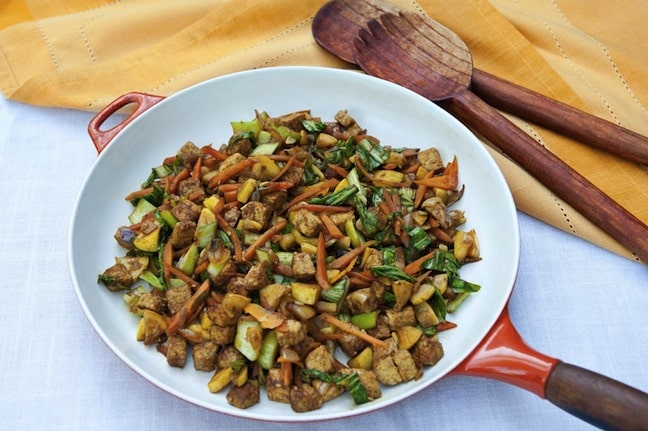 Frying tempeh in red palm oil gives it a rich flavor and meaty texture. You can use coconut oil or sesame oil and swap other seasonal vegetables for infinite tasty variations. In this recipe I used mirin, a sweet rice cooking wine, feel free to use another cooking wine or water. Serve this stir fry on top of rice and with a side of fresh pineapple for a fine meal. Copyright © 2013 Leslie Cerier. Photo by Tracey Eller.
more→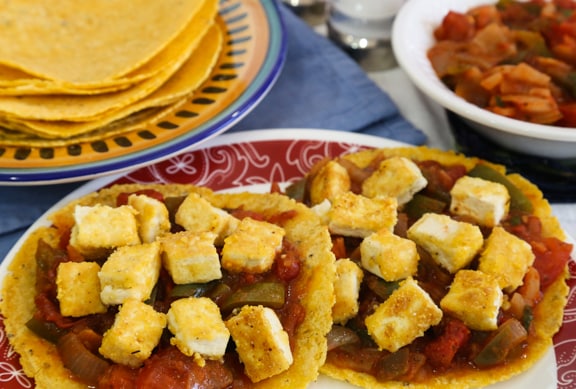 A veganized version of huevos (eggs) rancheros, this dish of tofu prepared with Southwestern flavors and nestled on corn tortillas, makes a nice brunch or light dinner dish. Serve with a simple potato or bean dish (shown here with Beer-Stewed Pinto Beans) and a platter of sliced avocado and oranges for a complete meal.  more→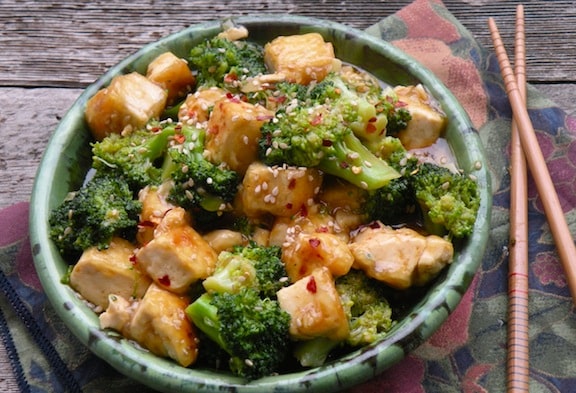 This stir-fry is inspired by General Tso's Tofu, but dispenses with the cornstarch-battered, deep-fried tofu. I've tried it that way and find this version, with pan-sautéed tofu, plenty of broccoli, and a savory, sweet, and spicy sauce even more appealing. It's easy and fast, too.  more→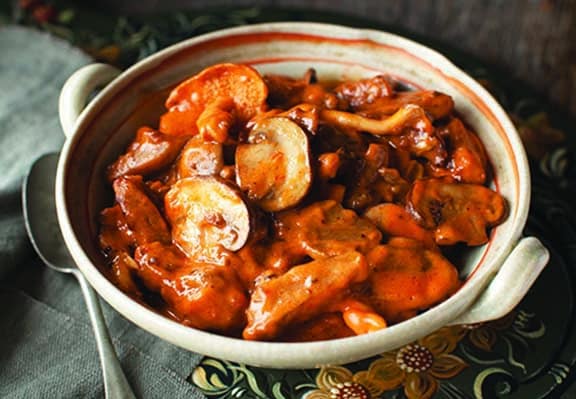 Thinly sliced seitan absorbs the flavor of the rich mushroom sauce in these German "hunter's cutlets." You can use any kind of mushrooms you like, but I prefer using a variety of different kinds to add interest and flavor dimension to the dish. Recipe from Vegan Without Borders* by Robin Robertson/Andrews McMeel Publishing, LLC ©2014, reprinted by permission. Photos by Sara Remington.