Broccoli and Cauliflower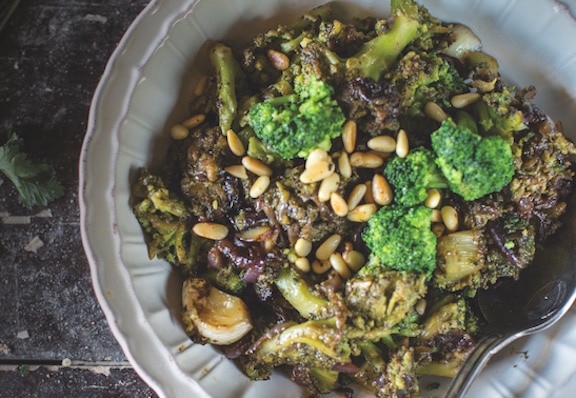 When I lived in New York, I had a flatmate who told me a story about how shocked she was when, during a trip to Italy, she saw her host mother cooking the life out of broccoli. "I had never seen anything like it before!" she said. "She cooked it until almost mushy, with tons of garlic. It was delicious!"
And it is. Strange as it may sound, and although it is surely not the healthiest way to cook broccoli, do give this broccoli Strascinati a try. You will be amazed at how even broccoli can become what tastes like an indulgent, olive oil–laden, garlicky treat.  Reprinted from Naturally Vegetarian by Valentina Solfrini, by arrangement of Avery Books, a member of Penguin Group USA. A Penguin Random House Company, © 2017.
Serves: 4 as a side dish
Florets from 2 large heads broccoli, or about 2 pounds

¼ cup olive oil

3 large garlic cloves, crushed

1 small onion, finely diced

1 tablespoon packed light brown sugar

3 tablespoons balsamic vinegar

1 teaspoon salt

¼ teaspoon pepper

1/3 cup raisins, soaked and squeezed out

¼ cup water

1/3 cup pine nuts or almonds, toasted
Blanch the broccoli florets in boiling water for 5 minutes or, even better, steam them for 10 minutes.
Heat the olive oil in a large pan over medium-low heat and add the garlic. Sauté for about 2 minutes, until the garlic releases its aroma.
Add the onion and sauté for 5 minutes, until translucent.
Add the broccoli and stir to coat with the oil, then add the brown sugar, vinegar, salt, pepper, and raisins. Stir well to dissolve the sugar, add the water, reduce the heat to low, and let cook, half-covered, for 30 minutes.
If the broccoli dries out too much, add a splash more water. Uncover and cook for 5 minutes more, until any leftover water has evaporated and the broccoli is very soft and slightly caramelized. Sprinkle the toasted nuts on top.
VARIATION: For an extra-simple version of this dish, omit the vinegar, raisins, and pine nuts. It will be just as delicious.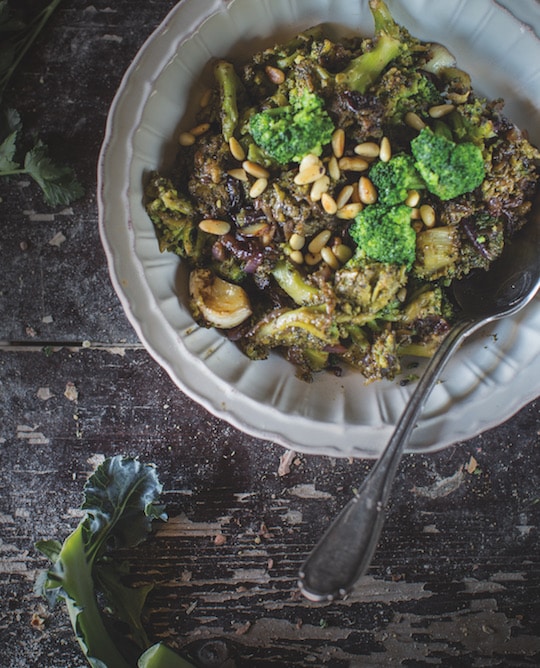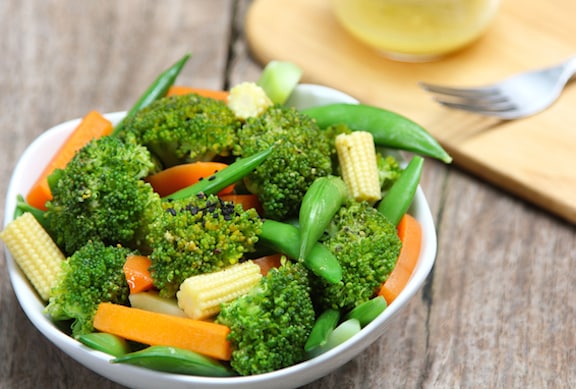 Here's an easy and colorful side dish to accompany Asian noodle or tofu main dishes. This broccoli and baby corn stir-fry especially good with really fresh broccoli from the garden or farm stand. more→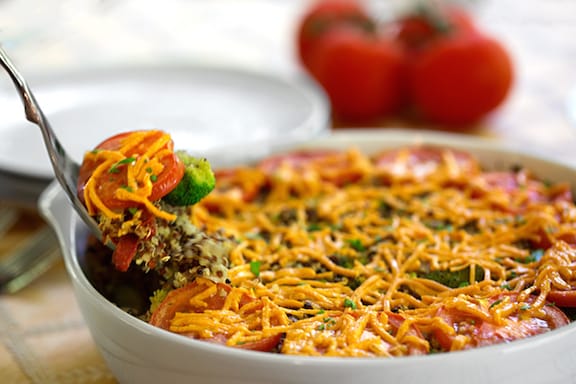 This easy vegan broccoli quinoa casserole of made out of quinoa, broccoli, and vegan cheese makes for a dish that's both nourishing and comforting. Serve with baked sweet potatoes (start the sweet potatoes in the oven about 45 minutes before starting to bake the casserole) and a salad of dark greens and ripe tomatoes. Photos by Hannah Kaminsky. more→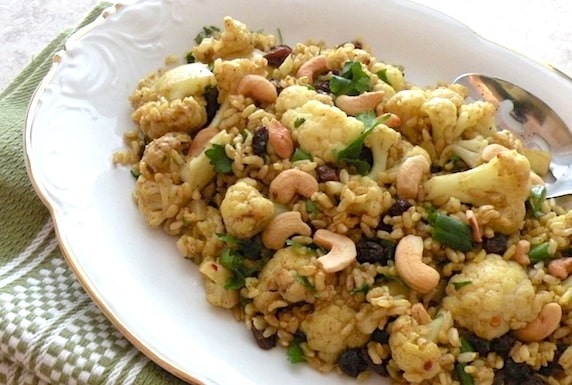 Once you have some brown rice cooked, this hearty cauliflower rice pilaf with aromatic curry seasonings comes together quickly. For an easy meal, serve cauliflower rice with Lentils with Greens and Sun-Dried Tomatoes and a simple salad.
If you're looking to lighten up your pilafs, you might also like our cauliflower rice recipes in which this nutritious veggie becomes the rice.
Cauliflower rice recipes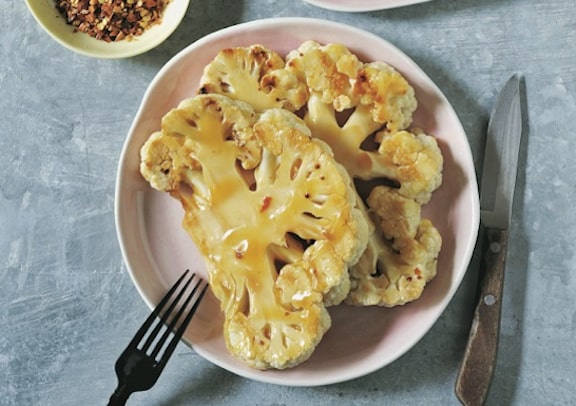 We use the word "steak" quite loosely here, but what an awesome way to announce your veganism to the world, by calling a slice of cauliflower a steak! You can grill this outside on the barbecue or indoors on a grill pan. The recipe also works well if you cut the cauliflower into florets and roast them in a single layer on a sheet pan. Recipe and photo from Going Vegan: A Complete Guide to Making a Healthy Transition to a Plant-Based Lifestyle by Joni Marie Newman and Gerrie Lynn Adams, @ 2014 Fair Winds Press. Reprinted by permission. more→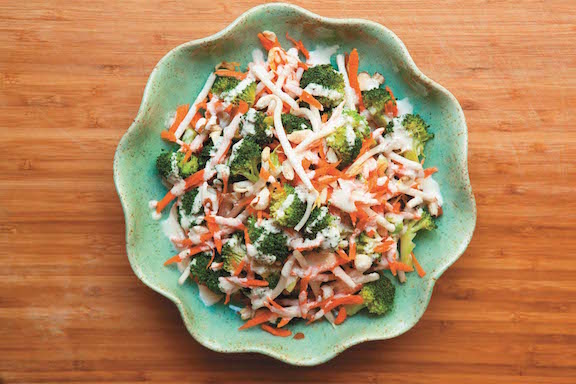 This garlicky lemon-flavored broccoli bowl is a hearty dish that can be enjoyed warm or cold. Try it with a little side of hot sauce. If using untoasted almonds, if you'd like, you can soak them overnight in water, then rinse well. Recipe and photo from Raw and Simple by Judita Wignall. @2013 Quarry Books, reprinted by permission.  more→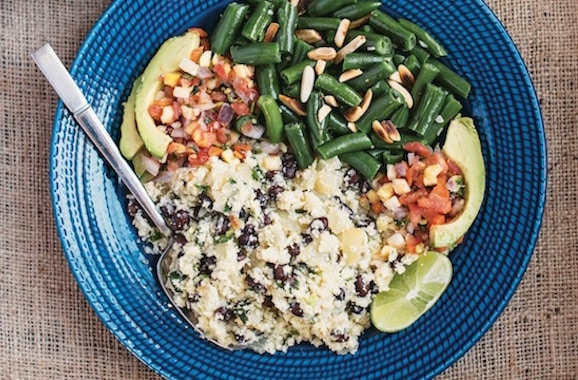 It may surprise you that it's possible to get the feeling of eating rice using a vegetable, but this dish proves it true! The cauliflower is packed with nutrients, the beans add plenty of protein, the garlic will help boost your immune system and the cilantro will aid your digestion. This is a calorie-light dish that will fill you up and invite your tongue to explore novel textures. Recipe and photos contributed by Ella Magers, from The Six Weeks to Sexy Abs Meal Plan, reprinted by permission. more→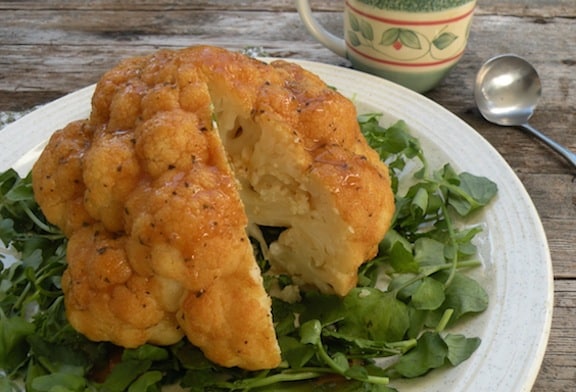 I must confess that for me, the main appeal of cauliflower crown roast, a new-fashioned way of preparing this veggie, is its appearance. Once you cut wedges away, what you have is lots of unseasoned cauliflower. To mitigate this blandness, serve with plenty of the same simple, tasty gravy used to baste it while it bakes. In its favor, other than the handsome appearance of the cauliflower, is ease of preparation. more→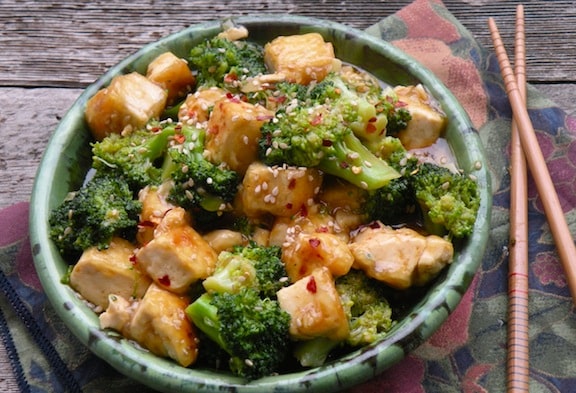 This stir-fry is inspired by General Tso's Tofu, but dispenses with the cornstarch-battered, deep-fried tofu. I've tried it that way and find this version, with pan-sautéed tofu, plenty of broccoli, and a savory, sweet, and spicy sauce even more appealing. It's easy and fast, too.  more→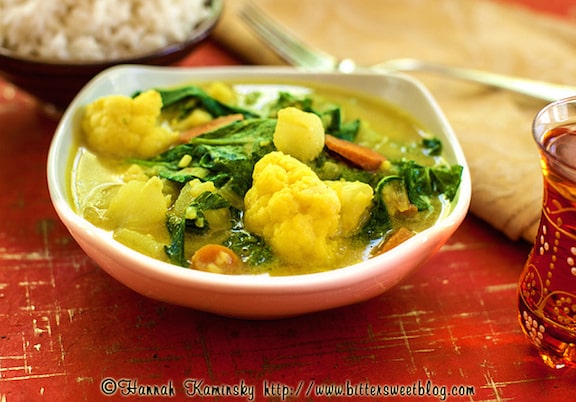 Pungent mustard greens are paired with mild spinach, and with the addition of mellow cauliflower, the result is a gorgeous and satisfying curried stew. Mustard greens, which are in fact a green often used in curries (as is spinach) most often come in really large bunches, so use as much as you'd like; the sharp flavor is well tamed by cooking. If you're not a fan of mustard greens, or just want to use a more familiar type of leafy green veggie, see the variations following the instructions. Recipe from Wild About Greens. Photo by Hannah Kaminsky, from her original review of this this book. more→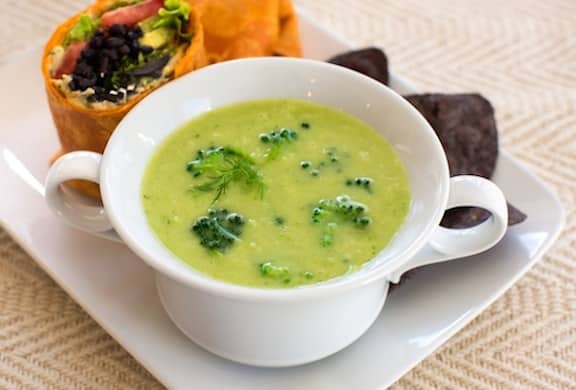 A longtime favorite in our family of broccoli enthusiasts, this soup gets a thick, creamy base from pureed white beans or tofu. The addition of green peas at the end of cooking time brightens the color and heightens the flavor of the soup. This is great served with many kinds of wraps or sandwiches. Recipe from Plant Power: Transform Your Kitchen, Plate, and Life with More Than 150 Fresh and Flavorful Vegan Recipes by Nava Atlas. ©2014, published by HarperOne, reprinted by permission. Photos by Hannah Kaminsky.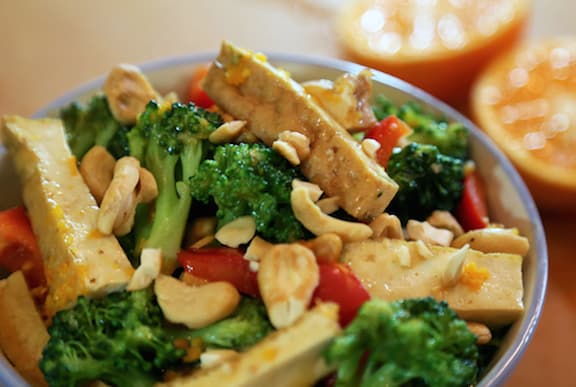 This simple stir-fry of baked tofu and broccoli is enlivened with an easy, orange-flavored sauce. For a tempting Asian-style meal, pair this with Vegetable Lo Mein, and serve with a platter of raw vegetables on the side. Photos by Evan Atlas.