Fresh Corn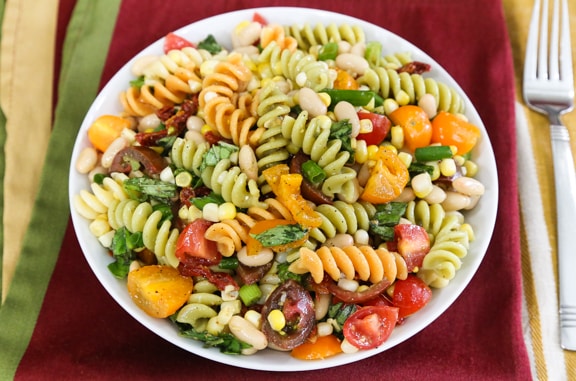 Brimming with fresh corn and tomatoes, this sturdy, savory pasta salad is a reliable offerings for summer company, and is easy enough for everyday meals. This is a delicious accompaniment to grilled vegetables or veggie burgers. Photos by Evan Atlas.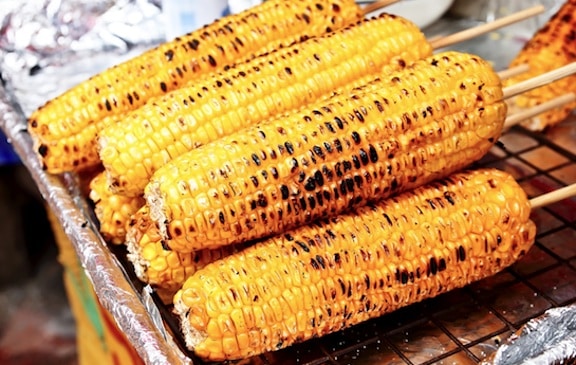 Summer is the best time to enjoy fresh corn on the cob. Purchase organic corn if you'd like to be sure it's non-GMO — it's not hard to find! Corn is amazingly versatile; and for those times when you don't want to use it in recipes, try grilling it as shown above for a fabulous treat. more→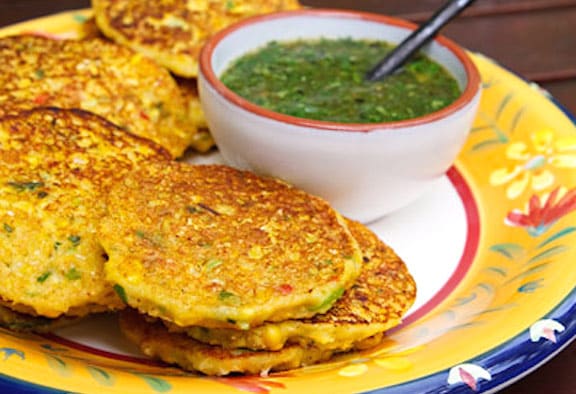 At the height of fresh corn season, these simple fritters can be served as a tasty side dish or as an appetizer. They're good warm or at room temperature, and the easy tomatillo-cilantro sauce adds a lot of flavor. Adapted from Vegan Holiday Kitchen. Photos by Susan Voisin. more→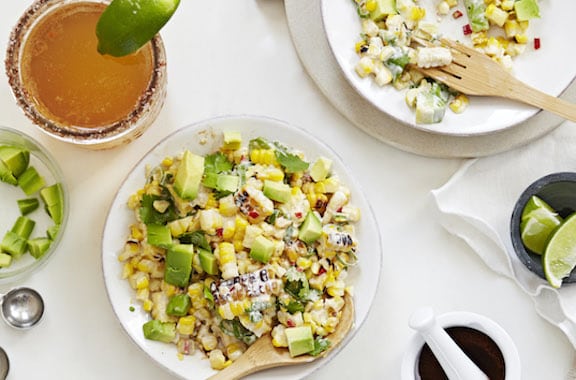 I could eat a different corn salad every night (corn is the perfect hearty addition to summertime salads), but my obsession started here: a deluxe vegan esquites, the queen of creamy roasted corn salads. Unlike most corn salads, this is best eaten when the corn is still warm from roasting, so prep all of the veggies (and the dressing, but you knew that already!) first, so all that's required is toasted hot corn for a mouthwatering treat. From Salad Samurai: 100 Cutting-Edge, Ultra-Hearty, Easy-to-Make Salads You Don't Have to Be Vegan to Love* by Terry Hope Romero. Reprinted courtesy of Da Capo Lifelong Books, ©2014. Photos by Vanessa K. Rees. more→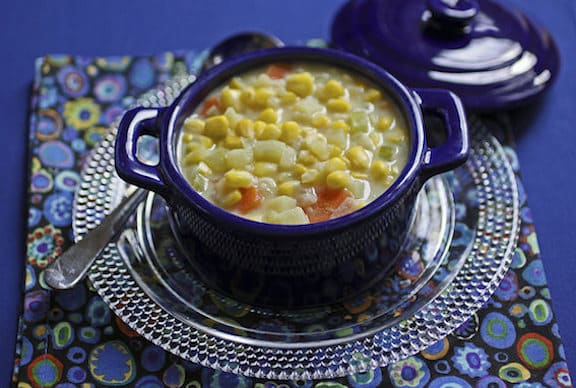 Pureed silken tofu is a superb base for creamy soups, such as this vegan creamy corn chowder. It provides substance without the need for thickening. The mild, familiar flavors will entice kids of all ages to enjoy a soothing bowl of soup. Photos by Lori Maffei. more→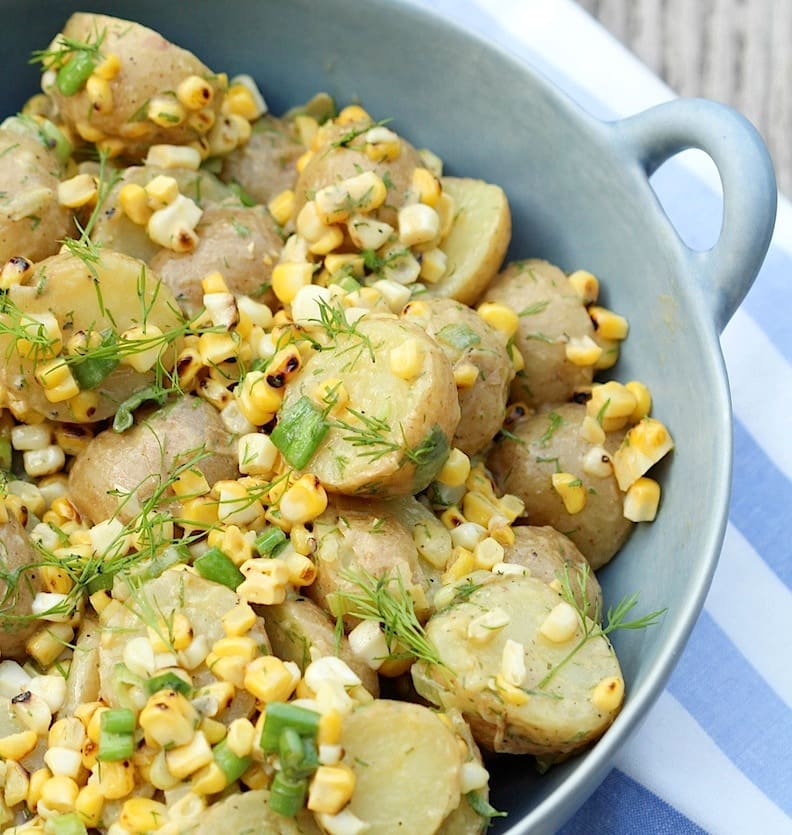 When summer is in full swing, it means picnics, family bike rides, BBQs, and lots of dinners on the patio. A popular summer salad which I was never really able to get behind is the traditional potato salad. I just find it too heavy with mayo and much too creamy for my liking. I do, however, love the idea of grilled corn, fresh dill, and tangy mustard in my potato salad, and that's just what I did to recreate this classic dish. This recipe makes for excellent leftovers, and it's so easy to whip up to bring along to a lunch or dinner party. It won't leave anyone feeling weighed down by heavy mayo, and you can proudly say it's vegan! Recipe and photos contributed by Sophia Zergiotis of Love and Lentils.
more→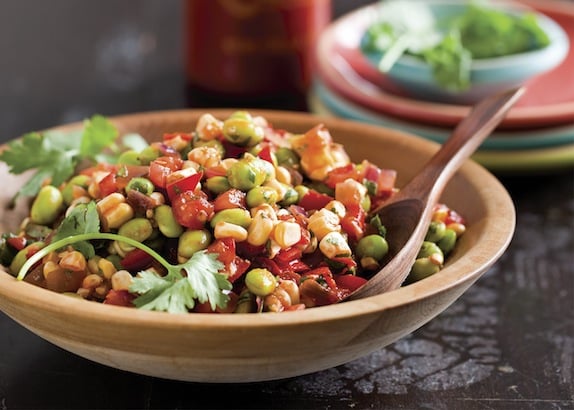 To chill or not to chill: that is the question. While it's true that succotash is delightful served warm, I've always enjoyed it served cold as a refreshing salad from summer through late fall. For me, it offers the brightest taste of the season, bursting with the crisp, sweet splendor of fresh, raw corn kernels. Recipe and photo reprinted by permission from The Veggie-Lover's Sriracha Cookbook, ©2013 by Randy Clemens. Published by Ten Speed Press, a division of Random House, Inc. more→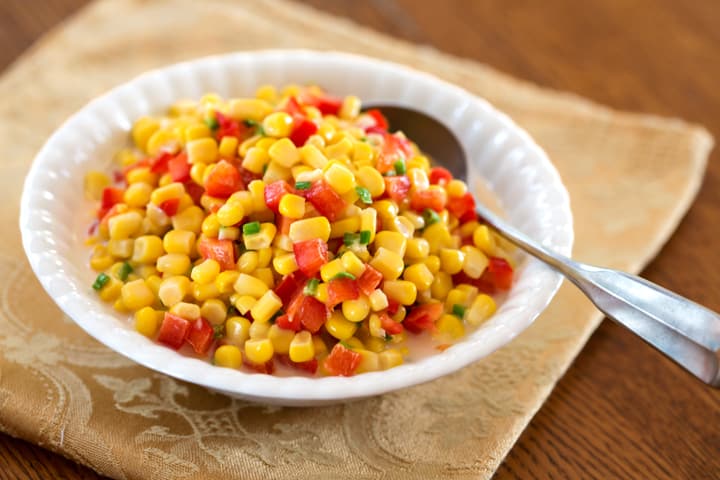 The flavors of corn and coconut are deliciously compatible. This is a wonderful way to use fresh corn when it's abundant, and the novelty of having it on the cob or roasted has worn off. The most time-consuming part of this, by which I mean all of 5 minutes or less, is stripping the corn kernels off the cob. Photos by Hannah Kaminsky of Bittersweet. more→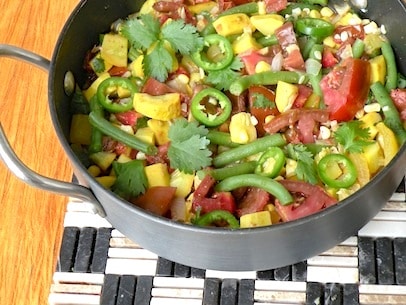 In this Southwestern variation of succotash, the bright melange of the freshest corn, tomatoes, summer squash and chilies makes for a wonderful celebration of the summer harvest. Serve with Easy Vegan Quasadillas or Soft Tacos for a tasty meal. I like to steam the green beans separately and add at the last minute, because their cook time is unpredictable, and I like them to be bright and just tender-crisp in the dish. more→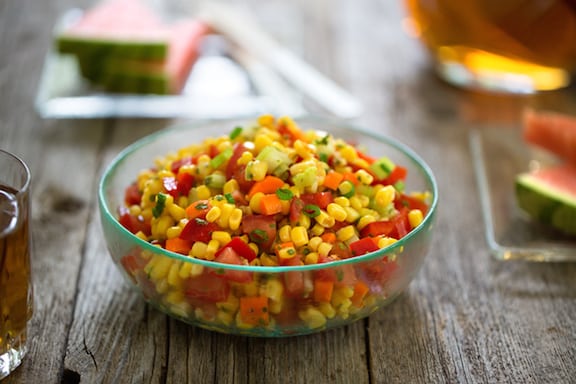 This pleasing combination of two of summer's premier bumper crops—corn and tomatoes—makes for a delightful mid-to late-summer salad that goes with just about any kind of meal. Pair it with a simple bean dish and/or Creamy Chilled Avocado Soup or serve with Vegan Quesadillas. Photos by Hannah Kaminsky. more→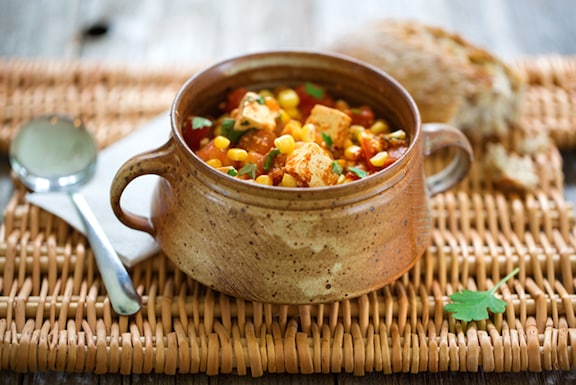 Fresh corn and tomatoes are highlighted in this easy skillet stew, making it a great way to serve tofu for warm weather meals. It's such a delightful quick dish that I've provided an option for using frozen corn and canned tomatoes, so that it can be enjoyed any time of year. Photos by Hannah Kaminsky.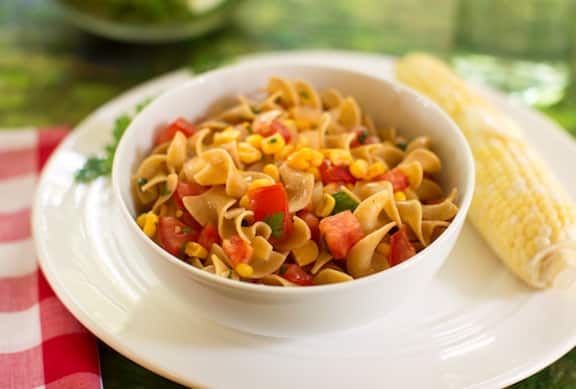 This simple, tasty pasta dish is traditional to the "plain and simple" Pennsylvania Dutch cuisine. It's a perfect way to use fresh summer corn and tomatoes when they're at their peak of flavor and abundance. In its original form this recipe is made with egg ribbons; to make it vegan, I recommend substituting ribbons made of hearty whole grain flours like spelt or quinoa. Photo by Hannah Kaminsky. more→