Mushrooms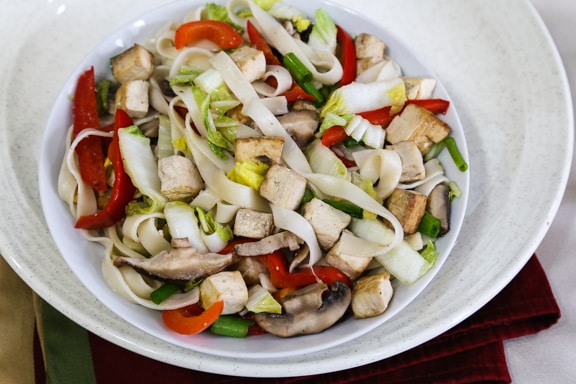 This simple and delectable stir-fry of napa cabbage, mushrooms and tofu, augmented with Asian noodles, goes well with an easy slaw-style salad, and spring rolls from the freezer section of your natural foods store. It's a great weekday meal, as the stir-fry can be accomplished in the time it takes to cook the noodles. Photos by Evan Atlas more→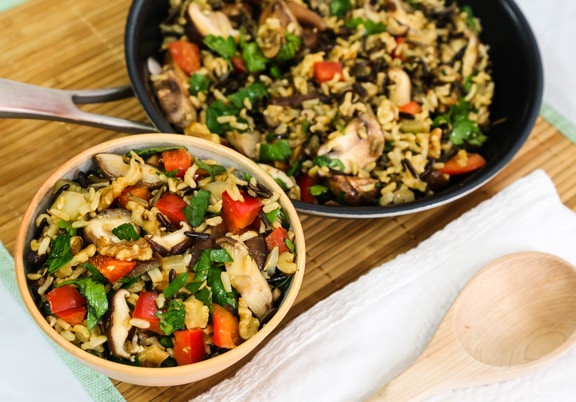 Rich with nutty, invigorating flavors, this earthy wild rice and mushroom pilaf is good served warm or at room temperature. It's a perfect side dish for the Thanksgiving or Christmas table, though you need not wait for a special occasion to enjoy it. Photos by Evan Atlas. more→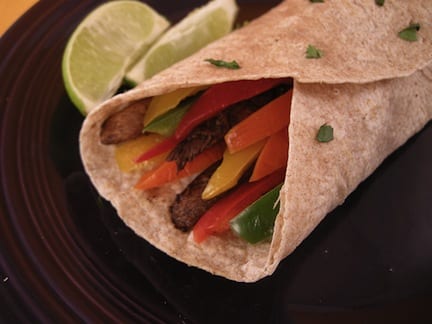 Using different colors of bell peppers makes this dish absolutely stunning. You can also substitute 1 to 2 additional bell peppers in place of the mushrooms if you prefer. Recipe and photo courtesy of Lindsay S. Nixon, adapted from The Happy Herbivore Cookbook.* more→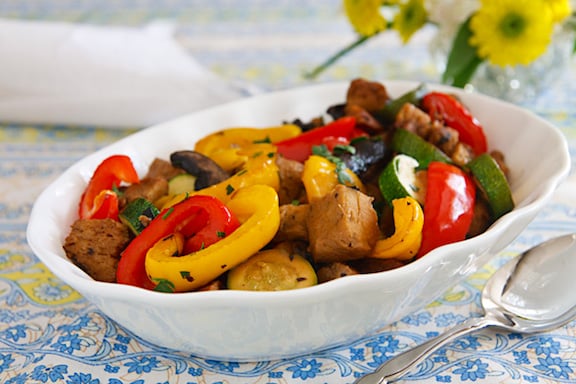 This hearty combination of seitan, bell peppers, and portobello mushrooms is so easy to throw together, yet makes a festive main dish for special occasions. It's a great centerpiece for a vegan Easter dinner, for example, and would be just as good for a Christmas menu. When you're preparing a multi-course meal, it's so nice when the entree can be made at the last minute with little hands-on time. If any of your family or guests eat gluten-free, this is obviously not the choice for them. Recipe adapted from Vegan Holiday Kitchen. Photos by Susan Voisin.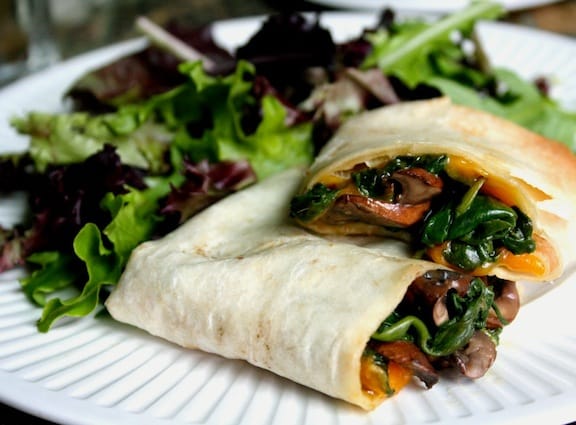 Spinach and mushrooms are nicely flavored with vegan cheddar-style cheese in these delectable wraps. For an easy meal, serve with baked or microwaved potatoes or sweet potatoes and a colorful salad. Adapted from The Vegetarian 5-Ingredient Gourmet. Photos by Rachael Braun. more→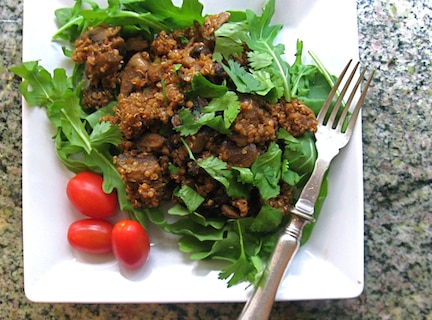 This dish requires some cooking time, but does so on its own, without you fussing. The recipe doubles easily, so you can make it tonight and enjoy leftovers tomorrow. Serve it with a side of marinated tempeh or hummus and you'll be doing the protein strut. Recipe and photo contributed by Ellen Kanner. more→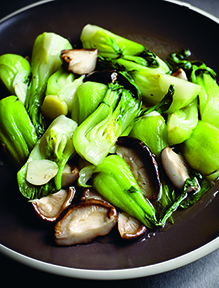 Shiitake mushrooms, commonly known in Chinese as "fragrant mushrooms," have a rich, savory flavor that can enhance the taste of other foods, such as the fresh bok choy in this recipe. For an even more intense flavor, use dried shiitake mushrooms, which should be soaked in hot water for 30 minutes to soften. Rinse them, cover with fresh water, bring to a boil and simmer for at least 20 minutes with a dash of Shaoxing wine, some crushed ginger and spring onion and salt to taste. Leave them to steep in the liquid until you want them. Reprinted from Every Grain of Rice: Simple Chinese Home Cooking* by Fuchsia Dunlop. Copyright © 2012 by Fuchsia Dunlop. Photographs copyright © 2012 by Chris Terry. With the permission of the publisher, W.W. Norton & Company. All rights reserved. more→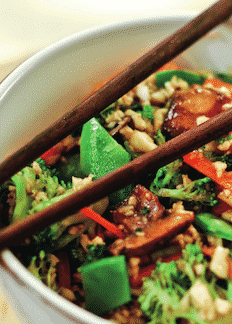 This raw dish makes the perfect lunch or dinner. It's easy to make, delicious and great for you! Adapted  from  Rawmazing: Over 130 Simple Raw Recipes for Radiant Health* by Susan Powers (Skyhorse Publishing, 2012). more→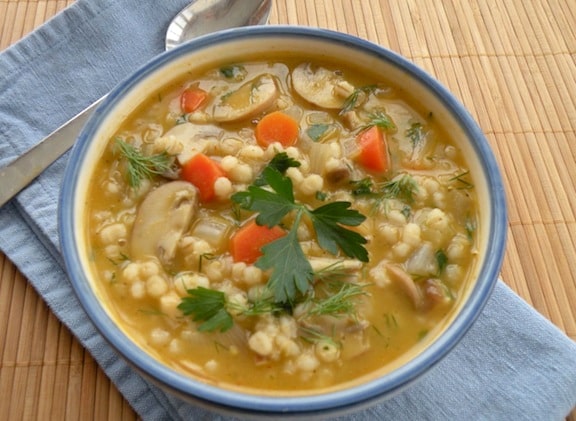 Here's the comforting classic, mushroom-barley soup. It's nothing fancy, but always so satisfying. Change it up by using different kinds of mushrooms. I like to use a combination of baby bella (aka cremini) and shiitakes.  more→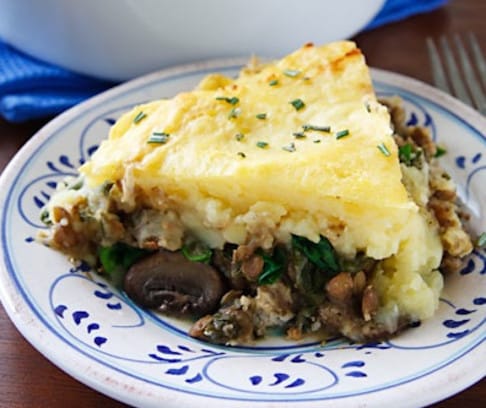 This vegan shepherd's pie recipe, richly flavored with lentils and mushrooms, can only be described as a deep dish of comfort. It's a bit of a project but not at all difficult, and definitely worth it for a special occasion or holiday meal. It's perfect for Thanksgiving or Christmas! Recipe from Vegan Holiday Kitchen by Nava Atlas. Photos by Susan Voisin.  more→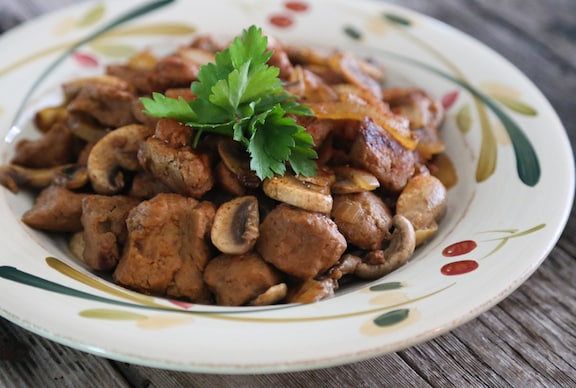 Who says it's not easy to be a vegan in Paris? I beg to differ. There are a number of fantastic vegetarian and vegan eateries all over the city of lights. Tender seitan, far better than any I've had in the U.S., is a common offering. This simple dish of seitan and mushrooms in a sweet paprika "cream" sauce is an amalgam of seitan dishes I enjoyed at Le Potager du Marais and Les Cinq Saveurs D'Ananda. Photos by Evan Atlas.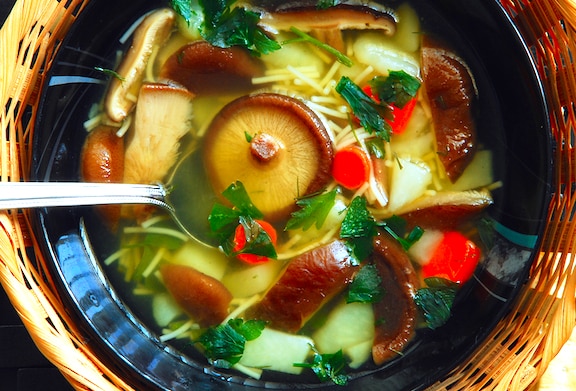 Thick, hearty udon or soba noodles make this quick soup substantial, yet it's not too filling to serve as a first course for an Asian-style meal, like a colorful veggie stir-fry. more→