Sweet Potatoes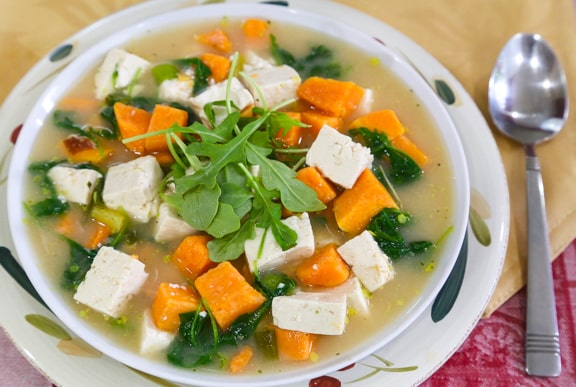 Sweet potato and tender greens (choose from spinach, arugula, watercress, or tatsoi) synergize nicely in this quick miso soup. I prefer mellow white miso as the base for this soup, but use whatever variety of miso you like best, such as dark and hearty hatcho or barley miso. Photos by Evan Atlas. more→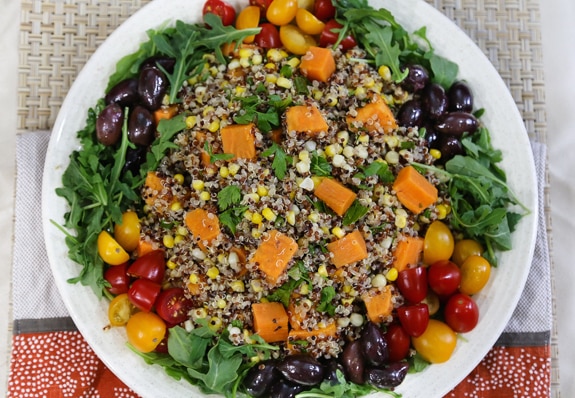 This colorful main dish salad featuring sweet potato, quinoa, and corn is simple to prepare, yet has a festive "company's coming" look. It makes a bountiful accompaniment to vegan quesadillas. If you can cook the sweet potatoes and quinoa ahead of time, this will come together in a flash when you want to serve it. Photos by Evan Atlas.   more→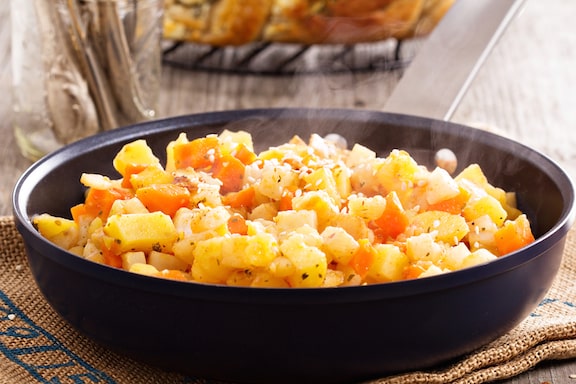 Ordinary potato hash browns are given an interesting twist with the addition of root vegetables — with a choice from among sweet potato, golden beets, turnips, parsnips, etc. Do try the optional tart apple — it adds a delightful flavor. This goes hand-in-hand with tofu scrambles, but you can use it as a cold-weather side dish with bean dishes.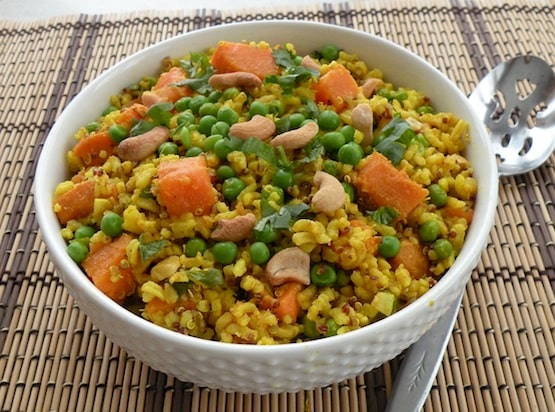 I came across a classic Thai dish that combines white rice with white potatoes, and though it sounds too starchy, the seasonings and embellishments sounded appealing. So I took the general idea of this recipe and revved it up to include the two main ingredients' more nourishing counterparts—brown rice and sweet potatoes. This may sound like an offbeat combination, but really, it works! It's like sunshine on the dinner plate. You can also substitute quinoa or any other favorite grain for the rice. Serve with a simple tofu, tempeh, or bean dish and a salad. Adapted from Vegan Express.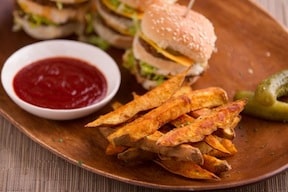 This Baked Sweet Potato "Fries" recipe is from the The Happiest Meal Happy Hour Menu in The Sexy Vegan's Happy Hour at Home* by Brian Patton, which also includes a recipe for Little Macs with Very, Very Special Sauce. Excerpted with permission from The Sexy Vegan's Happy Hour at Home* ©2013 by Brian Patton. Published with permission of New World Library. more→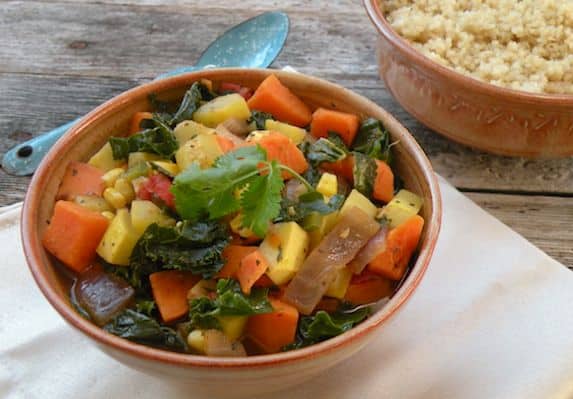 As everyone knows, greens are good for you, and with its high calcium content, kale is a standout. In this stew, the deep greens contrasted with the yellow of the squash and the orange of the sweet potato, makes this an attractive and nourishing dish for the autumn harvest.  more→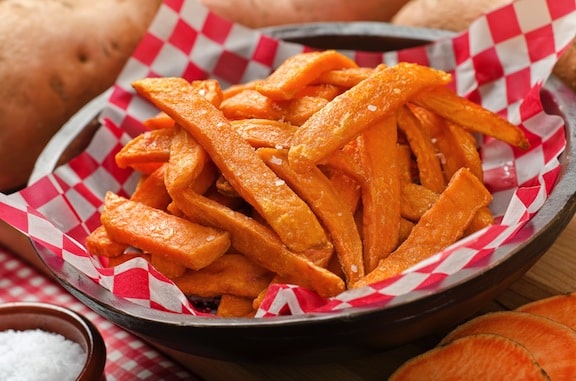 A terrific way to enjoy low-fat sweet potato "fries" baked in the oven, these are a great accompaniment for veggie burgers and wraps.  more→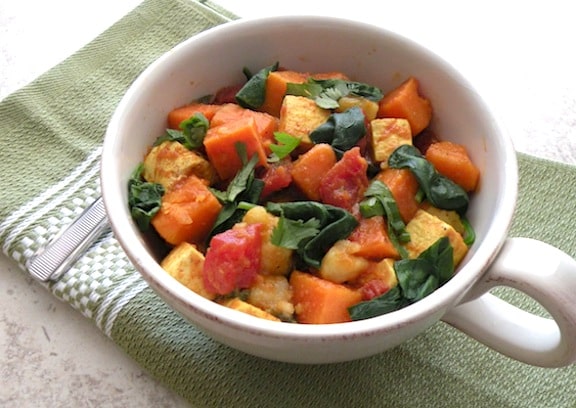 Once you have your sweet potatoes ready, this delicious curried combo made with tofu and greens comes together quickly. Serve with cooked quinoa or couscous or a fresh flatbread, and a simple salad of tomatoes, bell peppers, and cucumbers. Stir some coconut yogurt and chopped cilantro into the salad to make it almost like a raita, a perfect accompaniment!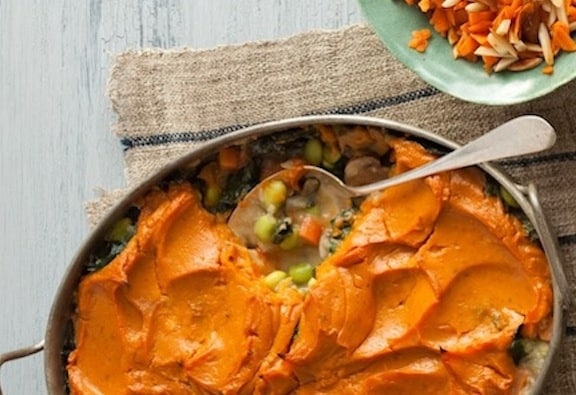 This vegan sweet potato variation on shepherd's pie makes a festive holiday centerpiece, especially for Thanksgiving or Christmas. Greens and edamame meld with mushrooms in the creamy sauce, creating a burst of flavor that's both exciting and comforting. From Big Vegan: 350 Recipes. No Meat/No Dairy. All Delicious* by Robin Asbell.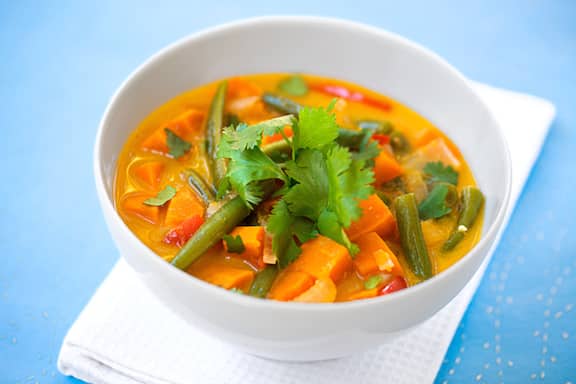 With Thai ingredients available at most natural foods stores and well-stocked supermarkets, it has become easy to enjoy the delightful flavors of this cuisine at home. Use your discretion with the hot seasoning you choose; a little will give a hint of heat, but if you want a spicier stew, you can step it up from there. Adapted from Vegan Soups and Hearty Stews for all Seasons by Nava Atlas. Photos by Hannah Kaminsky.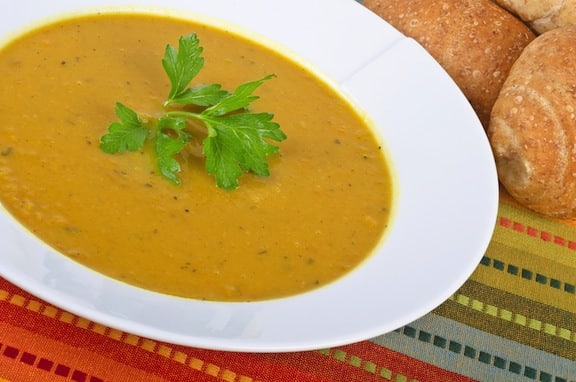 Here's a warming soup with an appealing golden color. The natural sweetness of the sweet potatoes gives this soup a surprising flavor twist. Serve as a first course for festive holiday meals, or as a comforting bowlful for everyday meals.  more→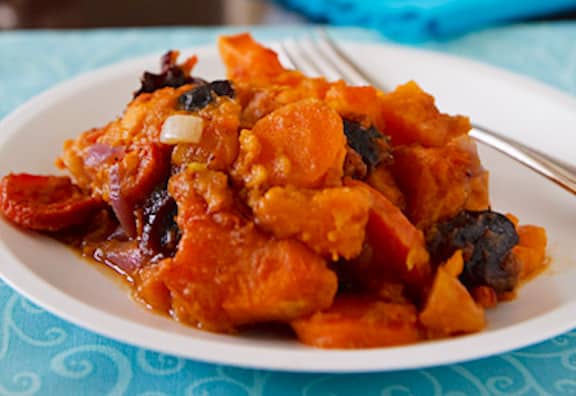 An Eastern European standard, tzimmes is a roasted vegetable dish that is made a number of ways, depending on the occasion. For the Jewish New Year, Rosh Hashana, the appropriate ingredients include carrots and sweet potatoes, with the added sweetness of fresh and dried fruits. Recipe adapted from Vegan Holiday Kitchen. Photos by Susan Voisin.

Sweet Potato Tzimmes
Recipe type:
Jewish holiday
Cuisine:
Vegan / Jewish New Year / Healthy
Prep time:
Cook time:
Total time:
Ingredients
2 tablespoons olive oil
1 cup chopped onions
3 large carrots, sliced
3 large sweet potatoes, cooked, baked, or microwaved in their skins, then peeled and sliced
1 large apple or pear, cored and sliced
½ cup chopped prunes
¼ cup chopped dried apricots
½ cup orange juice, preferably freshly squeezed
1½ teaspoons cinnamon
½ teaspoon each: ground ginger and salt
⅓ to ½ cup chopped walnuts, optional
Instructions
Preheat the oven to 350 degrees F.
Heat the oil in a large skillet. Sauté the onions over medium heat until translucent. Add the carrots and continue to sauté until onions and carrots are golden.
In a mixing bowl, combine the onion-carrot mixture with all the remaining ingredients except walnuts. Mix thoroughly; don't worry if the potato slices break apart.
Transfer the mixture to a large, oiled, shallow baking dish (a round or oval shape is attractive). Sprinkle the optional walnuts over the top.
Bake for 45 to 50 minutes, or until the top begins to turn slightly crusty. Serve hot or warm from the baking dish.