This is a perfect accompaniment to Barbecue-Flavored Tofu Nuggets, and conveniently, they both bake at 425 degrees. Oven-roasting brings the best flavors out in veggies, so this needs only gentle seasoning. If you're making the tofu nuggets as suggested, round out the meal with a simple salad or coleslaw.
Serves: 6 or more as a side dish
4 to 5 large potatoes, preferably red-skinned or Yukon gold
(or use 3 potatoes and 2 medium sweet potatoes)
2 medium red or green bell peppers or 1 of each, cut into thick strips
2 medium yellow or red onion, halved and sliced
1 to 2 tablespoons olive oil
2 teaspoons salt-free seasoning blend (like Frontier or Mrs. Dash),
Salt and freshly ground pepper to taste
Preheat the oven to 425º F.
If you'd like to keep the peels on the potatoes, scrub them very well. Otherwise, peel Cut the potatoes in half lengthwise, then into approximately 1/4-inch thick slices.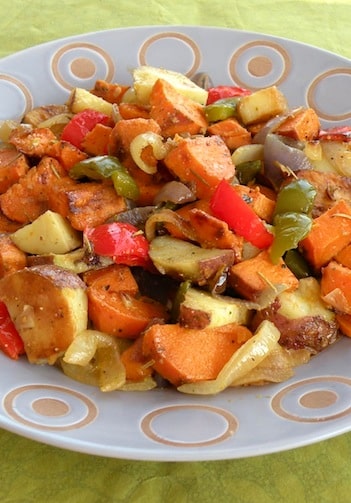 Combine the potatoes with the remaining ingredients in a large mixing bowl and stir together.
Transfer to a roasting pan (line it with baking parchment for easier clean-up). Bake for about 30 minutes, stirring gently every 10 minutes, or until the potatoes are tender and lightly browned, then serve.