When you have a delicious, nourishing (and quick) dish like Salsa Verde Quinoa Pilaf as the centerpiece of a dinner plate, the rest of the meal comes together quickly. Here, we've completed the veg-centric meal with a late spring flavor, though it can be enjoyed almost any time of year.
Asparagus used to be a sign of spring; and though it's a little less special now that it's available nearly throughout the year, we won't complain; it's a veggie that doesn't need chopping or prep (other than a little trim off the bottom), and that's always a good thing.
You can't say the same about beets, though. Fresh beets require a fair amount of prep, and though beet lovers are willing to put in the time, it's not always convenient. If you love beets, you'll appreciate Love Beets — packages of fresh beets, already prepped and ready to use. You'll find them in the produce section of supermarkets and natural foods stores. If you can't find them, use pickled beets from a jar; make sure that the sweet part doesn't come from high fructose corn syrup.
One last tip: If you find the time to pre-cook your quinoa, you can cut the time to table down to about 15 minutes!
Serves: 2 (with leftovers) to 4
Time to table: 25 to 30 minutes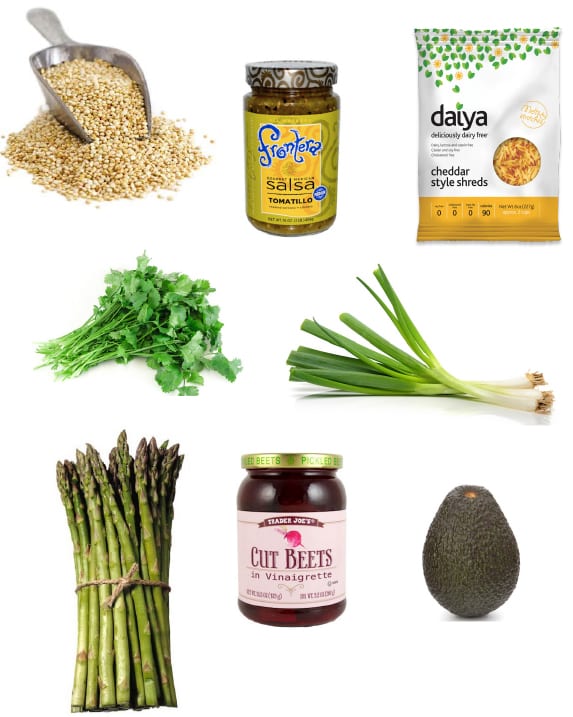 What you need
Quinoa (small quantity, any color)

Salsa verde (tortilla salsa)

1 bunch scallions

1 package vegan cheese shreds (we used Daiya cheddar)

1 bunch cilantro or parsley

1 bunch asparagus

1 medium ripe avocado

1 jar good-quality pickled beets (or a package of Love Beets)
What to do
1  Link to the recipe for Salsa Verde Quinoa Pilaf and follow the easy directions for making it.
2  While the quinoa is cooking, trim the ends off several stalks of asparagus (allow 4 to 6 per serving); steam in a skillet with a small amount of water just until bright green, then drain.
3  Cut the avocado in half, then in half again; pit, peel, and slice or dice. Allow about ¼ avocado per serving.
4  Plate the quinoa dish with the asparagus, avocado, and beets. If you'd like to go a little fancier, you can make the quinoa look like timbales: Lightly oil a 1-cup measuring cup, fill it with the finished quinoa dish, then turn over and tap onto the plate to release.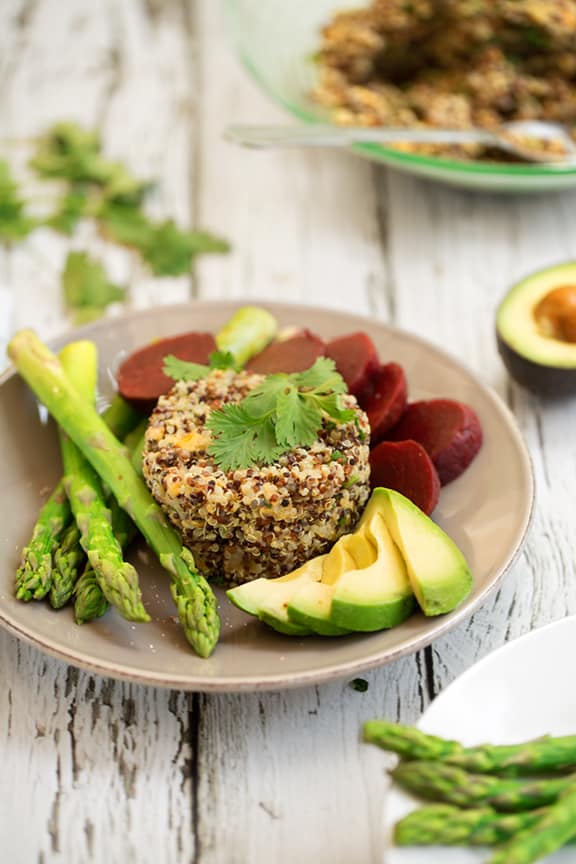 Photo above and at top: Hannah Kaminsky.