When lots and lots of kale needs to be used up all at once, this is one of my favorite go-to recipes. A tangy tahini-lemon sauce enhances the flavor of kale superbly. Adapted from Wild About Greens by Nava Atlas.
Serves: 6 as a side dish
12 ounces to 1 ¼ pounds kale (any variety), stemmed and chopped or sliced
1 tablespoon extra-virgin olive oil
½ medium red onion, thinly sliced
3 to 4 cloves garlic, minced
Freshly ground pepper to taste
Tahini-Lemon Sauce:
⅓ cup tahini (sesame paste)
Juice of 1 to 1 ½ large lemons (about ¼ cup, more or less to taste)
1 to 1 ½ tablespoons reduced-sodium soy sauce or tamari
2 tablespoons agave nectar or maple syrup
⅓ cup water
Have the kale cleaned and cut before starting. If you like using stems, you can thinly slice them and add to the sauté; otherwise, discard them.
Heat the oil in a large steep-sided skillet or stir-fry pan. Add the onion and cook over medium heat until softened, about 3 to 4 minutes. Add the garlic and continue to sauté until both are golden.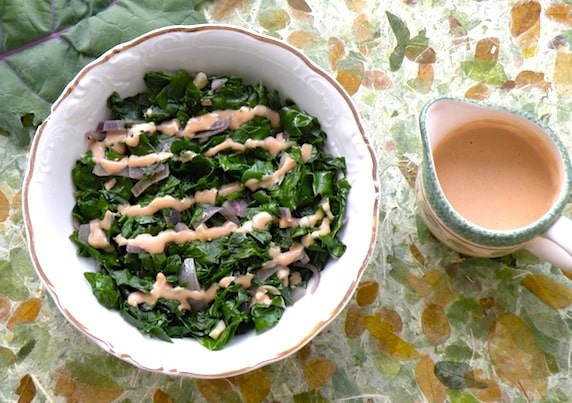 Add the greens and cook over medium heat, stirring frequently, until just tender.  Add small amounts of water if needed, just enough to keep the bottom of the pan moist. Cook until just tender but still nice and green, about 5 to 7 minutes. Remove from the heat and transfer to a serving container.
For the sauce, combine all the ingredients in a small bowl and whisk together. Stir into the kale; you may not need all the sauce — you want it to envelope the greens nicely, but not drown them. Or, you can just drizzle a little of the sauce over the top of the greens, and pass around the sauce for topping individual servings. Serve warm or at room temperature.