Baby bok choy is at its best in the late winter and early spring, though it's available most of the year round. A versatile vegetable and nutritional superstar, bok choy (which can honestly be called "cute") offers a healthy dose of Vitamins K, C, A, and is a great source of calcium.
Seared Baby Bok Choy is a super-quick way to prepare it, showing off its flavor and visual appeal. This is not so much a recipe as an idea, but what a fun idea it is. There's so little prep involved, and no other ingredients to use, so you're on your way to a great vegetable side dish in minutes.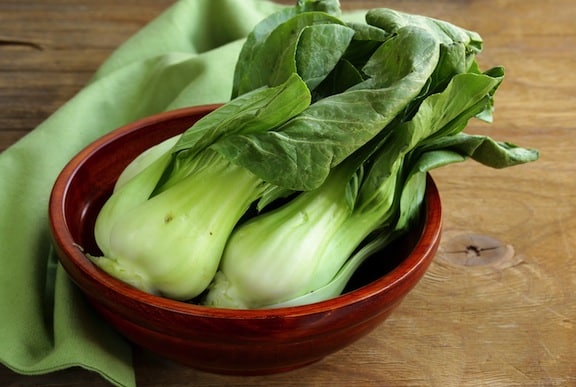 Use as many or as few baby bok choy as you'd like, allowing 2 to 4 halves per serving. Here's what to do:
1  Cut each baby bok choy in half so that the widest part is exposed (leave all or most of the stem end intact, trim a little only if discolored).
2  Heat a shallow layer of olive oil in a large pan.
3  When really hot, place the bok choy halves cut side down on the skillet, cover and cook over high (but not highest) heat for 3 minutes or until nicely browned.
4  Serve hot or at room temperature with a sprinkling of salt and pepper.
Adapted from Wild About Greens by Nava Atlas; photos by Susan Voisin.
Here's another tasty, simple bok choy recipe.