Here's the Chinese restaurant classic, peppersteak, in a hearty, "beefy" vegan version using seitan in place of the real thing. It's better this way! I enjoy this served with noodles, but serve with brown rice, or even just on its own, if you prefer. To complete the meal, serve with steamed broccoli, and a simple slaw or a platter of raw veggies. Photos by Evan Atlas.

Serves: 4 to 6
14 to 16 ounces seitan,

homemade

or prepared
2 tablespoons olive oil
2 tablespoons reduced-sodium soy sauce
1 large onion, quartered and thinly sliced
2 cloves garlic, minced
8 ounces white mushrooms, sliced
1 large green bell pepper, cut into 2-inch strips
1 large red bell pepper, cut to match green pepper
¼ cup dry sherry or red wine
1 tablespoon cornstarch or arrowroot
2 teaspoons grated fresh ginger, or more to taste
Hot cooked rice or noodles
Extra soy sauce, optional
Cut the seitan into bite-sized strips. Slowly heat half the oil and half the soy sauce slowly in a stir-fry pan. Add the seitan, stir quickly to coat, and turn the heat up to medium-high. Stir-fry until lightly browned on most sides, then transfer to a plate until needed.
Heat the remaining oil in the same pan. Add the onion and sauté over medium heat until golden.
Add the garlic and bell peppers, turn the heat up, and stir-fry until the peppers are tender-crisp. Add the mushrooms and continue to stir-fry until they wilt.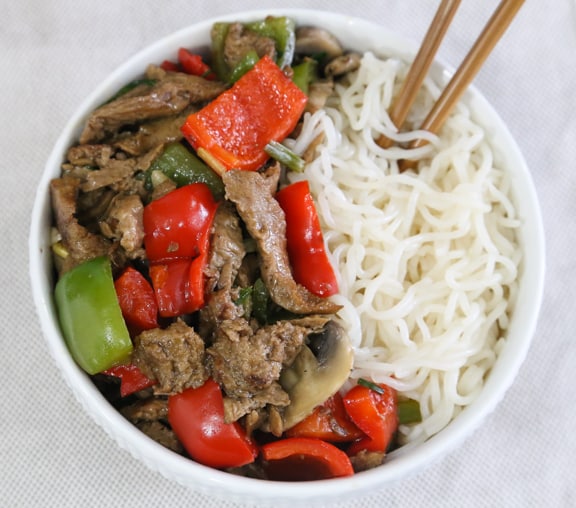 Combine the remaining soy sauce and sherry in a measuring cup. Add about ¼ cup water, then stir the cornstarch in until it dissolves. Add enough additional water to the cup to make 1 cup liquid. Pour into the pan.
Stir in the the ginger; cook until everything is well heated through, just unother minute or so. Serve at once, passing around extra soy sauce if desired.
Variation: To add more green to the dish, add a few trimmed snow peas to the dish when adding the ginger in the last step.