Kale and broccoli, two nutritious and delicious green vegetables are a compatible team in this easy recipe featuring Asian flavors. This is a great side dish with other Asian-inspired noodle, rice, or tofu dishes. 
Serves: 4 to 6
10 to 12 ounces kale, any variety
1 large or 2 medium broccoli crowns, cut into small bite-sized pieces
1 small yellow summer squash, quartered lengthwise,
seeds cut away and thinly sliced, or 1 medium red bell pepper, cut into strips
1 tablespoon dark sesame oil
2 tablespoons white wine, vegetable broth, or water
3 to 4 cloves garlic, minced
1 tablespoon rice vinegar or white wine vinegar, or more, to taste
1 tablespoon reduced-sodium soy sauce
Freshly ground pepper to taste
Dried hot red pepper flakes or smoked paprika to taste, optional
1 tablespoon tan or black sesame seeds
Cut the leaves from the kale stems. If using the stems, trim about an inch from the bottoms, then slice thinly. Otherwise, discard them.
Chop the kale leaves into bite-sized pieces. If you haven't already, give the kale leaves a good rinse at this point, as the water clinging to the leaves will be good for the sauté.
Prepare the broccoli and squash or bell pepper as directed above and set aside, as the sauté goes very quickly from this point.
In a large skillet or stir-fry pan, heat the sesame oil and wine. Add the garlic and sauté over low heat until golden.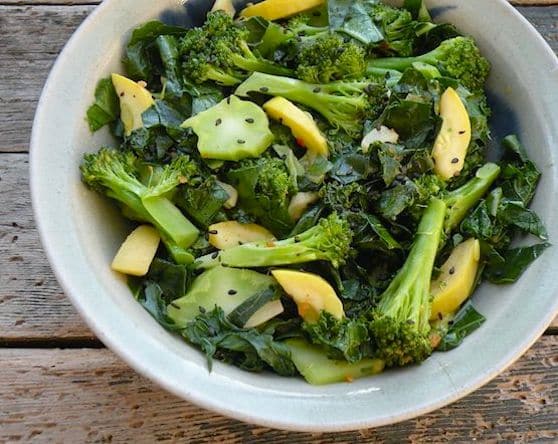 Add the kale, broccoli, and bell pepper. Turn up the heat to medium-high and cover.
Once the kale wilts down (about 2 minutes), uncover and give the vegetables a good stir. Drizzle in the vinegar and soy sauce.
Continue to sauté, stirring, just until the veggies are bright and tender crisp, about 2 minutes longer.
Remove from the heat and season with pepper and optional red pepper flakes. Sprinkle in the sesame seeds, and serve straight from the pan.
Variation: Try this dish with other hardy leafy greens — chard, collards, mustard greens, or escarole.