Summer desserts need not be fancy; in fact, when the short season of summer fruit is upon us, that's the best dessert of all. These past few summers I've enjoyed teaming two or three fruits whose colors and flavors contrast and complement well. Honestly, you don't need a formal recipe or even quantities, but I give some only as a guideline in the ideas that follow. Once fruit is washed and/or cut up, it should be eaten as soon as possible. You can serve any of these combinations on their own, or over nondairy ice cream or coconut yogurt. Photos by Hannah Kaminsky.
Mango and blueberries: What a dramatic pairing of colors! Depending on how many you're serving, combine 1 or 2 peeled, diced mangos (large chunks are fine) with 1 to 2 cups blueberries.
Strawberries and blueberries or blackberries: Hull about 1 pint sweet, ripe strawberries. Cut them in half and combine with 1 cup or so of blueberries or blackberries.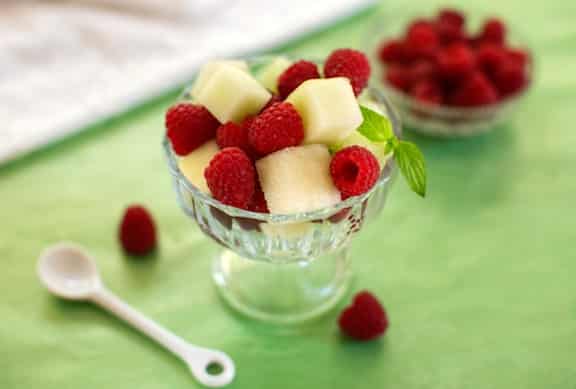 Honeydew and raspberries: The pretty red of raspberries adds a decorative touch to the pale green of honeydew. Cut up half of a lush honeydew into bite-sized chunks, and combine with about a cup of raspberries, or more, if you'd like.
Peaches or nectarines and berries: If the fruit is perfectly ripe, this is heavenly. Use late-summer peaches or nectarines from a farmers market, not those that arrive at the supermarket as hard as stones. Use about 4 to 6 peaches or nectarines, pitted and diced, and a cup or two of whatever late summer berry you can find — blueberries, blackberries, etc.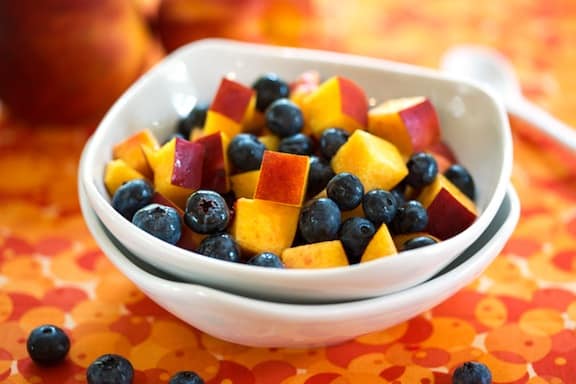 Cantaloupe and black plums: Combine a lush cantaloupe, cut into bite-sized chunks, with a few pitted and diced black plums — the kind that are super-sweet and deep red inside.
Cantaloupe, watermelon, and blueberries: Here's a classic trio for midsummer. For ease, I like to use seedless watermelon. Use about half of a lush cantaloupe and a quarter of a good-sized watermelon, both cut into large, bite-sized chunks, and a cup or so of blueberries.
Adapted from The Vegetarian 5-Ingredient Gourmet by Nava Atlas.
Here are more recipes for 

fruity compositions.