This Sloppy Joe variation can be as spicy or mild as you'd like. If your family members aren't fans of spicy dishes, use less hot sauce or use a milder sauce in its place. From The Great Vegan Bean Book by Kathy Hester. @2013 by Fair Winds Press, reprinted by permission. Photo © 2013 by Renee Comet. 
Serves: 4
For the ranch dressing:

½ cup unsweetened vegan yogurt (coconut or soy)
3 tablespoons vegan mayonnaise
Juice of ½ lemon
1 teaspoon agave
½ teaspoon garlic powder or 1 clove garlic, minced
½ teaspoon thyme
½ teaspoon salt
¼ teaspoon each ground black pepper, smoked paprika, and onion powder

For the kidney bean mixture:
3 cups cooked kidney beans or two 15-0unce cans, rinsed and drained
¼ to ½ cup cayenne pepper sauce or Buffalo hot sauce,
or milder sauce of your choice, to taste
2 tablespoons tomato paste
1 teaspoon dried thyme
¼ to ½ teaspoon liquid smoke
1 clove garlic, minced
½ cup  Vegan Sour Cream or Cashew Cream 
4 whole wheat buns, lightly toasted
Minced carrot and celery, for serving
To make the dressing, mix all the ingredients and store in the fridge until ready to serve.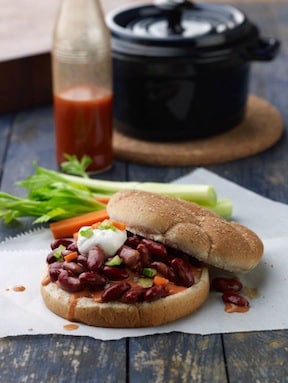 Add the kidney beans, hot sauce, tomato paste, thyme, liquid smoke, and garlic to a saucepan and cook over medium heat until the garlic mellows, about 5 to 10 minutes. Add the sour cream and heat thoroughly.
Serve over the toasted buns open-face style topped with the carrot and celery mixture and the ranch dressing. If you have some unexpected guests, serve as a regular sandwich and the filling will stretch up to eight sandwiches.
*This post contains affiliate links. If the product is purchased by linking through this review, VegKitchen receives a modest commission, which helps maintain our site and helps it to continue growing!