Here's a fun salad (I love when the words "fun" and "salad" appear side by side!) to make with a spiral slicer. Cucumbers become practically calorie-free "noodles," gently embellished with lime, agave, and sesame seeds. Though good just as it is, if you'd like to add another flavor dimension, serve with Green Goddess Dressing. Photos by Evan Atlas.
Serves: 4
2 medium cucumbers, peeled (choose cucumbers
that are firm and flavorful, not watery and filled 

with seeds)

Salt
2 tablespoons lime juice, or more, to taste
1 tablespoon agave nectar, or more, to taste
¼ cup minced fresh cilantro or parsley
1 scallion, very thinly sliced, optional
1 tablespoon sesame seeds (black or regular)
Freshly ground pepper to taste
Green Goddess Dressing to pass around, optional
Cut the cucumbers in half crosswise, and spiralize them using the blade with the finest holes. Transfer the cucumbers to a colander and salt gently, using your hands to toss and distribute the salt.
Place the colander in the sink and let stand for 5 to 10 minutes. Don't skip this step, or you'll end up with a watery salad!
Press out as much water as you can through the holes of the colander. You can do this with a wide spatula, or cover the cucumber with a couple of layers of paper towel and just press with your palm.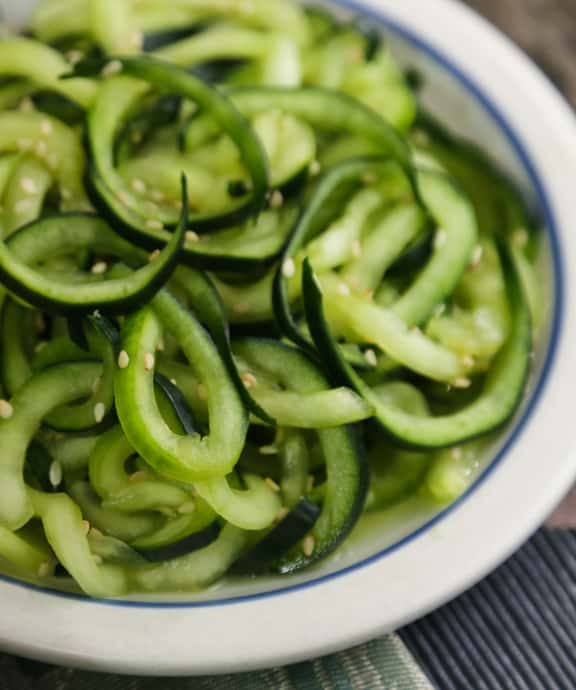 Transfer the cucumber to a serving bowl and cut here and there with kitchen shears to shorten the strands a bit. Add the lime juice. Let stand for 5 minutes longer, then drain again.
Add the remaining ingredients, then taste to add back in a bit more lime or any of the other flavorings if you'd like; at this point the cucumber will be nice and crisp. Serve at once; pass around Green Goddess Dressing, if you'd like.