Spaghetti squash is a "fun" vegetable if ever there was one. This unique squash is delicious as well as entertaining, with its spaghetti-like flesh. Serve as a side dish with grain pilafs that include quinoa or wild rice. Complete the meal with a simple salad. Photos by Rachael Braun.
Serves: 6
1 medium-large spaghetti squash (about 2 pounds)
2 tablespoons extra-virgin olive oil
2 medium red or yellow onions, halved and sliced
2 to 3 cloves garlic, minced
One 28-ounce can diced tomatoes (try fire-roasted or Italian-style
for extra flavor), lightly drained
½ cup sliced pitted oil-cured black olives, such as kalamata
1 teaspoon dried basil or oregano
Dried hot red pepper flakes to taste
Salt and freshly ground pepper to taste
¼ cup minced fresh parsley
Preheat the oven to 375º F.
Cut the squash in half lengthwise. Place, cut side up, in a casserole dish with l/2 inch of water. Cover tightly with foil and bake until easily pierced with a fork, about 40 to 45 minutes. Or, if you don't have a knife that's sharp enough, just wrap the whole squash up in foil, place in a casserole dish, and bake until you can easily pierce with a fork. This will take 45 minutes or more depending on the size of the squash.
When the squash is cool enough to handle, scrape it lengthwise with a fork to remove the spaghetti-like strands of flesh.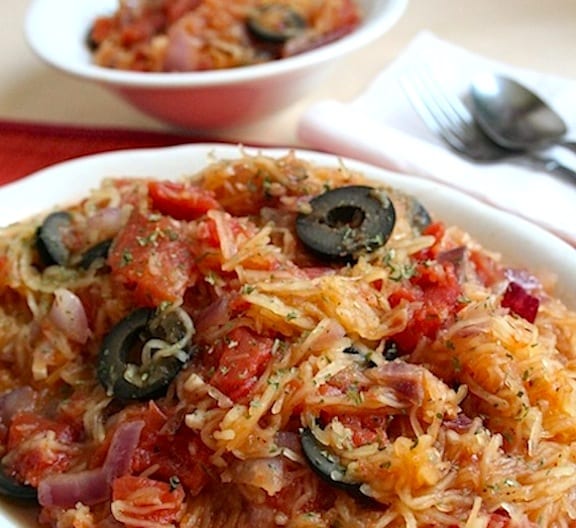 Heat the oil in a large skillet. Add the onions and sauté over medium heat until translucent. Add the garlic and continue to sauté until the onion is golden.
Add the tomatoes and the squash strands to the skillet. Bring to a simmer, then add the remaining ingredients except the optional parsley. Cook uncovered for 5 minutes, stirring occasionally. Stir in the optional parsley and serve.