The trick to this pretty stir-fry is to stop the stir-fry process just shy of when you think you need to, so that both the cabbage and kale retain their bright colors. Keep the recipe really simple, as in the basic recipe, or vary it with the additions suggested following the instructions. From Wild About Greens by Nava Atlas. Photo by Susan Voisin, FatFree Vegan Kitchen. 
Serves: 6
1 good sized bunch kale (8 to 10 ounces),
preferably curly green or lacinato
½ small head or ⅓ medium head red cabbage
1 tablespoon olive oil
1 medium red onion, quartered and thinly sliced
2 teaspoons grated fresh or jarred ginger
1 tablespoon dark sesame oil
1 to 2 tablespoons sesame seeds (preferably unhulled)
Salt and freshly ground pepper to taste
Dried hot red pepper flakes or other spicy condiment to taste, optional
Strip the kale leaves from the stems. Stacking a few leaves atop one another, cut them into narrow strips. If desired, slice the stems thinly to use in the stir-fry; otherwise discard.
Cut the red cabbage into thin slices, 2 to 3 inches long. Heat the oil in a stir-fry pan or large skillet. Add the onion and sauté over medium heat until golden and soft.
Add the kale and cabbage. Turn the heat up to high and stir-fry for 3 to 4 minutes, stirring frequently, until both are brightly colored and tender crisp. If the pan needs a bit more moisture, sprinkle in a little water, but not too much!
Remove from the heat. Stir in the ginger, sesame oil and sesame seeds. Season with salt and pepper and a little hot stuff if you'd like, and serve at once.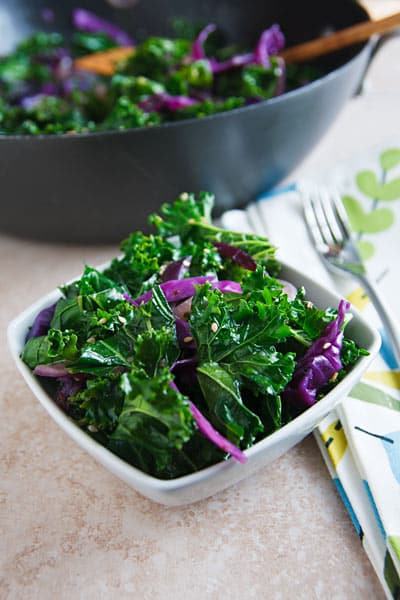 Variations and additions: You can add a small amount of another vegetable or two to this simple vegetable combination, depending on what you have on hand. Use any of the following, adding them at the same time as the kale and cabbage.
1 medium red bell pepper, cut into long narrow strips
1 cup fresh or frozen corn kernels (thawed)
8 to 10 baby carrots, quartered lengthwise
Find lots more recipes on VegKitchen for kale, collards, and other hardy greens.