If you usually say, "ugh" or even "meh" to salads, we defy you to resist this one. It may not look like what you might think of as salad, but whatever you'd like to call it, this super-easy cool or warm dish of sesame soba noodles and plenty of raw vegetables is delicious. Pre-cut and easy-to-prep veggies and sesame ginger dressing pull this together quickly, Best served at room temperature, it's fantastic as a portable lunch, or as a light dinner with a simple tofu dish.

You can use whatever long noodles you may have on hand, but we highly recommend soba noodles. They're made of buckwheat flour, so they have a lot going for them nutritionally, and have more flavor than ordinary noodles. And they look pretty, too, with their toasty brown color contrasting with bright vegetables. Some brands of soba noodles are wheat-free, if that's important to you; all are fairly low in gluten.
You can always make your own sesame-ginger dressing if you have the ingredients on hand, but if not, a store-bought kind is more than fine. We don't recommend any particular brand, because they're all very good!
The other shortcut here is precut carrots. Your supermarket's produce section might have some precut red cabbage for the truly lazy, but if not, use some precut coleslaw cabbage. It won't be as pretty, but it will taste the same. Otherwise, you can go the extra inch and cut up a small wedge of fresh red cabbage; with all the shortcuts here, it won't kill you to do a tiny bit of chopping!
The amounts given here will feed 4 generously; more with smaller portions if this is part of a meal. To complete a meal, serve with a very simply prepared tofu or tempeh dish.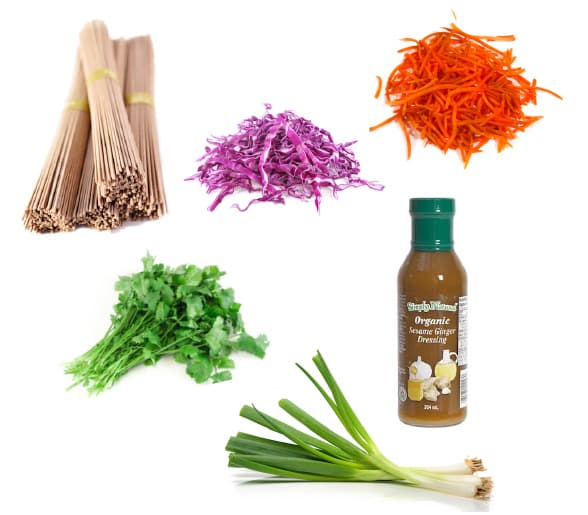 What you need
8-ounce package soba noodles (or substitute whole-grain spaghetti)

1 small red cabbage or 1 bag precut coleslaw

16-ounce package grated carrots

1 bunch scallions

Small bunch parsley or cilantro

1 bottle sesame-ginger dressing
What to do
1  Break the noodles in half, then cook them according to package directions. When done, drain and transfer to a serving container. 
2  Meanwhile, if using fresh red cabbage, cut off a wedge and thinly slice it. Whether using the fresh cabbage or the slaw, add as much as you'd like to the noodles.
3  Same goes for the grated carrots. Use as much as you'd like, but about half the bag would be just right.
4  Slice the green parts from 2 to 3 scallions thinly. Use as much parsley or cilantro as you'd like, coarsely chopped.
5  Add the carrots and scallions to the noodle mixture, followed as much sesame-ginger dressing as you'd like, to taste, and toss together. Grind in some pepper if you'd like, too. Serve at once and enjoy!