Sweet-and-sour soba noodles embellished with with asparagus and fresh tomatoes makes a lovely spring or early summer dinner dish. Serve with a simple tofu dish such as Sweet and Savory Sautéd Tofu, and a platter of raw veggies. Photos by Hannah Kaminsky.
Serves: 4 to 6
8-ounce package soba (buckwheat) noodles
1 tablespoon safflower or other healthy vegetable oil
1 tablespoon toasted sesame oil
2 to 3 cloves garlic, minced
1 pound asparagus, trimmed and cut into 1-inch lengths
2 cups diced ripe tomatoes
¼ cup dry white wine, vegetable broth, or water
3 tablespoons rice vinegar or white wine vinegar
3 tablespoons agave nectar or maple syrup
3 tablespoons reduced-sodium soy sauce
1 ½ tablespoons cornstarch or arrowroot
3 to 4 scallions, green parts only, cut into 1-inch lengths
Freshly ground black pepper to taste
Chopped cashews for topping, optional
Cook the noodles according to package directions until al dente, then drain.
Meanwhile, heat the oils in a stir-fry pan or large skillet. Add the garlic and sauté over low heat for a minute or so.
Add the asparagus and stir-fry over medium-high heat until tender-crisp, about 5 minutes.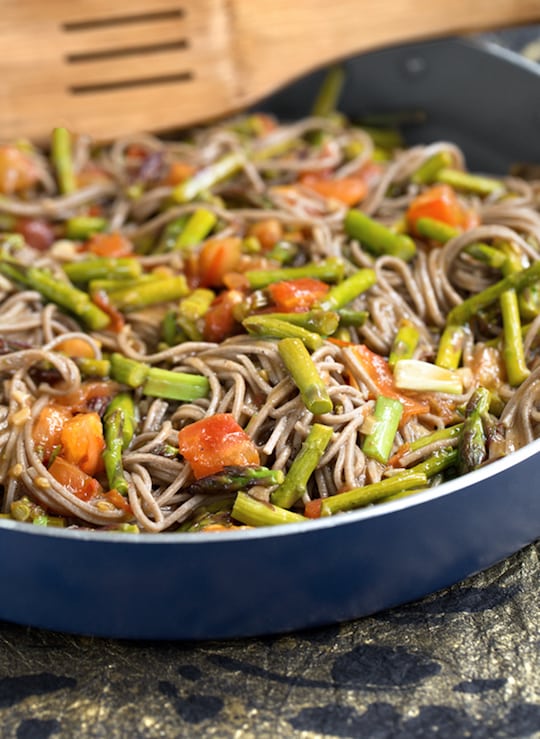 Add the tomatoes, wine, vinegar, agave nectar, and soy sauce.
Dissolve the cornstarch in a small amount of water and stir into the mixture. Lower the heat and simmer gently until it the liquid in the pan thickens.
Combine the cooked noodles, asparagus mixture, and scallions in a serving bowl. Season with pepper, then taste and adjust the vinegar, agave, and soy sauce to your taste.
Serve at once, passing around chopped cashews for topping.