It all started with a leftover baked sweet potato that I put in the food processor with some other ingredients including nut butter, pumpkin pie spice, applesauce, coconut flour, almond milk, and dried currants. The consistency definitely ended up being more like a pudding. I served the final product with chopped pecans and a splash of almond milk for a wonderful dessert. Recipe and photos contributed by Carrie Forrest, from Carrie on Vegan.
Serves: 4
1 large baked sweet potato, skin removed
2 tablespoons coconut flour
2 tablespoons almond flour
1⁄4 cup almond butter
1⁄4 cup applesauce
1⁄4 cup almond milk
1 teaspoon pumpkin pie spice (or 1⁄2 teaspoon cinnamon)
1⁄4 cup currants or 2 tablespoons brown rice syrup
1⁄2 teaspoon baking soda
Seeds of two vanilla pods or 1 teaspoon vanilla extract
1⁄4 cup chopped pecans (optional, for topping)
Non-stick cooking spray
Preheat oven to 350º F. Spray a rectangular bread pan with non-stick cooking spray.
Combine the flesh of the cooked sweet potato, coconut flour, almond flour, almond butter, applesauce, almond milk, pumpkin pie spice, sweetener, baking soda, and vanilla in the bowl of a food processor.
Pulse until thoroughly combined. Pour into a bread pan and bake for 45 minutes or until top becomes firm and golden brown. Serve hot with a splash of almond milk and topped with chopped pecans.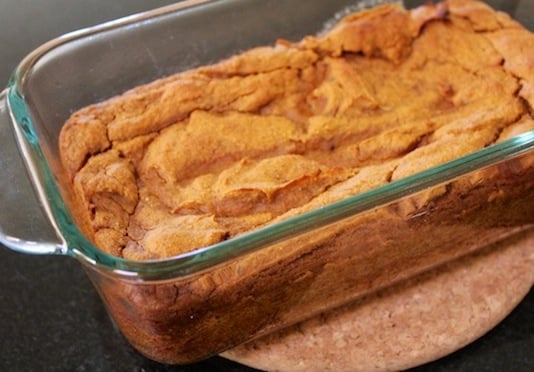 A former world champion of Hating to Eat Vegetables, Carrie trains tirelessly in the kitchen to make healthy foods taste delicious. Find tips and tricks on her blog, Carrie on Vegan, and over 150 recipes on her app for iPhones and iPads, Vegan Delish. Carrie is a survivor of thyroid cancer, holds a master's degree in public health nutrition, and looks forward to her next re-match with kale and collard greens.