Avocados, the nutrient-dense, creamy, green fruit native to Central America has spiked in popularity. Once known as "alligator pear" for its texture and shape, avocados now take the cake in Western eating habits due to their multitude of health benefits and versatile uses in cooking, snacking and baking. Read on for the top heath benefits of avocados.
Considered a superfood due to its cholesterol lowering properties, avocados are rich in fiber, carbs, antioxidants, potassium, and a variety of nutrients and minerals.
Whether you're smashing the fatty, rich fruit onto toast, whipping it into guacamole, or sneaking it into smoothies or baked goods (like brownies!) for added creaminess and nutrients, avocados are among the healthiest foods we can be eating; who said avocado toast can't be a meal? And make sure to take a look at our list of delicious avocado recipes.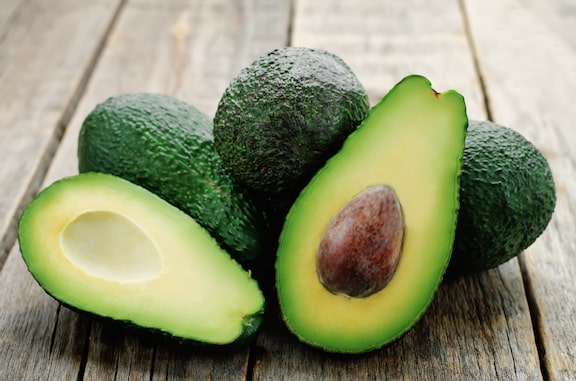 Heart Healthy Fats

Avocado has helped redefined the negative stigma associated with consuming fats. There's a major difference between so-called good and bad fats, or rather trans fats versus unsaturated fats like polyunsaturated and monounsaturated; which, you guessed it — the latter is found in avocados. And lots of it.
Avocados are rich in monounsaturated fatty acids, specifically oleic acid, which is also the main component of olive oil and linked to reducing inflammation in the body. The monounsaturated fats found in avocados help reduce blood cholesterol levels, making it a great heart-healthy fat.
77% of the calories in avocados are from fat, making it one of the fattiest plant foods. Try cooking with avocado oil, which is lightly flavored, contains antioxidants and magnesium, and a good way to get more Vitamin A, E and D into your diet. Plus, avocado oil has a high smoke point of 500 degrees, making it great for baking and stir-frying.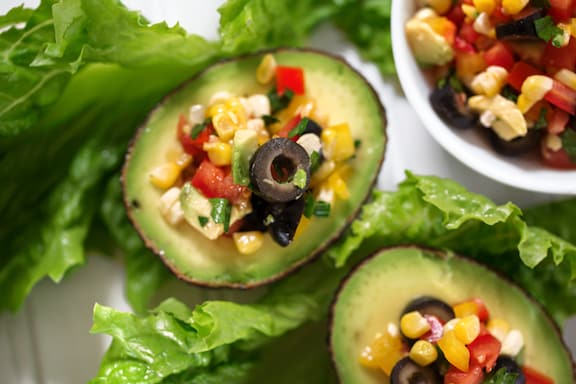 Fiber and Carbohydrates
It is estimated that less than 5 percent of Americans are getting the recommended amount of dietary fiber each day. In a healthy diet, we should aim for about 25 to 30 grams per day. One avocado contains about 10 grams of fiber — or 1 tablespoon of the soft, fleshy fruit contains 2 grams.
Fiber, much like fats, varies in type. Split into 2 categories, soluble and insoluble, our bodies benefit from both types of fiber, found in a variety of foods. Avocados are rich in soluble fiber, promoting and maintaining healthy blood sugar and cholesterol levels. Soluble fiber works best when consuming higher quantities of water, since the water and soluble fiber work together in dissolving into a gel-like substance, helping to lower blood cholesterol, glucose levels and aiding in digestion.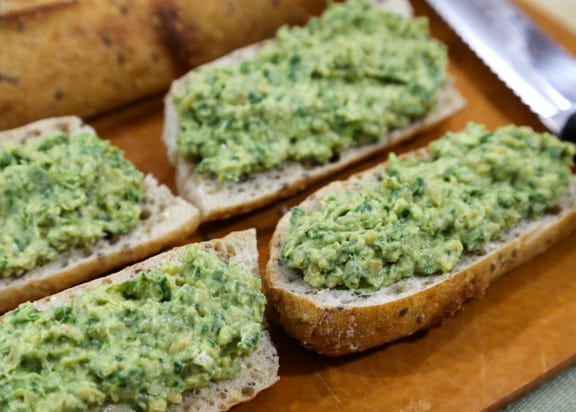 Antioxidants
Avocados contain powerful antioxidants that work to protect your body tissue from damage, aiding in healthy skin and hair. Antioxidants include beta-carotene, lutein, Vitamin A, C, and E. Get more info on antioxidants and vitamins at California Avocados.
Vitamin C is necessary for the growth and repair of tissues in your body, forming collagen and serving as a valuable protein required for regenerating skin, scar tissue, ligaments and blood vessels. Vitamin E is especially important in protecting your body tissue from damage caused by free radicals.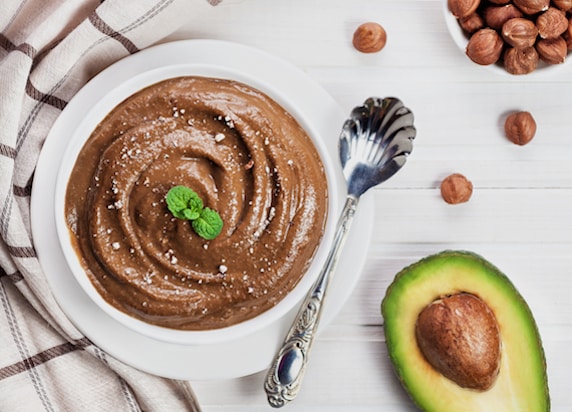 Potassium
Potassium, an essential mineral, is known for being abundant in bananas, but avocados are their nutritional rival!
The high potassium levels found in avocados is responsible for regulating your body's fluid levels, restoring muscle growth, lowering blood pressure and building proteins. Potassium is also seen to reduce risk of developing kidney stones. Potassium is the third most abundant mineral in the body and a required mineral for the function of several organs.
To put things into perspective, one avocado contains about 700 mg of potassium, where as one banana contains about 450 mg. Given that half of an avocado is more of an average serving, it's a close match. Eat both!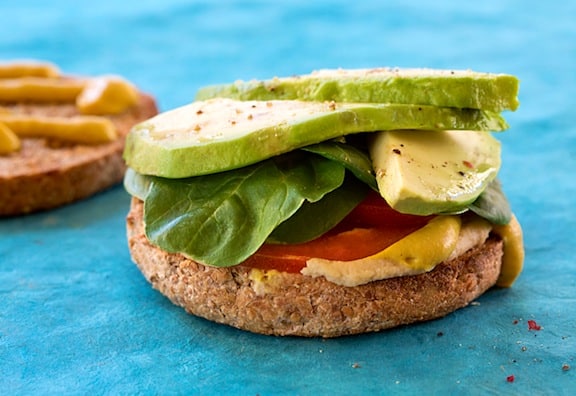 Other Nutrients and Minerals
Avocados contain a variety of nutrients and minerals in addition to the ones previously mentioned According to Healthline, the nutrients and minerals that avocado has significant quantities of include Vitamin K, Folate (sometimes known as folic acid or Vitamin B9), Vitamin B5, and Vitamin B6.

See also:
VegKitchen's favorite avocado recipes