Power-packed with healthy ingredients like nuts, seeds, coconut and dried berries that boast a plentitude of protein, healthy fats and fiber, these energy bars will keep your engine revving all day long. Great for packing in your child's lunchbox!
Reprinted from Plantpower Way by arrangement with Avery Books, a member of Penguin Group (USA), a Penguin Radom House Company. © 2015, Rich Roll and Julie Piatt.
1 cup raw almonds or walnuts, soaked overnight in filtered water

¼ cup cacao nibs

¼ cup hemp seeds

¼ cup dried goji berries

2 tablespoon cacao powder

¼ cup coconut, shredded

Pinch large-grain Celtic sea salt

7 or 8 dates, soaked in filtered water for 30 minutes and pitted
In a food processor, pulse nuts until mealy in texture.
Add the cacao nibs, hemp seeds, goji berries, cacao powder, shredded coconut and sea salt to the processor. Pulse again until well incorporated.
With the motor running, add one date at a time. After 7 dates, you will see the mixture ball up on one side of the bowl. You may need to redistribute the mixture and process it again to make sure the dates are mixed in.
On a piece of parchment paper, press the cookies in an even layer about ¼" thick.
With a knife, score out a grid of rectangular shaped pieces approximately 2 by 3 inches. If desired, press additional hemp seeds or shredded coconut on the surface.
Wrap in parchment paper or parchment bags. Take them out on a trail run, hike or bike ride to sustain you throughout your training session! Keep in a glass cookie jar on your kitchen counter or in the fridge for up to a week – if they last.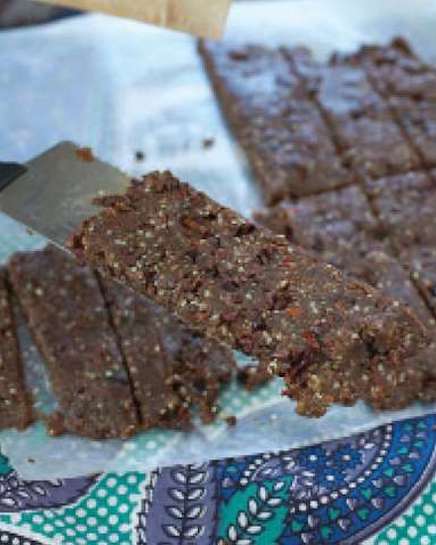 *This post contains affiliate links. If the product is purchased by linking through, VegKitchen receives a modest commission, which helps maintain our site and helps it to continue growing!