Serve this delicious sauce instead of whipped cream with fresh berries, cakes, crisps, pies, bread puddings, or tarts. Or try layering it with Raw Chocolate Mousse. Recipe contributed by Jennifer Cornbleet, from Raw Food Made Easy for 1 or 2 People,* revised edition. © 2012, Book Publishing Company. Photos by Evan Atlas.
Yield: 1 cup, 8 servings
1 cup soaked cashews (see note)
¼ cup plus 2 tablespoons water
2 tablespoons maple syrup or agave nectar
1 teaspoon vanilla extract
Put all the ingredients in a blender and process on high speed until smooth. Cover and refrigerate for at least 30 minutes before serving. Stored in a sealed container in the refrigerator, Vanilla Crème Sauce will keep for 5 days.
Note: To soak cashews, place in a small container, cover with cool water. Let stand at room temperature for about 2 hours, then drain.
Jennifer Cornbleet is a nationally recognized raw-food chef and instructor and a long-time faculty member at Living Light Culinary Institute in California. She lectures and holds classes in the San Francisco Bay area and internationally. For more information about Jennifer, visit learnrawfood.com.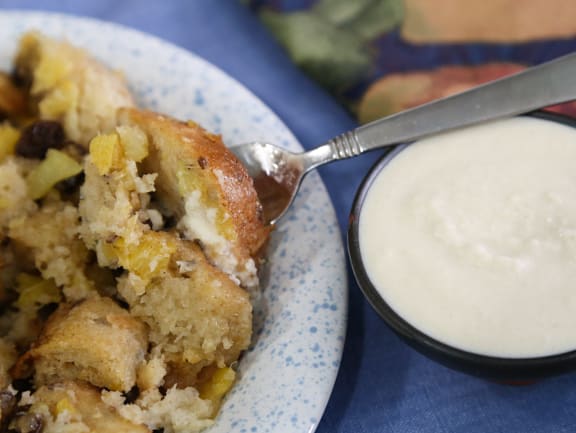 *This post contains affiliate links. If the product is purchased by linking through this review, VegKitchen receives a modest commission, which helps maintain our site and helps it to continue growing!