If it's summer, chances are that company will be coming at some point, and that you'll have to gather your resources and brain cells to make a last minute-meal. Whether it's the in-laws or friends you haven't seen in forever, you'll want that meal to be a crowd-pleaser, designed to impressed.
The dilemma is that it is summer, after all, and you don't want to spend hours in the kitchen. A vegan antipasto platter can be the answer to your warm-weather entertaining quandaries. Served with fresh bread and pesto, it can make an almost instant lunch for four to six. Add a big pot of spaghetti or linguini with good store-bought sauce, and it becomes a fantastic dinner.
No one will suspect that you didn't really slave over a hot stove for hours, because it all looks and tastes so appealing! And since you've saved all this time and effort, you can add some grilled vegetables and/or plant-based proteins if you're feeding a larger crowd and are inclined to outdoor cooking. 
And of course, you don't have to save this company. It's easy and fast enough for a weeknight meal for the family as well.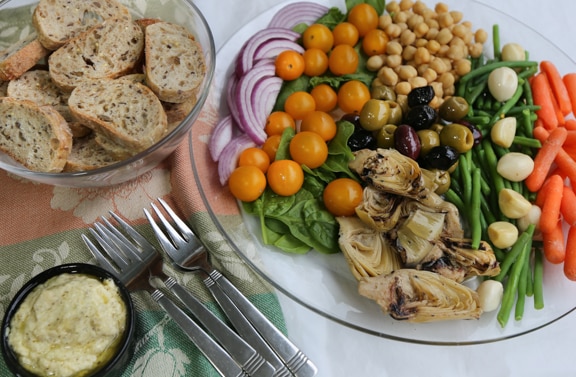 What you need
For the antipasto: Here are some possible components of appetizing and beautiful platter. Choose 8 or so. What's nice is that only a handful need any cutting or prep at all!
Fresh bell peppers or jarred roasted red peppers (drained), cut into strips

Cured olives, black and/or green

Baby carrots

Sliced red onion

Marinated artichoke hearts

Pepperoncini or other hot peppers

Cherry tomatoes

Cut celery stalks

Chickpeas

Diced vegan cheese

Pickled garlic (from the olive bar)

Pickled giardiniera (from the olive bar or a jar)

Small slender green beans, trimmed

Baby spinach or mixed baby greens to line the platter
For the pasta
1 pound spaghetti or linguine

28-ounce jar good-quality marinara sauce

15- to 16-ounce can diced tomatoes

Vegan Parmesan for topping, homemade or store-bought
Other
Fresh whole grain baguette (or other bread)

Vegan pesto

A good wine never hurts, right?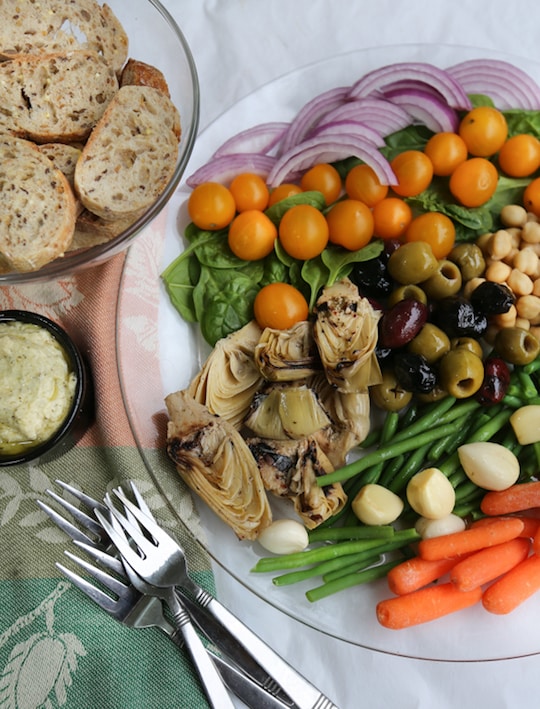 What to do
1  If you're adding pasta to the meal, start bringing a large pot of water to a boil and cooking the pasta while preparing the antipasto. Otherwise, skip this step.
2  Arrange the antipasto ingredients of choice on a large platter.
3  Put store-bought or homemade pesto into a small bowl; cut the baguette into slices and place on a platter or in a bowl.
4 When the pasta is done, drain it and return it to the pot. Stir in the pasta sauce and diced tomatoes. Warm up as needed. Transfer to a large serving bowl. Garnish with thinly sliced basil leaves, if using.
5  Serve the pasta and let everyone take what they wish from the antipasto platter.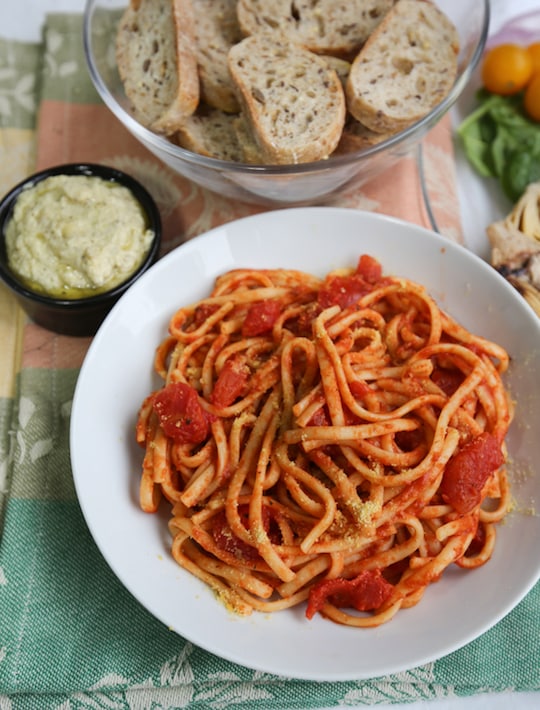 Photos: Evan Atlas