Made of beans, oatmeal (or quinoa flakes) and walnuts, there's nothing "fake meat" about these beanballs. They're super easy to make, too — basically you just throw everything into the food processor. While they're baking, cook up your favorite kind of pasta. Once it's done, add the kind of marinara sauce you like best — homemade Classic Marinara Sauce, or or your favorite natural purchased brand. Serve with a colorful salad, and, if you'd like, roast some broccoli and/or cauliflower in the oven at the same time that the beanballs are baking. Tip: set aside some of the marinara to spoon over the beanballs, once you arrange them atop the pasta.
Makes about 20
1 ½ cups cooked or one 15-to 16-ounce can
(drained and rinsed) pink or small red beans
½ cup quick-cooking oats or quinoa flakes
½ cup walnuts
Parsley leaves from a couple of sprigs
¼ cup tomato sauce or organic ketchup
1 tablespoon olive oil or water
2 scallions, green parts only, coarsely chopped
1 teaspoon sweet paprika
1 teaspoon smoked paprika, mesquite, or other smoky seasoning like mesquite
2 teaspoons salt-free seasoning blend (like Frontier or Mrs. Dash)
1 tablespoon nutritional yeast, optional
Freshly ground pepper to taste
Salt (taste first, you may not need any if using canned beans) to taste
Preheat the oven to 375º F.
Combine all the ingredients except the salt in a food processor and pulse on and off until the mixture starts holding together. Stop the machine from time to time to stir the mixture around so that it gets chopped up evenly. Or, if you don't have a food processor, no worries! Mash the beans well with a fork, and find a way to grind the walnuts into a coarse powder; chop the scallions and parsley finely by hand; then mix in the rest.
Either way, you want it to get fairly smooth, but with some texture — not totally pureed. Taste first to see if you'd like more salt. Err on the side of caution, as your marinara sauce will add salt to the dish as well.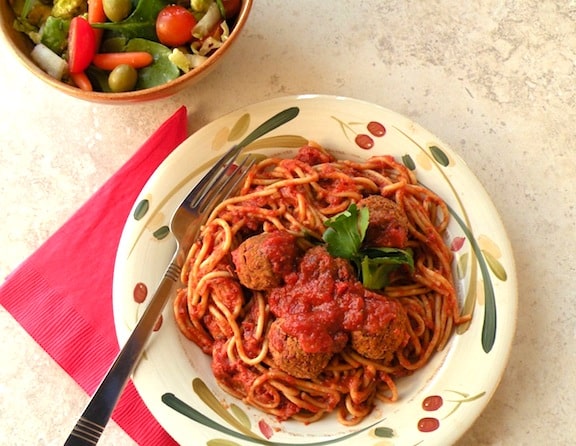 Line a baking sheet with parchment. Form the bean mixture into 1-inch balls and arrange on the baking sheet. Bake for 15 minutes or until lightly browned on the bottom, then carefully turn over (using a tablespoon works) and bake for about 10 minutes more, or until the underside is lightly browned as well.
Serve at once over the pasta with marinara sauce that you've presumably prepared while these were baking.