Vegan beet burgers are all the rage in the plant-based world. The red color is absolutely gorgeous! Serve as you would any other kind of burger—on buns or in pita bread, with your favorite condiments. They're so flavorful that I like to serve them on their own. If anything, I'd add a dollop of a quick vegan tartar sauce and serve them with salad.
Makes about 12 small slider-sized burgers, or 6 to 8 larger burgers
1 to 1 ¼ pounds beets (3 to 4 medium or several smaller ones)

½ cup quick-cooking oats (oatmeal)

1 tablespoon olive oil

1 medium red onion, chopped

2 cloves garlic, thinly sliced

2 scallions, chopped

15- to 16-ounce can kidney or red beans, drained and rinsed

1 teaspoon ground cumin

1 teaspoon sweet paprika

1 teaspoon smoked paprika or mesquite seasoning, or to taste

Salt and freshly ground pepper to taste
To serve (any, all, or none!)
Whole grain buns or pita bread

Mustard, ketchup, relish

Shredded lettuce or sprouts

Sliced red onion
Cook the beets using any preferred method — microwave, cook, or roast them whole (for more details on how to cook beets, see How to Cook Beets) until tender but not overdone. Plunge them into a bowl of cold water if you'd like them to cool off faster. Once they're cool enough to handle, peel them and cut into chunks.
Preheat the oven to 400º to 425º F., depending on what else you're making and how hot your oven runs.
Place half of the oats in a small bowl and cover with ¼ cup boiling water. Let stand until needed. 
Heat the oil in a small skillet. Add the onion and sauté over medium heat until translucent. Add the garlic and scallions and continue to sauté until all are soft and beginning to turn golden.
In a food processor, combine the beets, onion mixture, both the soaked and dry oats, beans, cumin, and both kinds of paprika (or mesquite). Pulse on and off until the mixture is evenly and finely chopped. Stop the machine from time to time to scrape down the sides and give it a little stir.
Transfer the mixture to a mixing bowl. Taste and add more of any or all of the three seasonings if you'd like a bolder flavor, then season to taste with salt and pepper.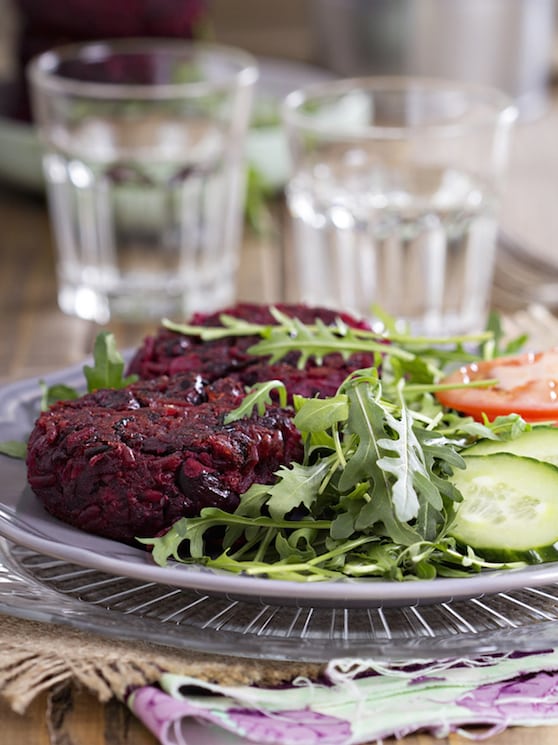 Line a baking sheet with parchment. 
If you'd like smaller burgers, use a round, ¼-cup measure. For the larger size, use a ½ cup measure. Oil the measuring cup very lightly and pack it fairly tightly with the beet mixture. Transfer to the baking sheet by turning the cup over and dislodging the mixture with a sharp tap. Flatten to a little less than ½-inch thickness with the bottom of the measuring cup.
Continue with the rest of the beet mixture, wiping out the cup and oiling it lightly from time to time.
Bake for 15 minutes, or until the bottom is starting to brown, then flip the burgers carefully and bake on the second side until lightly browned, 15 minutes or so longer.
Serve hot or warm on their own on buns with your favorite condiments, or on their own, plain or with tartar sauce. 
Note: These can also be sautéed on a skillet using a little oil, instead of baked.
Nutritional Information:
Per serving (making 8 burgers; not counting garnishes): 123 calories; 2.5g fat; 267.6mg sodium; 411.6mg potassium; 21.2mg carbs; 6.9g fiber; 4.4g sugar; 5.3g protein