This vegan "egg" foo yong recipe is an excellent replica of the popular Chinese dish. This version, is made with chickpea flour, sometimes packaged as garbanzo bean flour and various other names you'll see in the note following the recipe. It's very easy to make, and excellent served with stir-fries and rice dishes. This makes 4 pancakes; 2 larger or 4 smaller servings. All photos by Hannah Kaminsky. 
Makes: About 4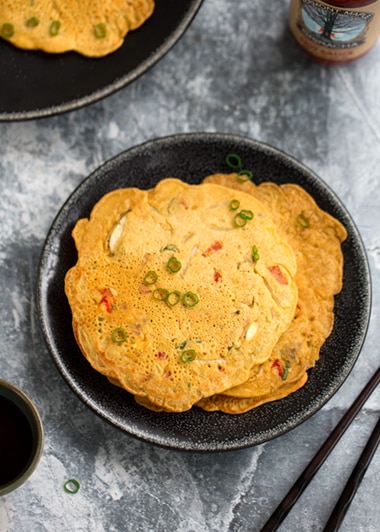 1 cup plus 2 tablespoons chickpea flour (see note)

½ teaspoon salt or black salt (kala namak)

A few grindings of black pepper

1 cup water, or as needed

½ cup very thinly sliced (cleaned and stemmed) white or brown mushrooms 

2 scallions, green parts, thinly sliced

1 cup fresh mung bean sprouts, roughly chopped

¼ cup finely diced bell pepper, optional

2 tablespoons nutritional yeast, optional

1 tablespoon dark sesame oil

Neutral vegetable oil for frying

Sauce for serving (Basic Chinese Sauce; or bottled teriyaki or General Tso's sauce)
1  Combine the garbanzo flour, baking powder, salt, and pepper in a large mixing bowl and stir until well blended. Add the water and whisk together until smooth.
2  Add the mushrooms, scallions, mung beans, optional bell pepper, optional nutritional yeast, and sesame oil. Stir until the vegetables are completely coated.
3  If the mixture seems too thick, add a little more water; if too thin, add a tablespoon more chickpea flour. It should have the consistency of pancake batter.
4  Heat enough oil to coat the bottom of a small (about 7 inch) nonstick skillet. Once it's very hot, scoop in about ⅔ cup of the mixture. Use the back of the cup to spread the mixture evenly. Fry on both sides until golden and remove to a container to keep warm.
5  Repeat with the remaining the mixture. Serve with sauce of your choice.
Note: This kind of flour is sometimes labeled garbanzo bean flour, as is Bob's Red Mill; it's also sometimes packaged as gram flour or besan.