This fun vegan dinner menu can brighten your Meatless Monday, or any other day of the week. These nifty and super-easy Pizza Veggies could be the answer to getting your picky eaters to eat their vegetables! Potatoes, zucchini, eggplant, and portobello mushrooms replace crust as surfaces for your marinara sauce and melty vegan cheese.
You can add more vegetable toppings, or not. You can make these pizza veggies with one kind at a time, or more. We tried all of the above, and they all were great! If you like this idea, go to our new Vegan Food Hacks page on Facebook for a daily dose of super-easy plant-based deliciousness.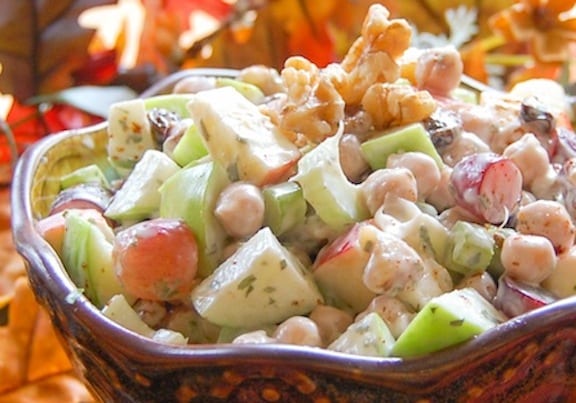 This meal is veggie-filled, but needs a little protein boost, and that's where Chickpea Waldorf Salad by Virtually Vegan Mama comes in. It's creamy, tart, sweet, and completely addictive; a great complement to the Pizza Veggies.