Inspired by traditional Pennsylvania Dutch shoo-fly pie, molasses and a crumb topping team up in delectably wholesome vegan molasses muffins. Barley malt syrup works just as well as molasses and produces a slightly milder flavor. Since these aren't overly sweet, they make a great breakfast muffin, and are welcome in the lunchbox as well; delicious with slices of crisp apple. Photos by Hannah Kaminsky.
Makes: One dozen
Crumbs mixture
3 tablespoons vegan butter
1/2 cup whole wheat pastry flour, spelt flour, or oat flour
1/2 cup natural granulated sugar, date sugar, or Sucanat
1/2 teaspoon cinnamon
Pinch of ground ginger
Muffins
1/2 cup blackstrap or Barbados molasses (or barley malt syrup)
3/4 cup applesauce
2 tablespoons safflower oil
1 3/4 cups whole wheat pastry flour
1 1/2 teaspoons baking powder
1 teaspoon baking soda
1/2 teaspoon cinnamon
1/4 teaspoon each: ground ginger, allspice, and salt
3/4 cup raisins
Preheat the oven to 350º F.
Melt the vegan butter in a small skillet. Combine the remaining ingredients for the crumbs mixture in a small bowl and stir together. Stir quickly  to coat evenly. Set aside.
In another mixing bowl, combine the molasses, applesauce, and oil, and whisk until well blended. In another bowl, combine the flour, baking powder and soda, and the spices. Pour the wet mixture into the dry and stir together until just blended.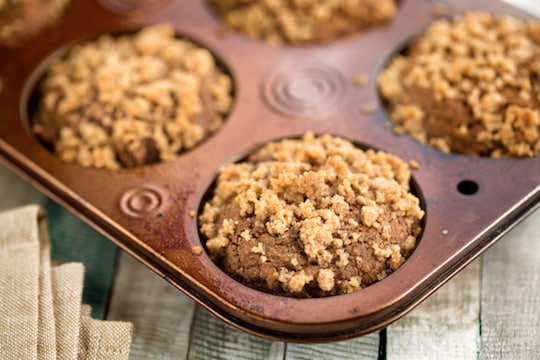 Pour about 2/3 of the crumbs mixture into the batter along with the raisins and stir until blended, but don't overmix. Divide the batter among 12 paper-lined muffin tins. Distribute the remaining crumbs mixture evenly over the tops of the muffins.
Bake for 20 to 25 minutes, or until a knife inserted into the center of a muffin tests clean. Cool on a rack. Serve warm. Let leftover muffins cool, then store in an airtight container.