I've always wanted to try making vegan Philly cheesesteak, but something always stopped me. The problem has been that most of the recipes I've looked at use seitan in place of you-know-what. And while otherwise I have no quibble with seitan, it just seems like pure gluten served on bread is redundant.
Occasionally, a recipe will swap in portobello mushrooms, which do have that meaty umami thing going on. But for me, this would make it a portobello mushroom sandwich. While undeniably tasty, not exactly what I'd call the ideal vegan cheesesteak.
Lately, in our Vegan Food Hacks kitchen, store-bought vegan burgers have been demonstrating just how useful and versatile they can be. And they proved just the thing for these easy and tasty vegan cheesesteaks — meaty but not too meat-imitation-y; hearty but not gluten-filled like seitan.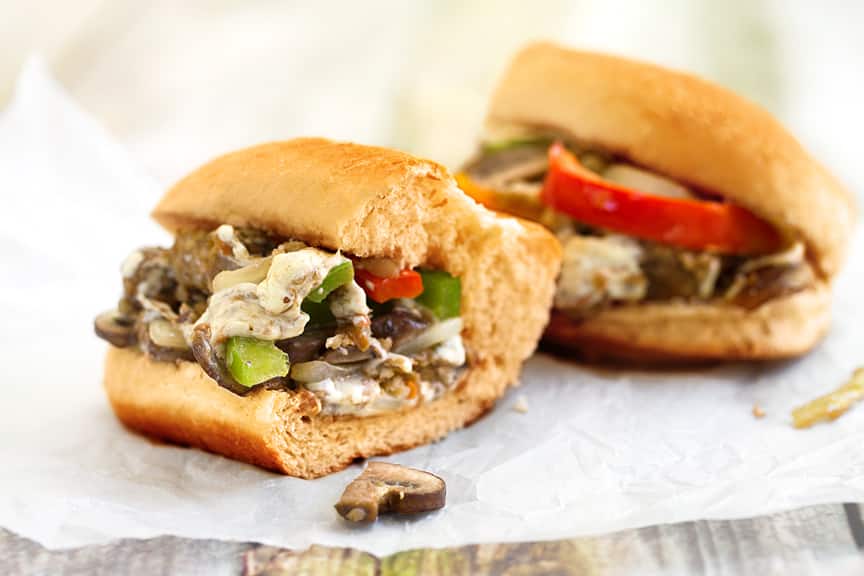 What we love about veggie burgers is that they come in such a great variety, and you can choose according to your preference — do you like your burgers to be based on beans, grains, eggplant veggies, pea protein? Even your ordinary supermarket often has some good choices, here's a handy list of brands.
To complete a meal of this hearty sandwich, just add salad. We went with an effortless mix of baby greens and cherry tomatoes, but if you want to make a slightly more elaborate salad, we don't object! And for a slightly larger meal, you can add sweet potato fries — homemade or from the frozen foods section.
Serves: 3 to 4
Time to table: 20 minutes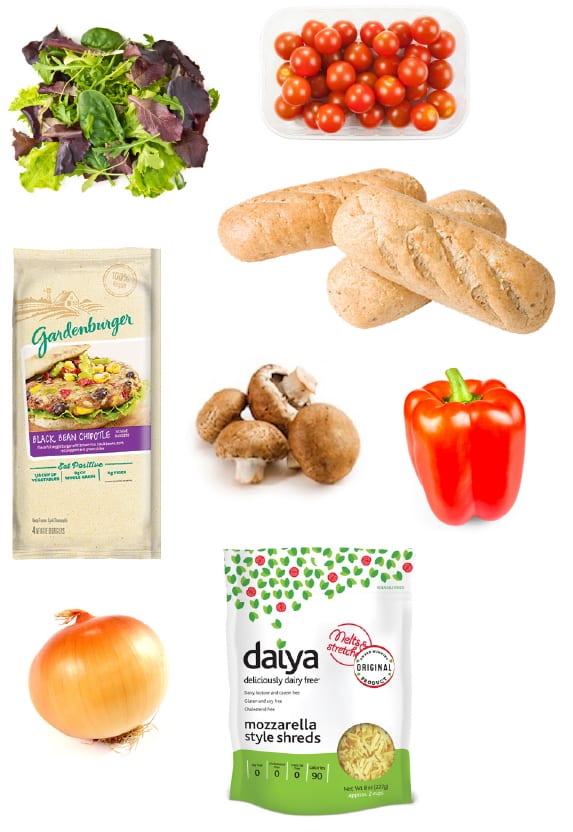 Shopping list
Mixed baby greens

Cherry or grape tomatoes 

1 medium onion

1 medium bell pepper (see note)

4-pack vegan burgers, your favorite brand

8 ounces brown mushrooms

1 package Daiya Mozzarella

Hero rolls (preferably whole grain) 3 or 4
(packages sometimes have more; freeze what's unused)
You probably already have on hand
Olive oil

Soy sauce or liquid aminos (optional)

Hot seasoning — sriracha, hot sauce, red pepper flakes (optional)
Note: If you really want to go full-on lazy, you can also use about half of a 16-ounce bag of frozen cut onions and bell peppers. Produce sections also have pre-cut onion and bell peppers, cellophane wrapped.
What to do
1  Make a simple salad with the greens and tomatoes (and whatever else you'd like to use) and set aside.
2  Quarter and slice the onion. Over medium heat, sauté in a medium skillet with a little olive oil until golden.
3  Slice the bell pepper into strips. Stem about 8 mushrooms, clean them, and slice them. Add the bell pepper and mushrooms to the skillet and  continue to sauté until the vegetables are golden and softened. Move to a plate.
4  Cut each veggie burger in half and then into ½-inch wide (or so) strips. Add a little more olive oil to the skillet. Sauté the burger strips over medium heat until golden on most sides, stirring occasionally.
5  Stir the onion mixture in with the burger strips. Add 1 to 1 ½ cups vegan mozzarella, depending on how cheesy you'd like this to be, and cook just until the cheese is melted. Taste and see if you'd like to add a splash of soy sauce or liquid aminos, or your favorite hot seasoning.
6  Divide the filling among the hero rolls (you can hollow them out a bit if you'd like, so that more of the filling can go in). This will fill 3 or 4 hero rolls, depending on their size.
7  Cut each sandwich in half and serve at once with the salad.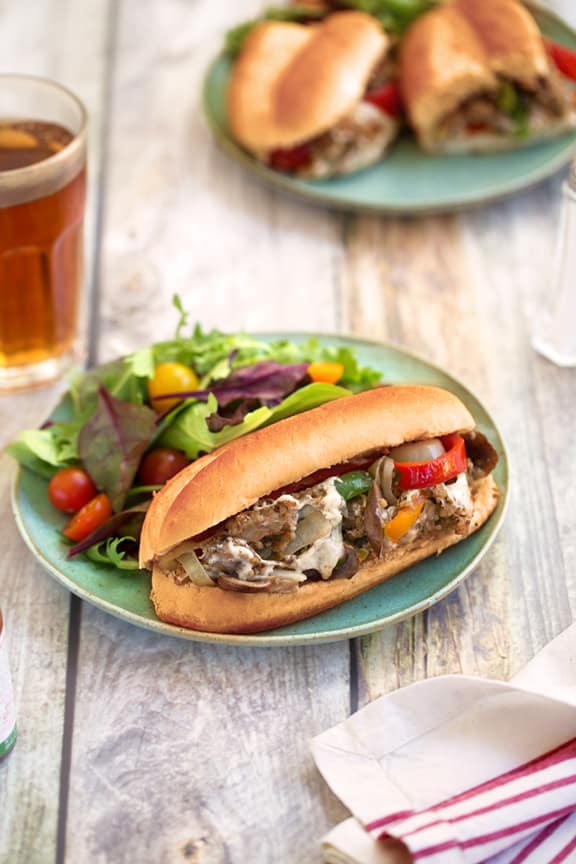 Photos: Hannah Kaminsky