Today, we're going to learn to make authentic vegan ravioli from scratch, starting with growing our own artisanal wheat. Just kidding, of course! There are quite a number of yummy delicacies that I love, but that fall into the "life is too short" department when it comes to from-scratch cooking. One of them is vegan ravioli (followed closely by sushi).
Which is why when the mood strikes, we get a package of these dumpling-like cuties from the frozen foods section of our natural foods store. Then we're well on the way to a hearty meal that only needs a salad to complete it. A can of pink beans gets us close to the finish line, then all that's needed is a good sauce and a sprinkling of fresh basil and nooch (aka nutritional yeast) or vegan Parmesan. Let's get started!
Serves: 2 to 3 (depending on the size of the package of ravioli)
Time to table: 15 minutes
What you need
8- to 12-ounce package vegan ravioli (see lots of brands here!)
15-ounce can pink beans, drained and rinsed

1 cup marinara sauce, your favorite variety

Fresh basil to taste

Nutritional yeast or vegan Parmesan (purchased or our 

incredibly easy homemade

Vegan Parmesan

)
1  Cook the ravioli according to package directions.
2  Meanwhile, in a skillet or stir-fy pan, gently heat the beans and marinara sauce together until they come to a simmer.
3  When the ravioli are done, drain, then add to the beans and sauce. Stir together gently. Add more sauce if needed.
4  Serve, passing around basil and nooch or vegan Parmesan to top individual portions.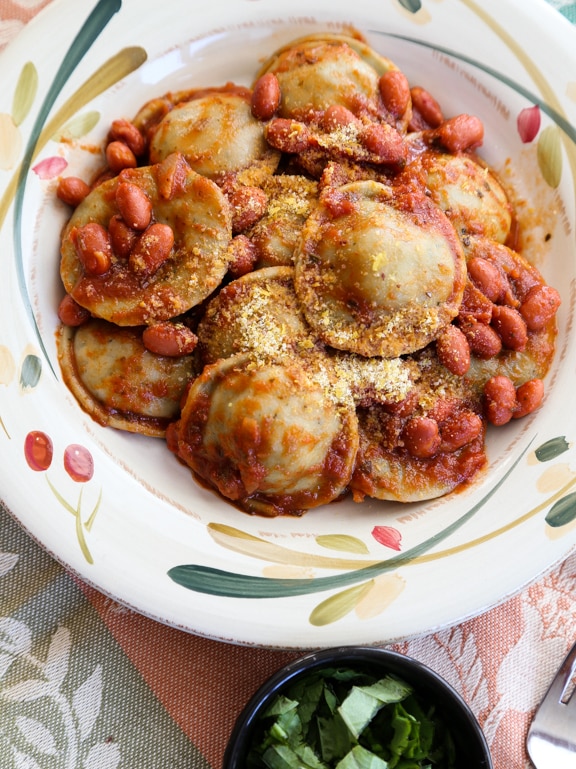 Photos: Evan Atlas