Vegan Strawberry Mango Popsicles are the must-have summer dessert. You only need 3 ingredients to make this chilled dessert to cool you off this summer.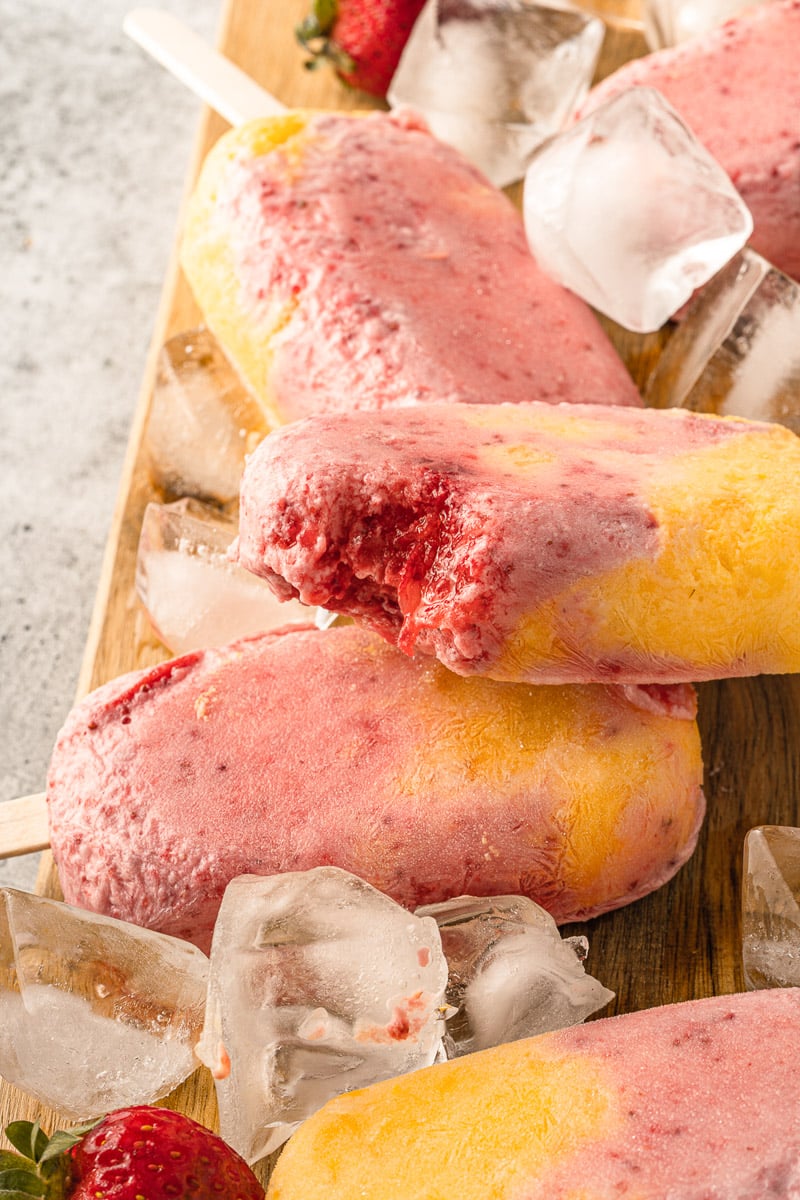 Popsicles are one of my favorite summer treats! But I prefer making my own to buying some from the store. That way, I can control the ingredients—and the flavors! Some of my favorite flavors are Peaches and Cream and Blackberry Watermelon—and, of course, Chocolate Fudge!
But I always come back to fruity, creamy popsicles. In this recipe, coconut yogurt pairs deliciously with strawberry and mango to make these refreshing dairy-free popsicles!
This Vegan Strawberry Mango Popsicle recipe is...
Made with 3 ingredients 
Prepared in 5 minutes
Easily stored in the freezer
Dairy-free
Naturally gluten-free
How to Make Vegan Strawberry Mango Popsicles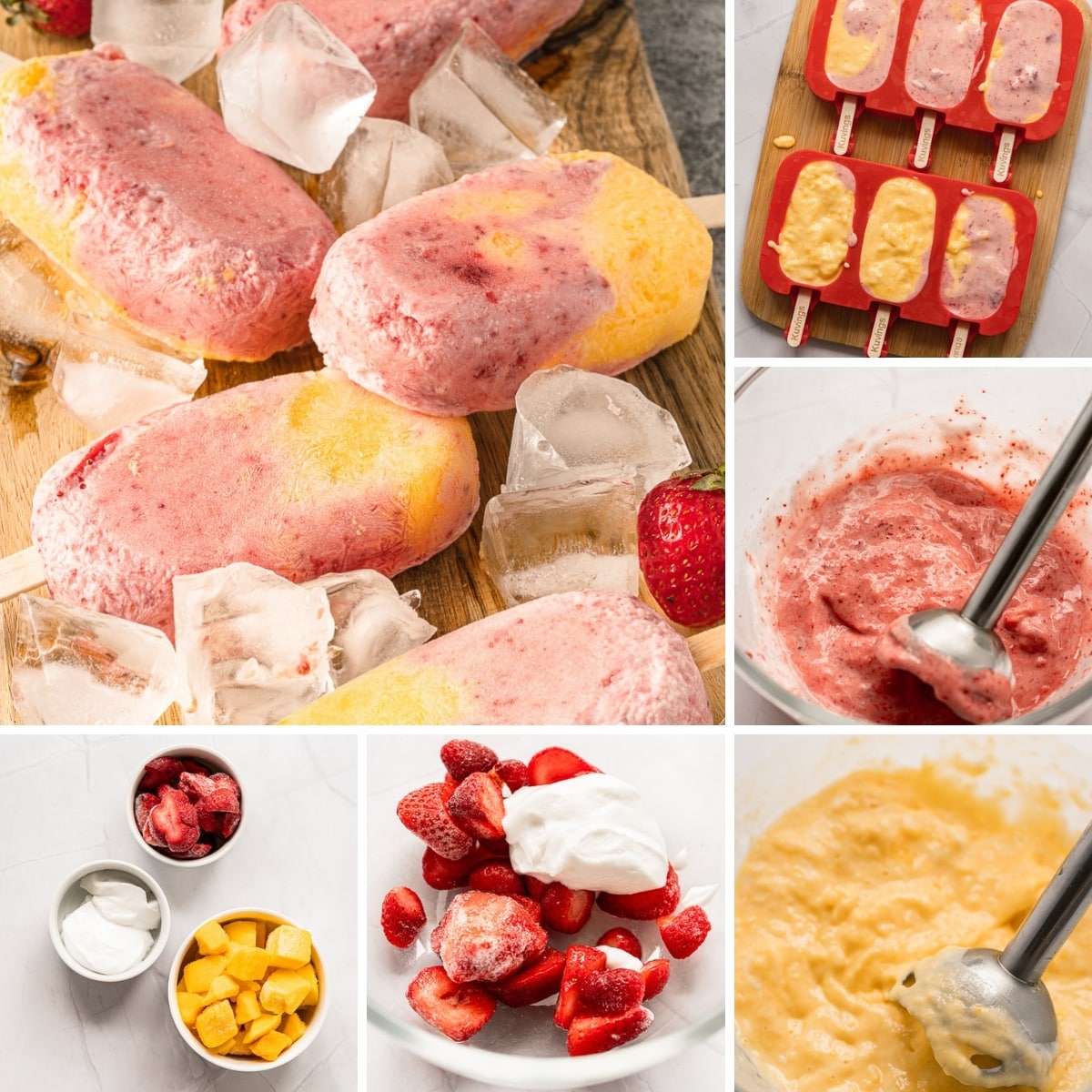 Start by adding your berries and yogurt to the blender, and mix till combined. 
Once mixed, pour berry mixture into a bowl or cup and set aside. 
Then you will blend together the yogurt and mango. 
Layer the mango and strawberry mixtures into the popsicle molds. 
Freeze for 4 hours or overnight to allow popsicles to freeze. 
Serve and Enjoy. 
Tips & Tricks for Vegan Strawberry Mango Popsicles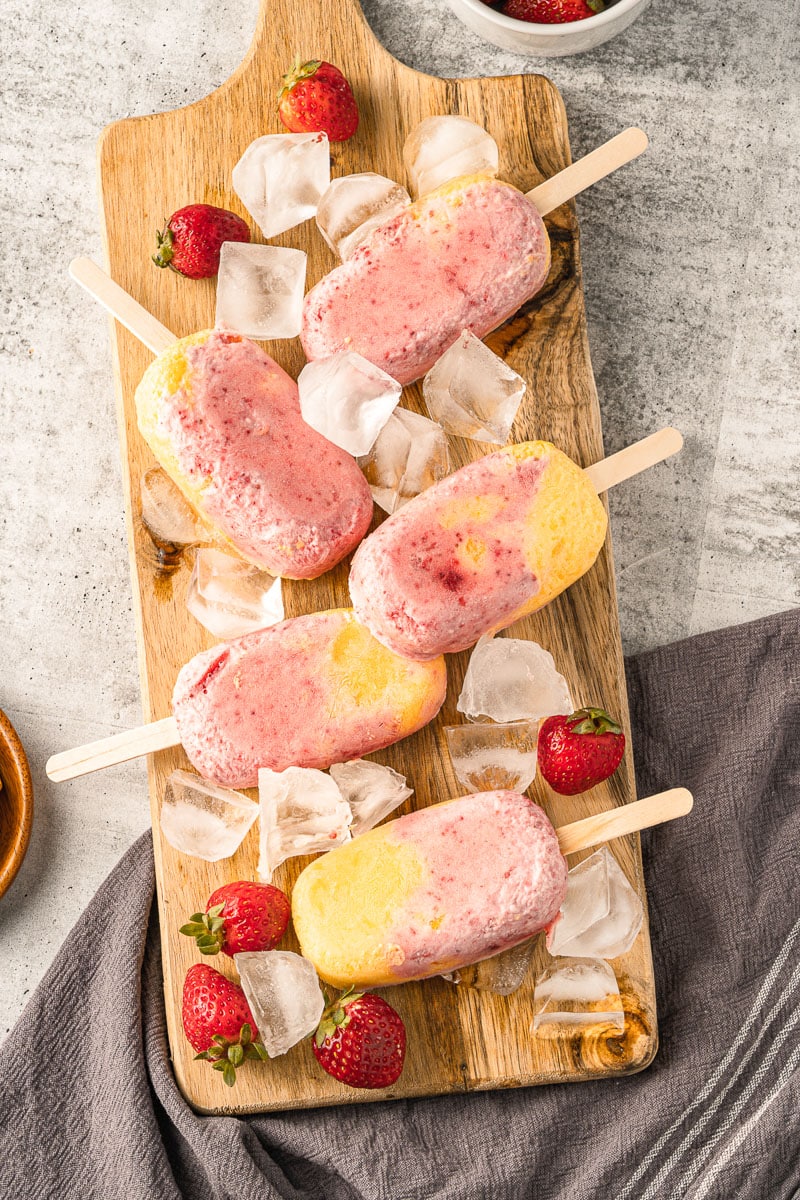 Layering Flavors
I used a spoon to create layers of flavor in the popsicles. To get the layers, I spooned in a bit of the strawberry popsicle mixture, then a bit of the mango popsicle mixture.
Popsicle Molds
You can use any brand or style of molds you want for the popsicles. I love the ones that let you press the stick into the mold at the end. I find that this keeps the popsicle stick secure since the lid secures onto the popsicle mold. 
Creamier Popsicles
Want to make a creamier popsicle? Reach for more yogurt instead of fruit to create a delicious, creamy yogurt popsicle. 
Variations to Vegan Strawberry Mango Popsicles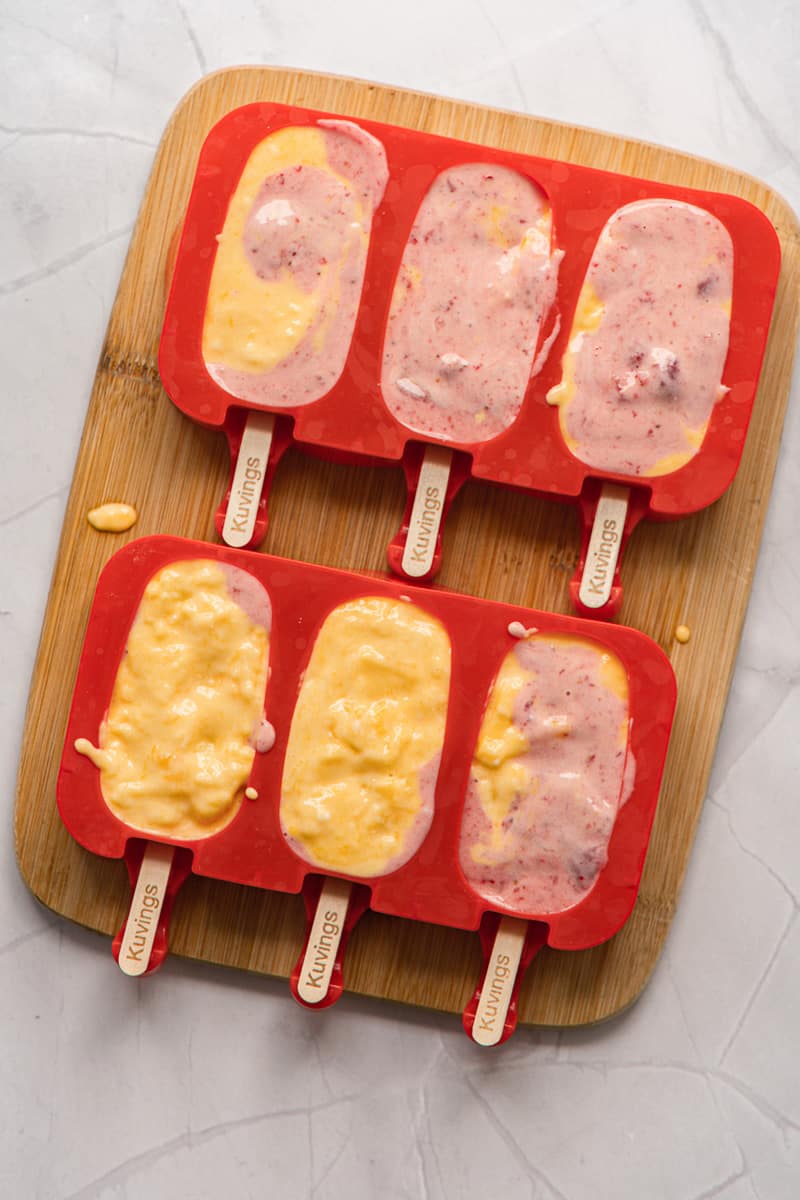 Change Up The Flavors
Feel free to change up the flavors by using different fruit. I like to use whatever is freshest at the store or the farmer market. Try making a kiwi strawberry or mixed berry popsicle! Even a tropical popsicle of pineapple and coconut would be delicious. 
Swap Out Yogurt
I used a plain coconut yogurt for this recipe. But you are welcome to reach for an almond milk-based yogurt—or any other variety you would like. It will blend together the same with whatever you choose. 
Vegan Strawberry Mango Popsicles FAQs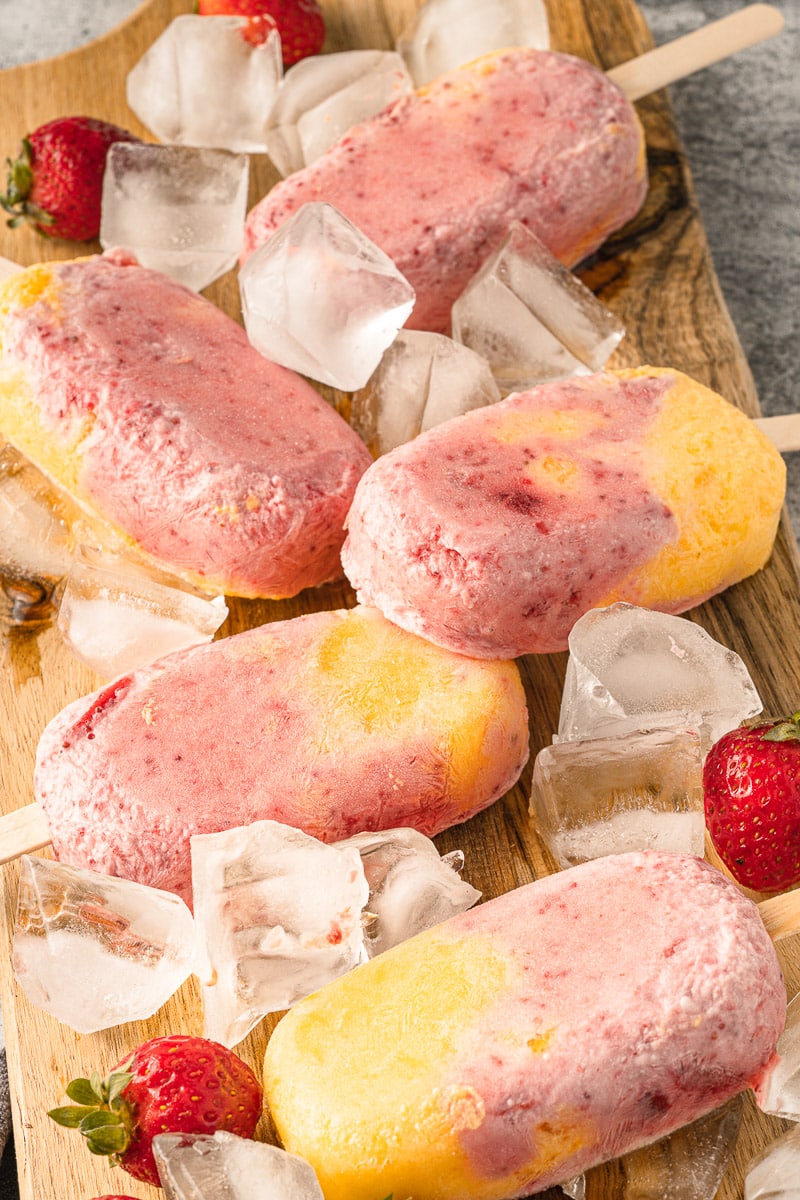 How do you remove popsicles from molds? 
The easiest way to get your popsicles out from the molds is to run them under warm water for a minute—only at the bottom of the mold, though! This will loosen up the popsicle just enough so it slides right out. 
How long will these yogurt popsicles last? 
You can store your popsicles for 3–4 months in the freezer. Just keep them stored properly, and they will last all summer long. 
Are popsicles bad for you?
Remember to keep all things in moderation when it comes to this frozen treat. However, you will gain some nice nutrients from the fresh fruit in these popsicles. 
How long do popsicles take to freeze?
Generally you will want to wait a minimum of 4 hours before removing your popsicles from the molds. The freezing time varies depending on the thickness of the popsicle mixture. Smaller and thicker popsicles will freeze faster than larger popsicles with a thinner mixture. 
Recipe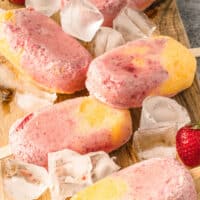 Vegan Strawberry Mango Popsicles
Vegan Strawberry Mango Popsicles are the must-have summer dessert. You only need 3 ingredients to make this chilled dessert to cool you off this summer.
Print
Pin
Rate
Email
Ingredients
1 ½

cup

strawberries

fresh or frozen

1 ½

cup

mango chunks

fresh or frozen

½

cup

plain coconut yogurt
Instructions
Add strawberries and ¼ cup of coconut yogurt to a blender.

Blend until smooth. Transfer to a small bowl and set aside.

Repeat the first step but with the mango chunks.

In the popsicle molds, add a few spoonfuls of the strawberry mixture to one side.

Then fill the rest of the molds with the mango mixture. And don't forget to place the popsicle sticks inside!

Freeze popsicles for at least four hours, or until completely frozen.
Notes
These popsicles will last several months in the freezer—so you can enjoy them all summer long!
Experiment with flavors by using other fruits that you enjoy such as kiwis, raspberries, or peaches.
For a creamier texture, reduce the amount of fruit and add more coconut yogurt.
Nutrition
Calories:
49
kcal
|
Carbohydrates:
10
g
|
Protein:
1
g
|
Fat:
1
g
|
Saturated Fat:
1
g
|
Cholesterol:
3
mg
|
Sodium:
10
mg
|
Potassium:
156
mg
|
Fiber:
1
g
|
Sugar:
8
g
|
Vitamin A:
471
IU
|
Vitamin C:
36
mg
|
Calcium:
35
mg
|
Iron:
1
mg
Vegan-ize any recipe!
Grab our free vegan cheat sheet, packed with my favorite easy substitutions to make any recipe vegan.