Thanksgiving has become the holiday that many vegans look forward to all year — there are so many great options to make and to share. But what with life's unexpected twists, we're here to help out if there's an unexpected glitch in your plans — you, your partner, or your kids get sick; your flight gets cancelled; a snowstorm makes traveling hazardous. Or, at the very last minute, you've decided you just want to keep things quiet and intimate, rather than tussling with your rowdy relatives.
Whatever the reason, if you're on the verge of opting out but just don't want to feel left out, here's a last-minute season-friendly vegan menu that you can throw together at the last minute. Call these vegan Thanksgiving ideas — there are no recipes to follow. If you want to get a little fancier, you're free to explore VegKitchen's wide range of Thanksgiving recipes; and if you have more time and inclination, add our Easy Vegan Pumpkin Pie or just pick up some dessert.

This meal will feed four (or two very hungry people, or two moderately hungry people, with leftovers). You don't even need a stove, if you're stuck in a dorm, for instance, and have access only to a microwave. But you have a choice of whether to use an oven or microwave to make this meal.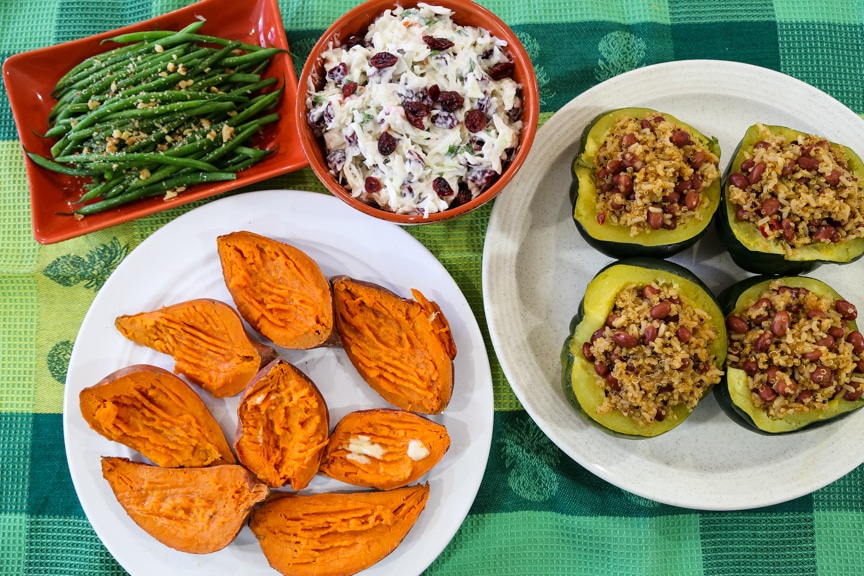 Here's what you'll need:
2 medium-sized acorn squashes
Pilaf mix

 

— 4 to 6 ounce box; something that cooks up in 20 to 25 minutes, and has a nice blend of grain and seasoning. We used Near East Quinoa Blend; but use anything like this that appeals to you. Look for this kind of product in the rice section of your supermarket or natural foods store. 

15-ounce can beans (use your favorite kind, or anything you have on hand. We used small read beans, but black beans would be good in this, too)

4 small sweet potatoes (pictured here are small garnet yams)

Earth Balance

Green vegetables of your choice (we used

 

pre-trimmed fresh green beans, you can use Brussels sprouts or broccoli or leafy greens, preferably fresh in all cases, but frozen will do if you're feeling really lazy)

Walnuts or almonds to top green vegetables, optional

8-package pre-cut coleslaw

Dried cranberries

Vegan mayonnaise (we like Vegenaise)
Here's how to put it together:
Squashes: If you're baking them, wrap in foil and bake in a 375º oven for about 40 minutes, or until you can pierce through them easily, but they're not mushy. If you're microwaving them, place in a casserole dish; microwave for 4 minutes, then turn the squashes over; bake for another 4 minutes; test to see if they can be pierced easily and add just a little more time if need be.

When the squashes are done, cut them in half and remove the stem. Scoop out  the pulpy part with the seeds and discard. Fill the four halves with the pilaf and bean mix (see following).
Pilaf mix: Cook according to package directions.
Beans: Drain and rinse them, then stir them into the pilaf. Cover and set aside.
Sweet potatoes: place in a casserole dish and cover to bake in the oven. Bake at the same time as the squashes. They should be done at about the same time. To microwave, cook for 8 minutes; test each one, and add a little time if need be.
Cut the sweet potatoes in half, mash the insides a little with a fork, and work in a little Earth Balance. Or, each person can do this for themselves.
Slaw: Combine in a mixing bowl with vegan mayo and some dried cranberries. No special amounts here; it should be to your liking.
Green vegetables: Steam in a skillet with a little water until tender but still bright green. The time will vary according to what vegetable you're using and how much there is, but this shouldn't take more than about 10 minutes. When done, drain off the water. Stir in a little Earth Balance until it melts. Season with salt and pepper and top with some chopped walnuts or almonds, if you'd like. You can serve from the skillet or transfer to a platter.
To plate:
Each plate will consist of one squash half (this is very filling!), a sweet potato, some of the green vegetable, and some slaw. Very healthy and festive!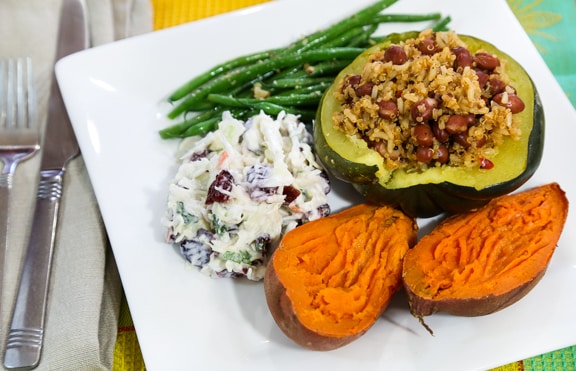 And if you have the extra time and inclination, make our Easy Vegan Pumpkin or Squash Pie, Pumpkin Cheesecake with a Hint of Chocolate, or a store-bought vegan dessert.