There has rarely been a comprehensive collection of vegetarian or vegan recipes, in print or online, that didn't include at least one recipe for chili. Bean-based chills are warming, hearty, and inexpensive. They're as welcome for everyday meals as they are for parties and potlucks. They freeze well and are also a great lunchbox option. Here's a handful of chili varieties to choose from.
Classic Vegetarian Chili (shown at top) is a standard in the vegetarian/vegan repertoire, consisting of beans and vegetables in a spiced tomato base. It's great for everyday meals as well as casual company dinners. It's especially welcome when the nippy days of late fall arrive. This mildly spiced chili is good in its basic form, or try the variations for spicing it up and embellishing it.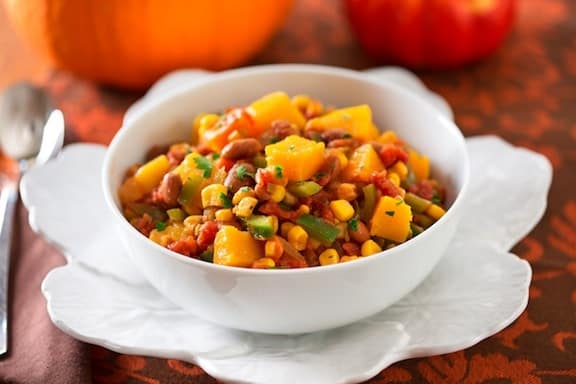 "Three Sisters" Stew is a cousin to chili, though more about the squash than beans. In Native American mythology, squash, corn, and beans are known as of the "three sisters" — the very crops that the harvest festival of Thanksgiving is meant to celebrate, though you need not relegate this stew to that day only. If you bake your pumpkin or squash a day ahead, this will come together in a snap.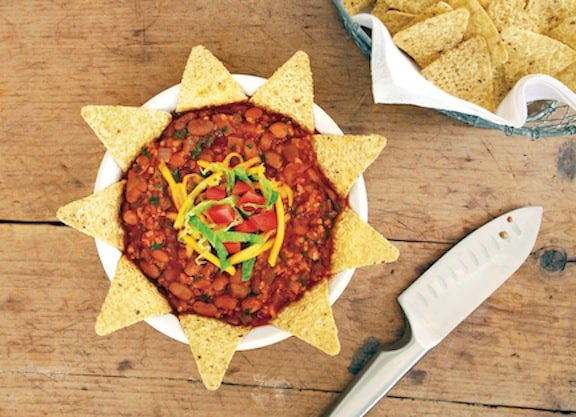 Taco Soup is also a variety of chili. Filled with spiced beans and grain (quinoa or bulgur), its presentation is like a taco turned inside out, making it fun and dramatic. It's perfect for a chilly weeknight meal, served with a colorful salad and a green veggie.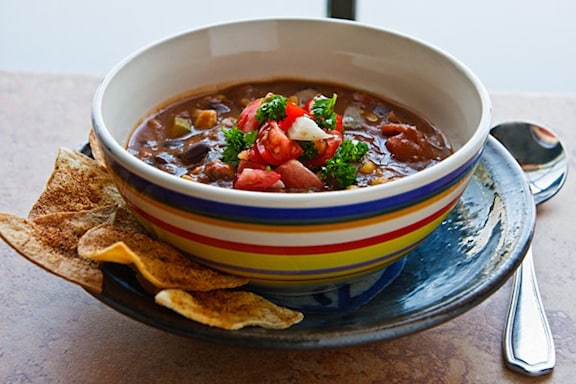 A Big Pot of Really Good Chili is perfect for those times when  you need a heaping helping of something fast, inexpensive, and hearty. Simple, hearty, and warming, this is a great choice for casual winter parties like Super Bowl Sunday. For everyday meals, consider cutting the recipe in half.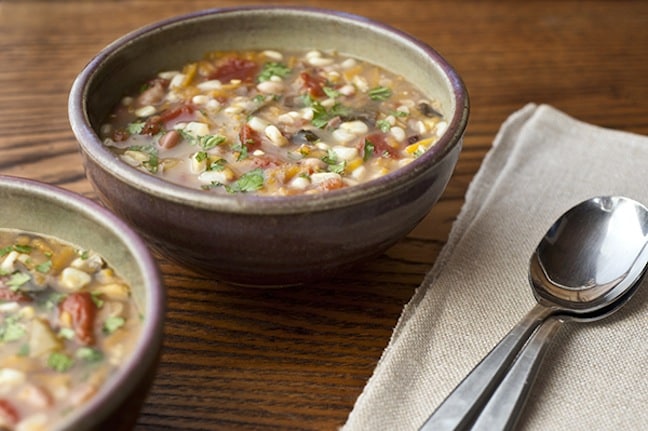 Leslie Cerier's Sweet Potato and Black Bean Chili with Tomatillos is a sweet and spicy stew. and an unusual take on chili. And if you happen to have leftovers, it tastes even better a day or two later.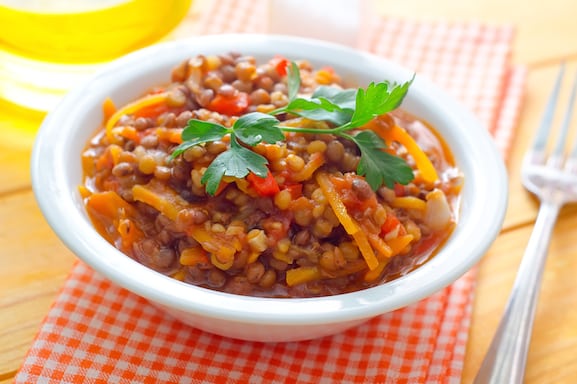 Another variation embellished with sweet potato, Smoky Lentil and Sweet Potato Chili is deliciously offbeat. Smoky spices, intended for grilling, are readily available in the spice section of supermarkets, and add a bold but not overly hot flavor to the stew.