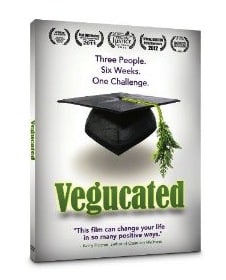 I recently had that pleasure of attending a screening of Vegucated at a theatre right near my home town that included a Q & A with the filmmaker, Marisa Miller Wolfson. Though I'm absolutely sure that watching the film on DVD at home or streaming it instantly on your computer would be a great, seeing it with an audience and the director herself enhanced the experience. It was fun to see how the audience reacted to it (quite positively) and the kinds of questions that were asked.
First a synopsis of the film, taken from the film's site, which explains more succinctly than I can, what the film is about.
Vegucated is a feature-length documentary that follows three meat- and cheese-loving New Yorkers who agree to adopt a vegan diet for six weeks. There's Brian, the bacon-loving bachelor who eats out all the time, Ellen, the single mom who prefers comedy to cooking, and Tesla, the college student who avoids vegetables and bans beans. They have no idea that so much more than steak is at stake and that the fate of the world may fall on their plates. Lured with true tales of weight lost and health regained, they begin to uncover hidden sides of animal agriculture and soon start to wonder whether solutions offered in films like Food, Inc. go far enough. Before long, they find themselves risking everything to expose an industry they supported just weeks before.
But can their conviction carry them when times get tough? What about on family vacations fraught with skeptical step-dads, carnivorous cousins, and breakfast buffets?
Part sociological experiment, part science class, and part adventure story, Vegucated showcases the rapid and at times comedic evolution of three people who share one journey and ultimately discover their own paths in creating a kinder, cleaner, greener world, one bite at a time.
I loved the concept of taking three skeptics and showing them what going vegan was all about. All three of the participants seemed to want to be healthier and thinner, but none seemed invested in the concept of going vegan; in fact, they seemed to know fairly little about it. It was exciting to see them transform in such a short period of time, not only in terms of their vital statistics, which were taken before and after the six weeks, but their emotional evolution as well.
Vegucated includes plenty of humor, which always helps when processing challenging subject matter. While the camera work can sometimes be a bit rough around the edges, the film's heart is always true and pure. It balances the ethical, health, and environmental issues around the vegan choice. There is no way to dance around the aspect of animal cruelty, but the film covers this without getting too heavy-handed. I always think of the quote by Flannery O'Connor, "The truth does not change according to your ability to handle it."
There are several ways you can view Vegucated. If you'd like to own your own copy, so you can share it with others, you can order one on Amazon.com.* You can also choose the instant streaming option.* Hopefully it will be available soon on Netflix, though I don't see it there as yet. Or check the Vegucated site to see if there is a screening near you, as well as to watch the trailer. I highly recommend this film to those who are exploring the idea of a vegan lifestyle. It is not preachy or judgmental and acknowledges just how tricky it is to navigate a vegan diet if you are surrounded by family and friends who eat meat or have an on-the-go lifestyle. Vegucated celebrates the idea of being as informed as you possibly can be, and doing the best that you can with the knowledge you have.
*This post contains affiliate links. If the product is purchased by linking through this review, VegKitchen receives a modest commission, which helps maintain our site and helps it to continue growing!