One of Vietnam's most popular menu items, goi cuon, or summer rolls, are full of fresh, crispy textures and wonderful herbaceous aromas. Goi cuon literally translates into English as "mix salad rolled." For a twist, we dip our rice paper in jasmine tea, which gives the finished product a great aroma.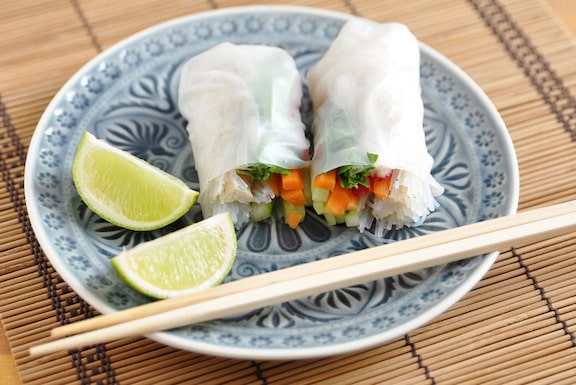 Makes: 24 rolls
24 rice paper spring roll wrappers (round)
2 heads butter lettuce, ribs removed, leaves separated
(leaves should be about 4" x 4" or so—if they much larger
or you're using different lettuce, cut to approximate size)
6 cups jasmine tea
For filling:
8 ounces thin rice vermicelli noodles, cooked until tender and cooled
1 ½ cups enoki mushrooms
½ cup Thai basil leaves, whole
½ cup cilantro, chopped
½ cup mint, chopped
1 ½ cups bean sprouts
1 ½ cups fried tofu, cut into long, thin strips
½ cup scallions, thinly sliced into long strips
2 carrots, julienned
1 English cucumber (seedless), cut into long strips
To serve:
Cashew-Hoisin Dipping Sauce (see recipe following)
Prepare tea and keep warm. Dip each piece of rice paper into the warm tea, coating both sides with liquid. it should immediately become translucent and pliable.
Place the wrapper on a clean counter or cutting board and center a small piece of the lettuce in the middle of the rice paper. Place a little bit of each of the filling ingredients inside the roll, being careful not to put in too much (the roll should be about an inch (~2 cm) in diameter.
Fold bottom third of rice paper over fillings, fold over both ends to "tuck in" the fillings, and wrap up. If you need to store for later, place on very lightly oiled wax paper, separated about ½ inch apart to prevent sticking. Serve with dipping sauce (recipe following).
Cashew-Hoisin Dipping Sauce
Makes: 1 cup
3 tablespoons cashew butter
1 tablespoon vegetable oil
4 cloves garlic, minced
1 tablespoon chili garlic sauce
⅓ cup hoisin sauce
2 tablespoons water
1 tablespoon sugar
Heat oil in a small pan over medium heat. Add garlic and fry 30 seconds until lightly browned. Add the rest of the ingredients and simmer on very low heat for about 10 minutes. Add one more tablespoon of water if the mixture is too thick. Serve.
This recipe is courtesy of Vegetarian Recipes and Cooking, contributed by Chris Hornbeck.