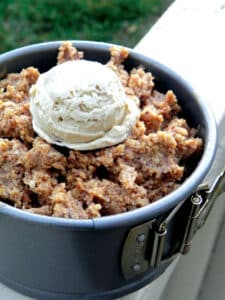 This date-based, no-sugar-added caramel sauce does double duty by sweetening both the apple filling and the crumbly topping. Use a crisper variety of apple, such as Pink Lady, Jazz, or Honeycrisp, for best results. Serve with vegan vanilla ice cream for a nice warm/cold contrast. This recipe is from Practically Raw,* copyright © 2012 Amber Shea Crawley. Used by permission, Vegan Heritage Press.
Serves: 9
For the apples:
3 medium apples, peeled, cored, and thinly sliced
2 teaspoons lemon juice
½ teaspoon ground cinnamon
For the caramel:
1 ¼ cups pitted dates, soaked for 15 to 30 minutes and drained
1 cup Almond Milk
1 tablespoon melted coconut oil
1 teaspoon lemon juice
1 teaspoon vanilla extract
¼ teaspoon sea salt
For the topping:
1 cup dry walnuts
1 cup dry almonds
1 teaspoon ground cinnamon
Pinch of sea salt
For the apples: Combine the apples, lemon juice, and cinnamon in a medium bowl and toss to coat.
For the caramel: Combine all caramel ingredients in a high-speed blender and blend until smooth. Reserve ¼ cup of the caramel mixture and set aside; add the remainder to the sliced apples and toss to coat well. Transfer the apple mixture to an 8- or 9-inch square baking pan (or similar-sized dish) greased with coconut oil.
For the topping: Pulse all topping ingredients in a food processor until coarsely ground. Drizzle in the reserved ¼ cup of caramel and pulse several more times to combine. Drop the topping mixture by the spoonful over the apples.
Make It Raw: Dehydrate for 4 to 6 hours; serve warm. Alternatively, serve as is, room temperature or chilled.
Make it Baked: Preheat the oven to 350°F. Bake for 16 to 18 minutes, until the top is lightly browned. Move to a wire rack to let cool slightly; serve warm.
Substitutions:
Apples: Pears
Almond Milk: any other nondairy milk
Walnuts: pecans
Almonds: hazelnuts or pecans
*This post contains affiliate links. If the product is purchased by linking through this review, VegKitchen receives a modest commission, which helps maintain our site and helps it to continue growing!