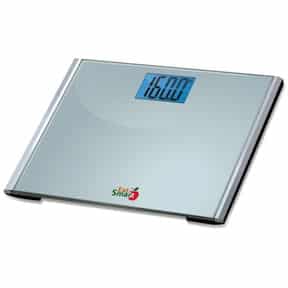 Weighing yourself regularly can help you to lose or maintain weight, and has been shown to be a great incentive to keep you eating sensibly and striving for an ideal weight. Once a week works better for some, as small weight fluctuations from day to day can be discouraging. Others find it helpful to do a daily weigh-in. It comes down to doing what works best for you as an individual. First thing in the morning is the best time to weigh yourself. A healthy, plant-based diet plus regular exercise plus getting real about my weight has proven a successful formula for me!

Digital vs. Mechanical Scales
The best home scale I've ever used, and one that's really consistent and accurate is the EatSmart Precision Plus Digital Bathroom Scale.* You just step on it — no tapping or turning on — and it gives you an accurate weight. This is the one I use, and find it completely satisfactory and reliable. And because it has just one glossy surface, it's easy to keep clean. 
Mechanical or analog scales have small pieces, like springs and levers, that can over time become worn out over time and display your weight inaccurately — usually less than what you really weigh. The more weight you've put on the scale over time the more likely it is to display the wrong weight. That's why many of us are surprised by the more accurate weight we see on the medical-style scale at doctors' offices and gyms — and we don't like what we see!
Digital scales work off of a microchip and 'electronic response,' but they also have springs. There are fewer pieces that can fail and less small pieces inside that can break or slip out of place, which allow the digital scales to be more accurate. Some find it better to have a big digitally displayed number instead of a dial. A lot of newer digital scales will record personal information you've inputted, like previous weights, height, gender, etc – so if there is more than one person using the scale it will read the weight more accurately.
Whether you use a mechanical or digital scale it always comes down to 'you get what you pay for.' Be sure to place your scale on a firm floor and don't move it, as this will ensure a more consistent weight. Personally, I'd like to know if I've gained a pound or two over the course of a day. I find it easier to lose that tiny bit of extra weight than five or ten or more pounds at a time. A good, accurate scale helps a lot.
* This post contains affiliate links. If the product is purchased by linking through this review, VegKitchen receives a modest commission, which helps maintain our site and helps it to continue growing!