Wild rice is actually the seed of a tall aquatic grass that is not a form of rice, nor even a grain at all. Native to North America, most of our domestic crop is harvested by Native Americans in and around Minnesota and other Great Lakes states, where it thrives in freshwater lakes or rivers. The fact that wild rice is literally a wild grass has made attempts at large-scale commercial cultivation difficult. Its relative scarcity makes it very expensive. Because its flavor is quite pronounced, however, it can be successfully mixed with regular rice. Even in small quantities it lends elegance to any meal. The most economical way to buy wild rice is in bulk. 
Since wild rice is never polished or refined, it is rich in nutrients. At 14 percent protein, it is higher in protein than many grains. The protein is of high quality, with good percentages of lysine and methionine, amino acids that are usually deficient in grains. Wild rice is rice in the minerals iron and phosphorus and also provides magnesium, calcium, and zinc. It has higher concentrations of the B vitamins thiamine, niacin, and riboflavin than most common grains and is high in fiber while very low in fat. 
Wild rice is often mixed with another grain, usually rice. Conveniently enough, the cooking times of brown and wild rice are similar, so they can be cooked together. A fifty-fifty mix of brown and wild rice is a good balance, but you can combine them in whatever proportion you like. If you enjoy the bold flavor and are feeling extravagant, there is no reason that wild rice can't be used on its own.
Basic Cooked Wild Rice: Use 2 ½ parts water to 1 part grain. Bring to a boil, stir in the grain, return to a boil, then lower the heat and simmer, covered, for about 40 minutes, until the water is absorbed.
Wild-rice pilafs lend themselves to many types of embellishment. Apples and nuts are common additions, with pecans a favorite. For variety, try using slivered almonds or chopped hazelnuts. Dried fruits (apricots, currants, chopped prunes) or fresh herbs are also nice additions.

Wild-rice pilafs incorporating bright-colored steamed vegetables such as broccoli or carrots are tasty and visually appealing. Season with a good nut oil (such as walnut or hazelnut oil) or extra-virgin olive oil and chopped fresh herbs. The same ingredients make a delightful cold salad, with the addition of a mild vinegar. 

Try adding a small amount of cooked wild rice to pureed soups. It's especially delicious in pumpkin and butternut squash soups.

Cooked wild rice combined with more or less equal parts cooked quinoa is so tasty that all you need to add is a little vegan butter or olive oil and salt and pepper. Use as a side dish.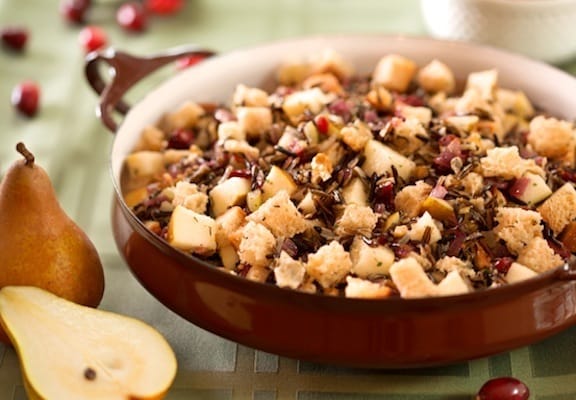 Here are a few of VegKitchen's wild rice recipes:
For lots more features on healthy lifestyle, explore VegKitchen's Healthy Vegan Kitchen page. Here are more of VegKitchen's Natural Food Guides.