Filled with plenty of fresh apple and flaxseed, these muffins are so moist and good (and they're good for you, too). They're great as a weekend snack or as an addition to the school or office lunch box. Recipe from The Double Energy Diet* by Judi and Shari Zucker.
Makes 16 muffins
½ cup warm water
¾ cup plus 2 tablespoons flaxseed meal
3 green apples (Pippin or Granny Smith), peeled and shredded
¾ cup  nondairy milk of your choice
½ cup liquid sweetener of your choice
1 tablespoon vanilla extract
1 ½ cups unbleached pastry flour
¾ cup oat bran
1 tablespoon ground cinnamon
1 teaspoon baking powder
½ cup raisins
Preheat the oven to 350 degrees F. Place the water in a medium bowl, stir in the 2 tablespoons flaxseed meal, and let sit for 5 minutes. Divide 16 fluted muffin liners between two muffin tins (or bake one batch at a time).
Add the shredded apples, nondairy milk, sweetener, and vanilla to the flaxseed mixture and stir to blend.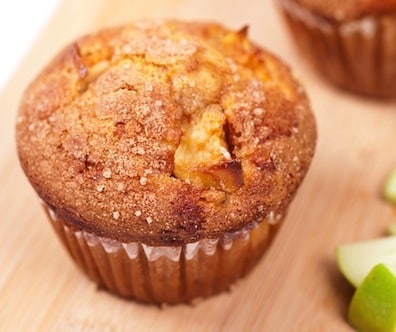 Place the flour, remaining ¾ cup flaxseed meal, oat bran, cinnamon, and baking powder in a large bowl, and whisk to combine. Add the milk mixture and stir with a spoon until blended, then add the raisins and stir to combine.
Fill the prepared muffin cups ¾ full and bake for 15 to 20 minuets, or until a paring knife inserted in a muffin has moist crumbs clinging to it. (We like our muffins moist, so we bake them for the shorter amount of time.) Let the muffins cool briefly in the tins, then remove to a wire rack to cool completely.
Reprinted by permission of The Book Publishing Company.
*This post contains affiliate links. If the product is purchased by linking through this review, VegKitchen receives a modest commission, which helps maintain our site and helps it to continue growing!