Okay, vegans, here it is—your very own Joy of Cooking.Covering every  culinary angle under the sun, 1,000 Vegan Recipes by Robin Robertson is a great resource and reference for every vegan kitchen. Robin has been a great colleague for many years and is a prolific and talented food writer.
Her recipes reflect the way I like to cook, with creative variations on easily available ingredients and streamlined procedures.The only tricky part is, where to begin in this tome? How to choose? I can almost close my eyes, open to a random page, and point, and almost every recipe will appeal to me. In fact, that's how I chose the first recipe to try, and landed on Pecan-Lentil Burgers, a sturdy everyday kind of recipe.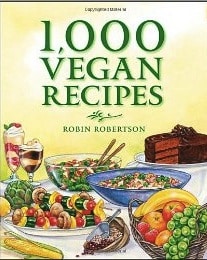 I also made Roasted Cauliflower and Rice Salad with Dijon Vinaigrette (see recipe following); the rice and cauliflower were still hot when I mixed them with the cold ingredients, resulting in a warm salad that was perfect for this time of year.
The Soy-Tan Dream Cutlets, made from both tofu and gluten, cooked up quickly and were indeed a dream for my sons, who love "meaty:" items made from these ingredients; I paired these cutlets with Golden Mushroom Gravy, which has a hearty base of pureed chickpeas. I inadvertently increased the quantity for this, which made for quite a lot of gravy, but no matter—tonight I used the leftovers as a base for really good soup Chocolate Chip-Banana Bread was every bit as good as Robin's testers claim it to be.
I also contributed three or so recipes to this book, but for the life of me, I can't remember which ones they are. I'll have to see if Robin can remind me, as now that the book is in print, I'm curious to see what I contributed! This is one of those great go-to books when you have a particular ingredient you want to use. It would make a fantastic gift for even the most inveterate cookbook collector, as no one has anything like this. From appetizers to desserts, from breakfasts to breads, and everything in between, you'll find an incomparable array of choices in 1,000 Vegan Recipes.
________________________________________
Here's a delicious rice salad from 1,000 Vegan Recipes:
Roasted Cauliflower and Rice Salad with Dijon Vinaigrette
4 or more servings
This salad is so delicious it can make a cauliflower-lover out of almost anyone. The secret is roasting the cauliflower—a technique that brings out the best in many vegetables, but perhaps most remarkably so in cauliflower.
3 cups small cauliflower florets
¼ cup plus 1 tablespoon olive oil
Salt and freshly ground black pepper
¼ cup white wine vinegar
2 teaspoons Dijon mustard
1 teaspoon sugar
1 ½ cups cooked or 1 (15.5-ounce) can navy beans
or other white beans, rinsed and drained
3 cups cooked brown rice
1 fresh ripe tomato, chopped
½ cup minced red bell pepper
2 celery ribs, cut into ¼-inch dice
2 tablespoons green onions
2 tablespoons minced fresh parsley
Preheat the oven to 425 degrees F.
Spread the cauliflower on a lightly oiled baking pan and drizzle with 1 tablespoon of oil. Season with salt and pepper and roast until tender and lightly browned, turning once, about 15 minutes. Set aside to cool.
While the cauliflower is roasting, combine the remaining ¼ cup oil, vinegar, mustard, sugar, ½ teaspoon salt, and black pepper to taste in a small bowl. Mix well and set aside.
In a large bowl, combine the rice, tomato, bell pepper, celery, green onions, and parsley. Pour on the reserved dressing, add the roasted cauliflower, and toss gently to combine.
*This post contains affiliate links. If the product is purchased by linking through this review, VegKitchen receives a modest commission, which helps maintain our site and helps it to continue growing!